From secret details of the internal Irish government view that unionist politician Peter Robinson was "a dangerous man" to letters to the Taoiseach condemning the screening of pornographic films, the State Papers released today offer a behind closed doors view of Ireland in 1985.
Previously secret information about one of the darkest and most tragic episodes in the country's social history - the Kerry babies - has also come to light.
Mícheál Lehane and Conor McMorrow, of RTÉ's Political Staff, trawled through the confidential State Papers, which have been kept under lock and key for 30 years until today.
(Part Two of 30 things we have learned from 30 years ago can be found here)
---
1. 'The steam has run out of Paisley but Robinson is a dangerous man'
The views of Irish government officials on unionist figures Peter Robinson and Ian Paisley are revealed today in a Department of Foreign Affairs report labelled "Secret".
The report charts a full record of the First Meeting of the Anglo-Irish Intergovernmental conference in Belfast on 11 December 1985.
Early in the meeting, Tom King, British secretary of state for Northern Ireland, detailed the political background one month after the Anglo-Irish Agreement was signed.
He said there has been "a guarded welcome" from the nationalist community and "a hostile reception from the unionist community which goes beyond what was expected". The way in which the deal was agreed has caused great offence to unionists and ministers are being "ostracised and boycotted".
Irish minister for foreign affairs Peter Barry responded by saying that "the unionist reaction wasn't any worse than I had expected. The Irish government is the hate organisation for unionists. I think the steam has run out of Paisley but Robinson is a dangerous man. He appears to be taking over the DUP and is much harder than Paisley."
---
2. GAA opposes British minister's Croke Park visit
Thirty years ago the GAA's head officials decided that British ministers were not welcome at major GAA events.
A letter from Seán Donlon, Department of Foreign Affairs secretary, to Irish Ambassador to London Noel Dorr on 4 March 1985 provides a fascinating snapshot of the GAA then and how far attitudes in the organisation have progressed since then.
The letter makes reference to a trip to Dublin by Nicholas Scott, parliamentary under-secretary of state at the NIO (Northern Ireland Office).
Mr Scott had expressed to Irish officials his desire to attend an All-Ireland GAA final.
David Kennedy, Aer Lingus chief executive, "who receives complimentary tickets from the GAA asked the General Secretary of the organisation if there might be any objection to bringing Mr Scott in his party".
The letter continues: "The matter was referred to the GAA's Ard Chomhairle which decided to inform David Kennedy that they would not welcome Scott or any other British minister to a major GAA event.
"David Kennedy feels there is no point in raising the matter again in the foreseeable future and he is hoping Mr Scott won't press the matter.
"He has not, of course, told Mr Scott of the GAA's attitude."
---
3. 'Down with this sort of thing'
Was the hit comedy Father Ted a case of art imitating life?
Yes may be the answer, if a batch of correspondence from the Department of the Taoiseach is anything to go by.
We all remember the scene in Father Ted where a group of Craggy Island women protest outside the local cinema.
They opposed the screening of 'The Passion of Saint Tibulus' - a film condemned by the Church as blasphemous - by holding posters saying "Down with this sort of thing".
On 9 July 1985, a Mr P Caulfield, from Knock, Co Mayo, wrote a letter in French to Taoiseach Garret FitzGerald criticising the showing of French film 'Hail Mary' at the Cork Film Festival.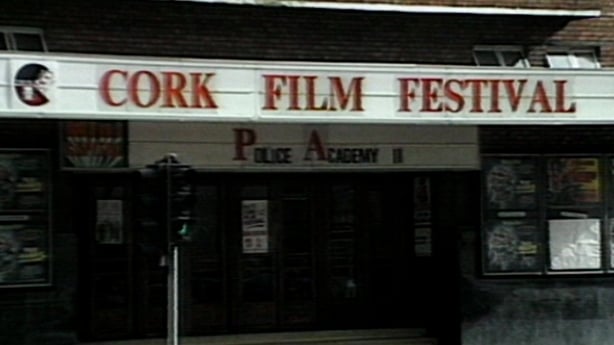 Directed by Jean-Luc Godard, it was a modern retelling of the story of the virgin birth.
The film's nude scenes drew criticism from Pope John Paul II.
Mr Caulfield's letter said: "I hope that the government collaborates with the Church and with public opinion so that this horror cannot happen. Can we ever accept such a public affront is done to her who is our Queen and Our Mother?"
The same file contains an earlier letter from Joan Clooney, general secretary of the Irish Countrywomen's Association (ICA), dated 15 November 1982 to Taoiseach Charles J Haughey.
Members of the ICA's executive council register their concern at the possibility of the sex-shop chain Conegate opening branches in Ireland.
"Our members are anxious that you would give a commitment to prevent Conegate or other such organisations opening sex-shops in this country," wrote Ms Clooney.
A briefing note from the Taoiseach's private secretary states the Taoiseach "has asked me to make assure you that he would be totally opposed to the opening of any such shops. He has brought your association's legitimate concern on this subject to the attention of the Commissioner, Garda Síochána and the Revenue Commissioners for any action which may be necessary in the matter".
In January 1981, Clare County Council wrote to the Taoiseach calling on the government "to investigate public showings of blue films in licensed premises".
The Taoiseach's office responded that the matter had been brought to the attention of the minister for justice.
---
4. Fears of assassination of prominent SDLP figures
A secret internal government account of a lunch meeting between the SDLP's Seamus Mallon and senior civil servant Dáithí O'Ceallaigh portrays a political climate of palpable fear ahead of the Anglo-Irish summit.
The lunch meeting took place on 23 October 1985 – just weeks before the Anglo-Irish Agreement was signed.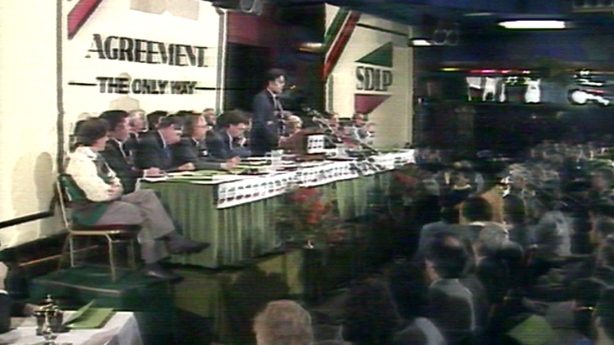 In offering Mr O'Ceallaigh, who would later become Irish ambassador to London, his assessment of the potential unionist and loyalist reaction to an Anglo-Irish Agreement, Mr Mallon painted a dour picture.
The document says that Mr Mallon "believes that they will probably emphasise their opposition in a legal and a political manner first.
"However he does feel that there may be loyalist assassination attempts on prominent members of the SDLP, including himself and on those people in Dublin who are believed to be involved in implementation of an agreement."
Mr Mallon believed that the attempt to reach agreement was "very serious" and stressed the need for a "united nationalist approach to it".
He was fearful that "if it goes wrong, constitutional nationalism in Northern Ireland will be destroyed".
---
5. Kerry babies
This was one of the darkest and most tragic episodes in the country's social history.
The State Papers reveal that the Garda Commissioner was extremely critical of parts of the force's investigation of the Kerry babies case.
It is clear, too, the government knew the sworn inquiry it established (late in 1984) to probe the case was not guaranteed to get all the answers it sought.
But a memo to the cabinet said it would at least bring the facts of what happened out into to the open so people could make up their own minds.
It all began with the discovery of the body of a newborn baby boy on a strand near Cahersiveen in Co Kerry in April 1984.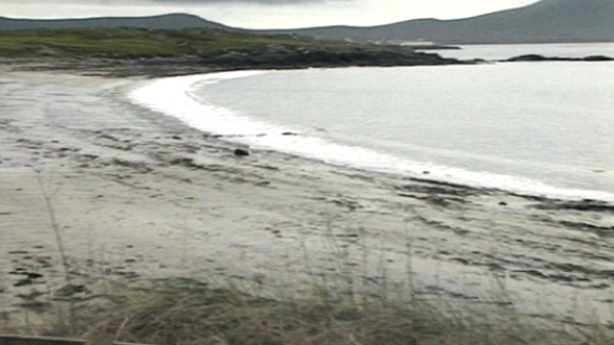 He had suffered serious injuries including stab wounds in the heart.
On 1 May, Joanne Hayes was charged with the murder.
But the following day the body of another infant was found on the Hayes' family farm.
The two babies had different blood groups.
The tribunal into the case concluded that Ms Hayes was not the mother of the Cahersiveen baby.
Some investigating gardaí still contend the babies were twins with different fathers.
The DPP later directed in October 1984 that the charges against Ms Hayes be withdrawn.
---
6. Thatcher 'repeatedly spoke warmly of the Taoiseach'
Secret briefing notes of a meeting between SDLP leader John Hume and British prime minister Margaret Thatcher on 17 January 1985 detail how Mr Hume believed "the immediate and perhaps greatest problem was the absence of order in the Catholic community". The problem could not be solved within Northern Ireland.
Mr Hume told Mrs Thatcher that before the Troubles, his home town of Derry had been "an extremely law abiding place with a level of violence and crime way below the average in Britain".
He said that people were basically law abiding but they wanted an authority to which they could give their loyalty.
This could be done without the involvement of Dublin and a solution must involve the two governments.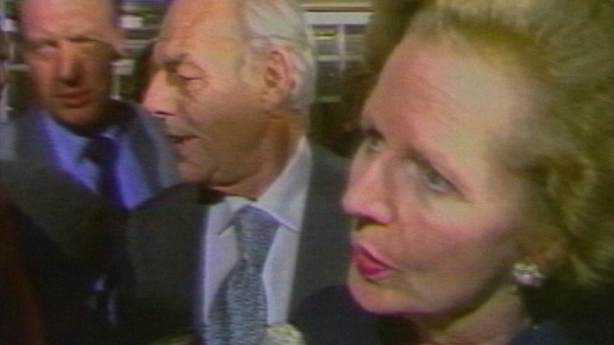 Mrs Thatcher agreed but stressed the need for talks between the SDLP and the unionists.
She told Mr Hume: "To be frank, power-sharing would be very difficult".
Mr Hume replied that the SDLP could not contemplate anything else.
In an indication that an agreement between Dublin and London was possible later in 1985, Mrs Thatcher "repeatedly spoke warmly about the Taoiseach" during her meeting with Mr Hume.
---
7. Army lorries to transport passengers in CIÉ strike
In December 1985 the government decided that army lorries would be used to provide a skeleton passenger service in the Dublin area, amid fears of a bus strike when the DART rail service was launched.
Ahead of the launch of new DART rail feeder services, there were fears within government that there would be a CIÉ bus strike.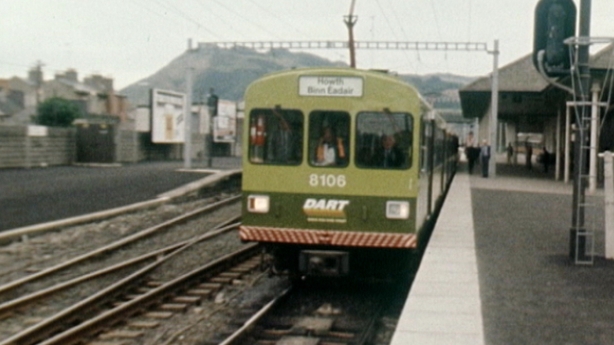 At a meeting between CIÉ and trade unions representing bus workers, CIÉ informed the unions that the company proposed to introduce one person operation (OPO) on buses, including DART feeder buses, from 8 December.
The move towards OPOs was in line with a Labour Court recommendation in August 1985.
CIÉ had been trying to introduce OPO as a cost effectiveness measure since 1967 in a process that involved "hundreds of meetings and thousands of hours".
The government was concerned that there was "a very definite possibility" of strike action.
A government memo dated 5 December 1985, prepared by minister for communications Jim Mitchell, stated: "...a strike will cause serious hardship to people in outlying suburbs of Dublin who rely on public transport".
He said that it would be essential for a skeleton passenger service to be introduced in Dublin in the event of a strike and he intended to introduce the army services within two to three days of the start of the strike.
---
8. Tory peer says Thatcher 'has no sense of history'
Alexander Ruthven, who was widely known as Lord Gowrie, was minister of state for the arts in Margaret Thatcher's cabinet from 1983-1985.
According to documents released today, he briefed the Irish embassy officials in London about the prime minister's views on the Irish question.
After a weekend lunch with Mrs Thatcher in March 1985, Irish ambassador Noel Dorr met Lord Gowrie and afterwards wrote that "Gowrie thought that the Prime Minister was looking for an issue where she could achieve something and could possibly make it in Northern Ireland. She has no sense of history but she really does like the Taoiseach. She thinks him essentially 'a good man' and 'goodness' does matter greatly to her."
Lord Gowrie was born in Ireland and Ambassador Dorr noted that Gowrie is sympathetic – within limits - and willing to offer advice. It would be wrong, however, to think that his sympathy is absolute or unconditional. He probably will be helpful. He remains however – not an Irish nationalist in disguise but an intellectual, British, Tory, cabinet minister with some interest in, and understanding of, Ireland."
---
9. Dublin joy-riders deter tourists
Vandalism, squatting, delinquency, burglaries, begging and car thefts were among the issues discussed at a meeting about urban crime and violence in the Department of the Taoiseach on 29 July 1980.
Taoiseach Garret FitzGerald said he hoped to have a package of measures to deal with these problems by September.
But the problems clearly continued as the early 1980s saw a rise in car theft and the beginning of joyriding as a scourge of parts of Dublin.
On 21 June 1984, the International Welfare Association, a group representing former British army service men and women, wrote to the Taoiseach stating: "In light of the uncontrolled crime on your streets, we will be advising our international members to take their holidays in safer places."
The letter was accompanied by a newspaper cutting of an editorial from The Irish Post detailing how a tourist had his car robbed by joy-riders in Drumcondra in Dublin.
The papers released today include correspondence from Dublin Corporation to government in April 1985.
It notes that Dublin City Council passed a resolution expressing its alarm at the number of stolen cars and the problem of joy-riders.
The council called on the government to introduce measures to combat the problem.
---
10. Thatcher wanted to impress Ronald Reagan on NI
The Department of Foreign Affairs concluded in March 1985 that the British prime minister had come back from the US very determined to show political progress in Northern Ireland within a few months.
They believed that President Reagan's interest in the area was greater than she had expected and she wanted to demonstrate to him that she was giving it a high priority.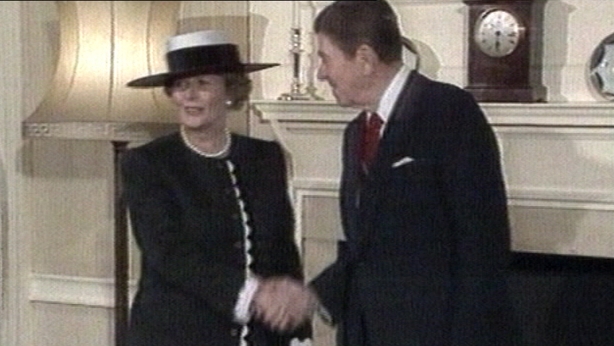 ---
11. Taoiseach brands Dunnes Stores management difficult
It was a strike that Nelson Mandela said gave him hope during his time in prison - the refusal by some Dunnes Stores workers to handle fruit imported from South Africa.
Now new files released after 30 years show that Garret FitzGerald tried to end the dispute.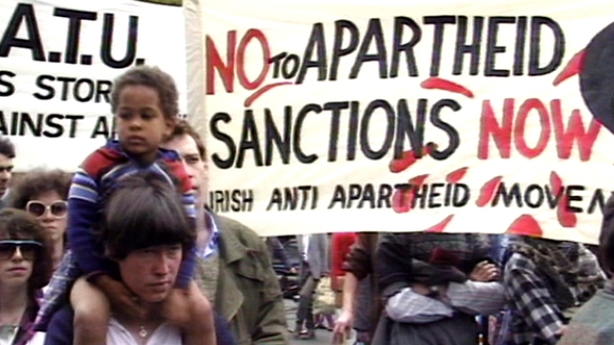 In a meeting with unions the "Taoiseach accepted that Dunnes management was bloody minded and the government had not found Dunnes easy to deal with".
But while expressing admiration for the workers, Mr FitzGerald said a ban on South African imports was not possible.
---
12. Invading British sovereignty
In late October 1985, the Irish government wrote about the "disturbing tendency" Margaret Thatcher had of emphasising that all decisions about the North would always be taken by the UK.
But the State Papers reveal the Irish side believed the Anglo-Irish Agreement was a "substantial invasion of British Sovereignty in Northern Ireland".
A secret document said this was the reality, whatever British ministers said.
---
13. Flannery lobbies Noonan against new National Lottery
Frank Flannery, former chief executive of Rehab, wrote to then minister for justice Michael Noonan in the early 1980s warning that establishing the National Lottery would have a "disastrous effect" on his organisation.
In a letter dated 18 November 1983, Mr Flannery wrote to Minister Noonan seeking a meeting with him. He outlined how the Rehabilitation Institute had depended on Gaming and Lotteries for a substantial income for decades.
He continued: "In conjunction with the Central Remedial Clinic (CRC), we operate the largest football pools operation in the country under the Act – CRC/RTB Pools – which employs approximately 30 people and a very considerable army of greats throughout the country."
He said that his is concerned about the possible establishment of a national lottery and added: "Such developments would have a disastrous effect on us and on other charities."
Replying on 30 December 1983, Minister Noonan said: "I am not aware of the format the proposed National Sports Lottery would take or what the likely effects would be on the pools being sponsored by charitable and voluntary organisations."
He pointed out that Donal Creed, minister of state, had said that special position of charitable and voluntary bodies, dependent at present on income from lotteries, would be borne in mind and "he would be available for discussion with interested groups".
Mr Noonan concluded: "I will get in touch with you again when I have further details of the proposals."
---
14. Thank you, Mr President
Just hours after the Anglo-Irish Agreement was signed, the Taoiseach conveyed "heartfelt gratitude" to the US president.
In a letter to Ronald Reagan, Garret FitzGerald said the "generous and prompt support" from the US was a "source of great encouragement".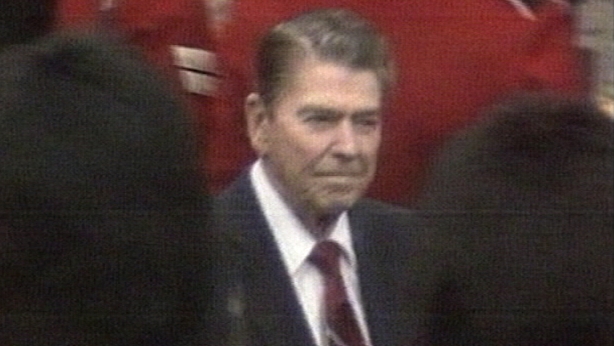 The Taoiseach also offered the US president "good wishes for the success of your meeting with Mr (Mikhail) Gorbachev".
This meeting in Geneva just days later would ultimately pave the way for the ending of the Cold War.
---
15. 'We provide security for your Ambassador'
The exact nature of the type of building and the possible location of the Irish secretariat in Belfast caused no little tension during the talks leading up to the agreement.
The British side feared a terrorist attack on the building.
They argued too that they did not want to give "an opportunity for symbols against which to demonstrate".
Tánaiste Dick Spring told Northern Ireland Secretary Tom King in November 1985: "In Dublin we provide a great deal of security for your ambassador ... you have to face up to it – there are going to be problems."
The secretariat was later located in the Belfast suburb of Maryfield.
---
Additional reporting by Edel McAllister
Part Two of Conor McMorrow and Mícheál Lehane's report on the State Papers will be published tomorrow.