A California court has agreed to treat all of the lawsuits being brought by the families and survivors of the Berkeley tragedy as one unit for the preliminary legal proceedings.
Judge George Hernandez at the US Superior Court of California in Oakland also declared the cases to be complex, so they will receive special treatment by the courts system.
Legal papers have now been served on the 35 companies that the group is suing on Friday.
Four of those companies, including the Segue Construction company, were represented in court today by way of attorneys making a "special appearance", meaning they were there to observe proceedings but have not yet officially accepted the case.
Judge Hernandez said the cases were complex and merited special designation as such.
He said he was granting the request to have them consolidated and even if the lawyers had not asked for such treatment, the court would have done it anyway.
He said it "makes sense" for one judge to deal with the matters all together.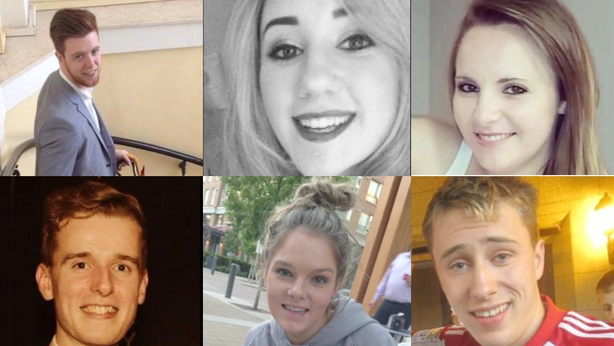 The 13 cases will be now moved to another courtroom and dealt with together by Judge Brad Seligman.
They will, however, be separated out again when they get to the point of trial by jury to determine damages.
However, it is anticipated that it could be 18 months to two years before any trials begin.
The consolidated cases will now appear before the new judge for case management on 8 January of next year.
The parents of the six young people who were killed after the balcony collapse have filed wrongful death lawsuits against 35 companies, including the owners of the Library Gardens apartment complex, the developers, contractors, designers and materials suppliers.
Lawyers for Berkeley families&injured welcome court's decision-"important step forward on path for justice" @rtenews pic.twitter.com/XZGdad7H7A

— Caitriona Perry (@CaitrionaPerry) December 14, 2015
The seven who were injured in the collapse have filed separate lawsuits for damages for personal injuries.
The criminal investigation being carried out by the District Attorney of Alameda is ongoing.
Lawyers representing the injured and the bereaved Berkeley families welcomed the court's decision to combine the 13 cases, saying it was an important step forward on the path to justice.
The lawyers had requested the consolidation of the cases because it will streamline the process and avoid a lot of replication of legal orders and motions.
It should reduce stress on those involved and speed up what will be quite a drawn-out process.
Thirteen young people who were celebrating the 21st birthday of one of the injured, Aoife Beary, were standing on the balcony when it gave way on the night of 16 June.
Eimear Walsh, Olivia Burke, Ashley Donohoe, Eoghan Culligan, Lorcán Miller, and Niccolai Schuster all lost their lives when the fourth floor balcony collapsed beneath them.
In addition to Ms Beary, Hannah Waters, Clodagh Cogley, Sean Fahey, Conor Flynn, Jack Halpin and Niall Murray were all also injured.