Serious flooding in parts of the River Shannon catchment area is continuing in what the National Emergency Coordination Group has described as a "severe flood situation".
Farmers have said another 10,000 acres of land have been covered by water over the weekend. The farmers want the Department of Agriculture to defer inspections in flooded areas and go ahead with EU farm payments before the end of the week.
Met Éireann has issued a Status Yellow rainfall warning for Cork, Kerry and Waterford with rainfall totals of between 25 and 30mm forecast overnight and tomorrow.
The warning is valid until 8am tomorrow night.
Speaking after today's National Emergency Coordination Group, Jim Casey of the Office of Public Works said water levels have risen by 2.5cm in the area around Athlone, but the rise is half what it was yesterday.
The levels in the river's lower catchment, between Lough Derg and Limerick, are expected to peak later today.
He said that most rivers are showing falling levels, with the exception of the River Brosna.
Drone captures the flooding around farmlands and houses of Springfield, Clonara, Co Clare today https://t.co/RHSqAYZTBh

— RTÉ News (@rtenews) December 14, 2015
Gerald Fleming from Met Éireann said the areas at greatest risk in the coming days, "are in the South and South West; Wexford, South Kilkenny, Waterford, South Tipperary, Cork, Kerry, Clare, Limerick, Galway".
"Those will be the counties that I expect would be most impacted, so they don't most of the Shannon catchment, which would be North of that."
"We are in a situation were a number of those rain events have the potential to turn nasty and potentially they could cause flooding in areas have had no flooding so far, if that were to happen," Mr Fleming added.
ESB engineer Tom Browne said that as water levels in Lough Derg have stabilised, water flow through Parteen Weir will not be increased today.
The ESB increased the flow of water through the weir after more heavy rain over the weekend.
The flow of water at the weir will remain at 440 cubic metres per second today. It will be reviewed again tomorrow.
The situation is the similar for the Iniscarra Dam after reduced rainfall has allowed the ESB to maintain the discharge of water at levels which do not present a flood risk to properties in Cork city.
Parteen Weir where the ESB is releasing torrents of water down river #rtenews pic.twitter.com/wnNhLkr6Eu

— Joe Mag Raollaigh (@joemagraollaigh) December 14, 2015
The ESB warned: "This level of water flow is likely to continue to have associated flooding to land and property in the vicinity of the Shannon downstream of Parteen Weir including the areas of Springfield, Montpelier, Castleconnell, Mountshannon (Annacotty) and the University of Limerick.
"Note that other areas between Parteen Weir and Limerick may also be vulnerable to flooding due to local issues."
Mr Fleming said there will be a wet period this week, although there is no Status Orange warning in place at the moment.
Mr Fleming said individual areas could turn into an orange warning because rain accumulation will be above normal.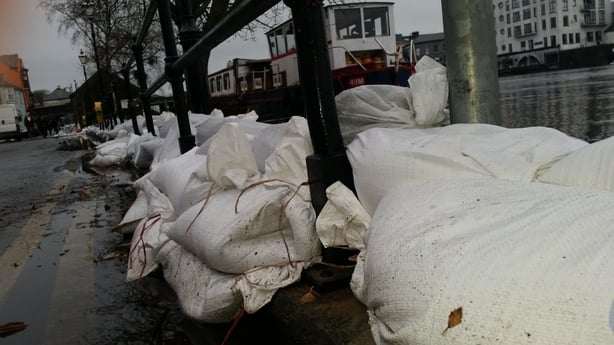 An appeal has been issued for more volunteers to provide operational support for pumps in some of the most vulnerable low-lying residential areas in Athlone.
President of Athlone Chamber of Commerce John McGrath said the town is open for business and business owners have faced a tough battle to stay trading during the recent poor weather.
He said reports of high water levels and flooding have given the perception that the town and other areas "are literally under water and inaccessible" but this is not the case.
However, the impact of the publicity has been that trade has been badly affected with businesses saying they are 60% short of targets.
Westmeath County Council has said it expects water levels to peak on Wednesday after which flooding should begin to subside.
Elsewhere, water levels have dropped in Ballinasloe and across south Co Galway this morning, reducing the risk of more flooding.
However, many secondary routes remain impassable or partially blocked.
There is some spot flooding on the N18 near Labane, north of Gort, and council crews are directing traffic there.
In Co Mayo, roads around The Neale are still flooded.
Gardaí say drivers heading north from Galway should divert in Headford and continue along the N84 to access Ballinrobe and Castlebar.
Dry in the E & N at first but rain in the SW & S will gradually spread to other parts.It will bec drier/brighter in W & S later.High 8-11c

— Met Éireann (@MetEireann) December 14, 2015
Lines still flooded Carrick-on-Shannon to Longford, and Gort to Athenry. Full service info: https://t.co/qooPE4QrSb

— Iarnród Éireann (@IrishRail) December 14, 2015
Meanwhile, a meeting convened by Teagasc is taking place in Athlone today to discuss the impact of the floods on farmers.
Irish water said it has been able to maintain normal water supplies to the vast majority of its customers while dealing with 89 separate incidents affecting treatment plants due to the effects of Storm Desmond.
Power cuts, flooding or a reduced ability to produce clean drinking water are being managed and closely monitored on an ongoing basis by local authorities working on behalf of the national utility.
Customers in areas affected by precautionary boil water notices issued as a result of the storm have been notified and tankered water is being supplied where supplies are disrupted.
Any customer with a query in relation to their water supply or water quality should check www.water.ie or call 1890 278 278.
More than 60 traders and businesses in Bandon, Co Cork, have threatened to withhold their rate payments from next July unless work has begun on the town's flood relief scheme.
Simon Harris, the minister responsible for tackling flooding, visited Bandon and Skibbereen today.
The traders told Mr Harris they are frustrated by delays to the project and by broken promises.
HSE in Galway, Mayo & Roscommon launches leaflet aimed at those impacted by flooding in recent days pic.twitter.com/5GmQjpppud

— Pat McGrath (@patmcgrath) December 14, 2015
Elsewhere, the Health Service Executive in the west has opened a counselling helpline for people who have been impacted by flooding in the region.
The HSE has also issued a guide called 'Coping With Flooding' and said people should try and safeguard their mental health.
It gives pointers on how children can be helped to deal with the upset and insecurity that can result when they have to leave their homes.
HSE psychologist Clare Gormley says talking to younger people about the situation and reassuring them of their family's safety can be beneficial.
The counselling helpline for anyone emotionally overwhelmed at the moment will be open from 9:30am to 5pm each day on 1800 245 600.