Several parts of the country are still on flood alert despite the rain becoming less intense.
Met Éireann's Status Yellow warning is in force for Munster and Leinster.
Rain is becoming less intense, but between 20 and 25 mm are expected in some areas for the rest of tonight. The yellow warning will remain in effect for both provinces until tomorrow.
Flooding remains a problem on a number of routes in Connacht, parts of Ulster and in Co Clare.
No serious flooding occurred in Cork. However, River Bandon levels will not peak for some hours yet and the town remains on alert.
The River Blackwater levels will peak on tomorrow morning and flood defences are in place. Fermoy Bridge may be closed for a time and traffic diversions put in place.
A number of local roads have been affected, particularly in counties Galway, Roscommon, Sligo and Mayo and with further rain forecast, flooding is likely to remain an issue until later next week.
Bandon FEWS. Flood Warning Code. ORANGE ALERT. 13:33hrs 12/12/2015 pic.twitter.com/FWxJkApD32

— Paschal Sheehy (@PaschalSheehy) December 12, 2015
The ESB has said that because the level of the Shannon continues to rise, it is increasing the flow of water through Parteen Weir.
The flow of the water will increase to 405 cubic metres per second.
The ESB have said they have had to increase the flow of water due to rising water coming from Lough Derg.
A spokesperson said they had no option but to increase the flow through the weir.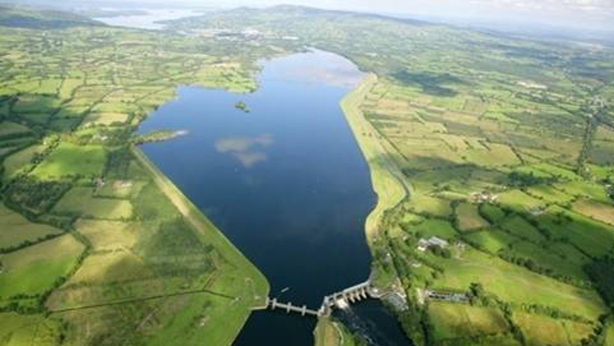 The ESB said water levels in Lough Derg are being monitored, with regular assessments made of flows.
It said that with further rain expected, the level of water flowing down the Shannon may increase further in the following days.
It said further flooding is expected on land and property in the vicinity of the River Shannon downstream of Parteen Weir, including areas of Springfield, Montpellier, Castleconnell, Mountshannon (Annacotty) and the University of Limerick.
Flooding has eased on many routes in the west but a number of secondary roads are still impassable.
There are particular problems in south Mayo and in parts of south Galway, where an accumulation of water is only slowly receding.
Dublin has not escaped the flooding either.
Residents in Chapelizod and Islandbridge are requested to remove cars from underground car parks. #@GardaTraffic @DubCityCouncil

— Dublin Fire Brigade (@DubFireBrigade) December 12, 2015
Forecasted heavy rains today did not materialise to the extent that had been feared. As a result, concerns about rising flood waters have eased slightly tonight.
While the decline is slow and steady, water levels in a number of rivers continue to drop.
Gardai in Mayo say conditions on the roads have improved after snow in the Castlebar and Claremorris areas overnight. However falling temperatures could lead to icy conditions in places later tonight
Elsewhere, the ESB said it has reduced the spill at Inniscarra Dam in Co Cork, after increasing its discharge earlier in the week to draw down reservoir levels.
A further meeting of the National Coordination Group to discuss the on-going severe weather was held today.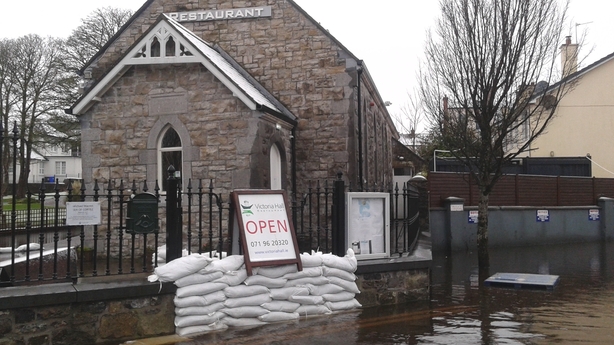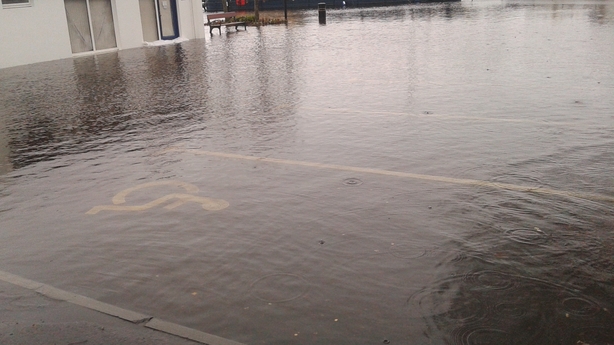 Local authorities said they remain on standby and are continuing to monitor the situation and in the areas where further flooding may occur they are making the necessary preparations.
Speaking at a meeting of the National Emergency Coordination Group, head of forecasting Gerald Fleming said up to 50mm of rain had fallen in parts of the south west of the country overnight.
He said heavy rain would begin to clear over the next few hours, but snow would be a risk tonight.
Superintendent John Ferris warned that all roads would be wet and icy tonight, and urged motorists to slow down.
Jim Casey, from the Office of Public Works, said there were concerns about rising flood waters in Athlone and Lough Ree, where the Shannon had risen by three inches overnight.
At least one family was evacuated from their home in Athlone.
Helen Faughnan, from the Department of Social Protection, said that fewer than 100 payments had so far been made under its Humanitarian Assistance Scheme.
She said the payments would mostly cover food, fuel, clothing and bedding.
River levels are expected to peak in the lower Shannon towards Limerick, tomorrow and Monday.
A Status Yellow snow-ice warning has also been issued for counties Cavan, Monaghan, Donegal and Leitrim.
Motorists urged to take care on icy roads
Earlier, AA Roadwatch said roads are very wet in most areas following heavy rain overnight.
Slushy conditions have been reported in parts of Leinster and Connacht following snow and sleet showers.
Many of the car parks in Carrick-on-Shannon Co Leitrim are under water today hampering Christmas trade.
Motorists are being urged to take extreme care on all roads today due to flooding and falling temperatures.

Motorists please Slowdown & drive carefully. Due to heavy rainfall surface water on many of the nations roads. pic.twitter.com/ewjP6xJaCh

— An Garda Síochána (@GardaTraffic) December 12, 2015
The warnings follow serious flooding in the midlands, west and southwest after Storm Desmond last weekend causing serious damage in affected areas.
The Department of Social Protection has activated its Humanitarian Assistance Scheme to householders affected by the flooding.
Department officials say that anyone with an urgent need can avail of the scheme which is not restricted to those already on social welfare.
The Irish Red Cross has begun managing a Government support scheme for small businesses which can not get flood insurance cover.
A number of chalet homes north of the River Shannon bridge were flooded yesterday and Westmeath County Council moved two families from homes that were threatened with flooding.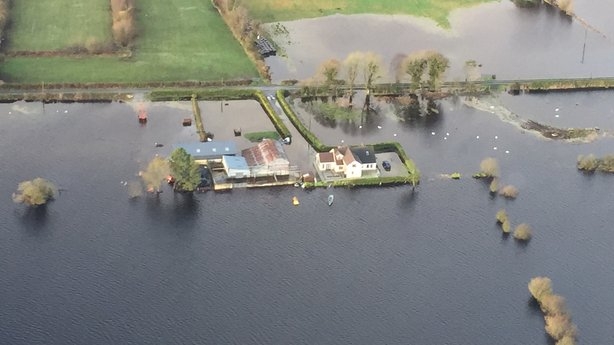 The Coast Guard advice to anybody who might visit coastal areas is to take care. Their general safety message is stay back, stay high and stay dry
There was a light snow fall over northern parts overnight, with some accumulations this morning turning into sleet.
Regular updates on water levels in rivers around Ireland can be accessed on www.waterlevel.ie
Office of Public Works Minister Simon Harris paid tribute to the workers involved in the response to Storm Desmond.
In advance of his meeting tomorrow with the Government's Emergency Flood Committee, he referred to the options for people who have been affected by the storm saying: " I want to thank all of the staff who have been involved in the many different elements of the Government's response to Storm Desmond.
He said: "We are working around the clock and assisting all of the State Agencies and Local Authorities, Army, Gardai, ESB and others to assist householders, businesses and farmers who are being affected by Storm Desmond."
The minister also pointed out that the Government will spend over €430m on flood-relief projects over the next five years, which is more than had been spent in the previous 20 years.
Latest from county councils:
Cork:
Cork County Council's Severe Weather Assessment Team convened a number of times today in line with weather forecasts.
There is a Code Level Orange Weather Warning from Met Éireann in effect until midnight. Up to 38mm of rain was recorded in parts of the county overnight.
Most county roads are passable but the Cloghroe to Leemount Road is closed.
Limerick:
Limerick City and County Council said the heavy rain this morning is leading to an increased risk of flooding, particularly in the areas of Montpelier, Castleconnell and the Mountshannon Road.
It said council crews are dealing with a number of incidents and will continue to monitor the situation throughout the day.
Council staff, assisted by members of the Defence Forces, are continuing to implement flood defence measures along the river bank.
Meanwhile, the Council is advising members of the public, particularly children, to avoid all flooded areas and to abide by the instructions provided by the Emergency Services and Council staff.
Sligo:
Sligo County Council says that while water levels in the most vulnerable spots appear to be stabilising, the land is still saturated following 90mm of rain in 36 hours earlier this week.
It said Sligo County Roads Crews and Fire Service personnel have been working around the clock to deal with flooding issues throughout the county.
Clare:
Clare County Council says it is operating an Emergency Helpline for members of the public today, who can call the line on 1890-252-943.
Clare County Council is reporting that many roads affected by flooding during the day are gradually reopening as floodwaters slowly recede.
A number of main roads remain flooded including the R474 at Inch Bridge, Toonagh on the Corofin to Ennis Road, and the N85 Inagh to Ennistymon road (at Inagh).
The council is warning householders, landowners and motorists in flood prone areas however, that high tide is expected 7pm which may result in localised flooding.
Sandbags can be collected from the County GAA Grounds at Clareabbey and at Ennis Mart.
Met Eireann has informed the Council that small amounts of rainfall are expected overnight but drier conditions are forecast for Sunday. The Council remains on standby however, to deal with any flooding incidents should they arise.
Senior Engineer Paul Moroney said: "We are advising motorists to slow down when driving through floodwaters on public roads for safety reasons and to minimise the impact on adjacent properties, particularly in urban locations.
"The advice continues to be not to drive through flooded road situations if in doubt," he added.
Kerry:
Kerry County Council's Severe Weather Assessment Team met on two occasions this morning. They will continue to monitor the situation through the day and have been liaising with the gardaí and the HSE while the Orange weather alert remains in place.
The council says there are large amounts of surface water and spot flooding on many roads around the county and have advised motorists to take care while driving.
The R-552 Listowel-Ballylongford road which was flooded earlier at Gortacoco near Ballylongford has now reopened.
A council spokesperson said they are not expecing any major problems tonight.