Taoiseach Enda Kenny has said the Government will consider setting up emergency funding for those affected by flooding in the wake of Storm Desmond.
The Cabinet will discuss emergency funding for flood-affected areas tomorrow with clean-up operations currently under way.
Ministers will be briefed by Minister for Defence, Simon Coveney who will give them an update from the office of emergency planning.
They will also hear from Minister of State, Simon Harris, who has responsibility for the Office of Public Works.
Mr Harris said he understands the frustration felt by people in Bandon that long promised flood protection works in the town have not started but that it was delayed by legal challenges.
Speaking on RTÉ's Six One, Simon Harris said he hopes contracts will be signed next month and work will begin by the middle of next year.
He said the funding is in place for the scheme and he promised to meet and engage with local residents and to make sure the scheme is delivered.
He said he would explore all options with his officials
Mr Harris said would like to see emergency funding put in place for people around the country whose property has been devastated by the floods and said he will be briefing his Government colleagues at Cabinet tomorrowBoth Ministers Coveney and Harris met the IFA this evening to discuss the impact of the flooding on agricultural land.
CORK CITY: Due to flooding, the Lee Rd has been closed near the Waterworks. Gardaí are at the scene. https://t.co/xIOpAb4ktr

— AA Roadwatch (@aaroadwatch) December 7, 2015
Minister for Social Protection, Joan Burton, will tomorrow give an outline to the Cabinet of the emergency payments available under the Humanitarian Assistance Scheme to help people to buy food, clothing, fuel and household goods.
Speaking at a jobs announcement in Dublin, Mr Kenny said remedial work would be carried out at 300 locations.
He said that reports supplied by local authorities would be collated today and discussed at Cabinet tomorrow.
Chairman of the National Coordination Group Sean Hogan, which deals with weather emergencies, said that several rivers are "on the edge" and may flood again due to more heavy rain expected today and on Wednesday.
Air Corps footage shows much of the area around Ballyhaunis, Co Mayo under water in the aftermath of Storm Desmond https://t.co/QTjZr2nPLE

— RTÉ News (@rtenews) December 7, 2015
Rain is not expected to be as heavy as at the weekend but saturated ground and already high river levels mean further rain may result in new floods.
In particular, he warned that there is a high risk of flooding on the lower Shannon from Parteen Weir down to Limerick city as the river is continuing to rise.
Mr Hogan added that Carrick-on-Shannon, Ballinasloe and Athlone remain at risk from flooding and are being monitored and that the River Moy in Mayo remains very high and Ballina is still at risk.
Storm Desmond caused extensive flooding and damage across the country, with Cork, Kerry, Galway and Sligo among the counties worst affected.
The storm dumped more than 100mm of rain along the south, west and northwest of the country, leaving roads blocked, and houses, businesses and farmland under water.
The highest recorded level of rainfall from Storm Desmond was 110mm in Claremorris, Co Mayo.
Residents of Crossmolina where the River Deel overflowed on Saturday for the second time in as many months, are struggling to get back to normal after the deluge which inundated homes and businesses.
48 residents had to be evacuated from a nursing home in Foxford in the early hours of this morning after the River Moy burst its banks.
The residents from Blackrocks Nursing Home were taken to various other care centres in the region by emergency services.
Storm waters had reached the door of the complex when teams of volunteers began the evacuation, which took several hours to complete.
Mops & brushes to the ready. Big clean-up underway in Bandon - in the aftermath of #stormDesmond https://t.co/Yg49Z4iVhl

— Jennie O'Sullivan (@OSullivanJennie) December 7, 2015
Civil Defence and Red Cross teams, along with gardaí and fire brigade, moved the patients in a fleet of jeeps and ambulances to the adjacent Foxford Sports and Leisure Centre.
Later in the morning, the residents, many of them frail, were moved to temporary accommodation organised in Castlebar, Charlestown, Ballinrobe and other locations.
Civil defence and Roscommon County Council workers have been called in to evacuate parts of Athleague where the River Suck has burst its banks.
Over 3,000 sandbags have been put in place. Water levels have now reached flood levels and locals are moving furniture and other possessions from ground floor buildings in the village.
Residents in the Deer Park area of Athlone in Co Westmeath have called for the Army to be brought in to help avoid flooding on the western banks of the Shannon in the town.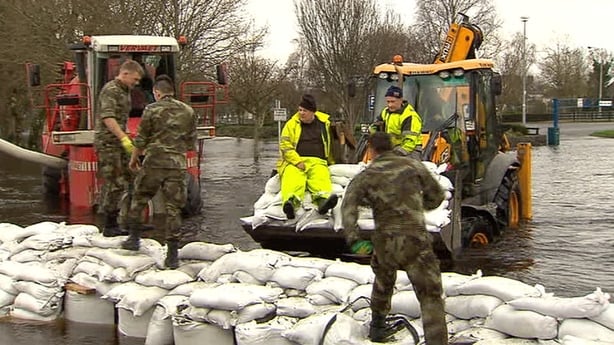 A number of houses have already been flooded in the area over the weekend and residents are using pumps to try and avoid further damage.
In Co Longford, the Dublin-Sligo railway line is underwater just west of Longford town. Iarnród Éireann passengers are being bused between Longford and Carrick on Shannon.
A number of roads in the area are also impassable.
Farmers in the region say tens of thousands of acres of land are under water around the River Shannon due to flooding.
The worst effected areas are between Banagher and Clonmacnoise in Co Offaly where farmers have been moving livestock to higher lands.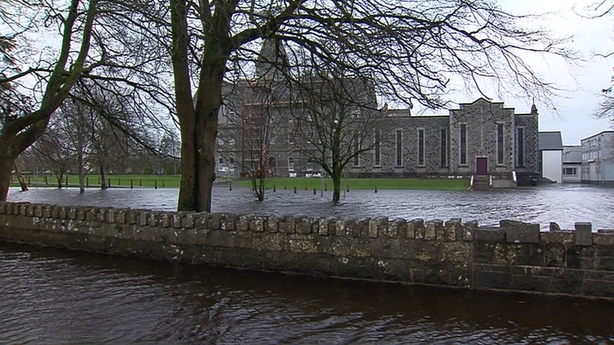 In Co Clare, the grounds of St Flannan's College in Ennis were extensively flooded as a result of heavy rain, with the school closed until the water recedes.
A number of business adjacent to the River Fergus in the town were also flooded, with clean-up work ongoing.
Clare County Council has spent over €20m on flood relief schemes since 2009, and the council said those defences had saved the town from extensive flooding.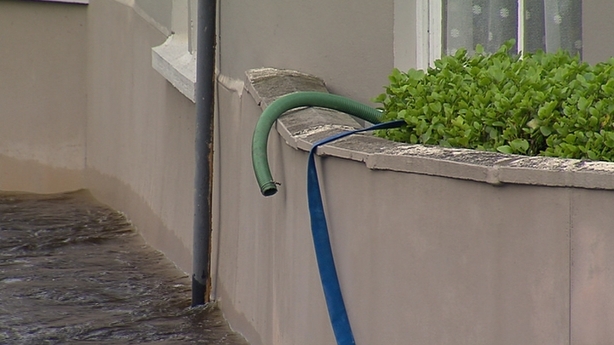 The council has also warned that ESB plans to release flood water from Parteen Weir, which is likely to cause flooding in the southeast of the county and also in Co Limerick.
Limerick County Council said the areas most at risk of flooding are Montpelier, Castleconnell and the Mountshannon Road, Lisnagry.
The Council said it was liaising with householders in these areas that were affected by the 2009 flood and is putting additional measures in place to help alleviate the effects of flooding.
Meanwhile, Irish Water has introduced a major incident plan to deal with issues at the Bundoran Water Treatment Plant.
The plant is not producing treating water due to rising levels at Lough Melvin.
This is Ballinasloe town centre this lunchtime ...desperate scenes as army try to keep water out of shops pic.twitter.com/pBu7H0KgZp

— Ciaran Mullooly (@ciaranmullooly) December 7, 2015
Properties near Co Cork dam may be at risk of flooding
Properties downstream of the Inniscarra Dam may be at risk of flooding as the ESB has been forced to increase the level of water being discharged from the dam in Co Cork.
In a statement issued this afternoon, the ESB said the heavy rain over the weekend has increased water levels significantly at the Lee Dam reservoirs at Inniscarra and Carrigadrohid.
However, the company cannot say how many properties might be affected and referred any queries to the local authorities, Cork City & County Councils.
The ESB commenced spilling water at the dam six days ago at a rate of 125 cubic metres per second (cumecs). This has been increased to 150 cumecs and is gradually being increased to a rate of 180 cumecs.
The board says spilling will continue all week in order to lower reservoir levels.
The board warned there may be flooding of roads, land and property adjacent to the banks of the River Lee downstream of the dam.
Commenting on the risk of flooding posed by the increased rate of spillage from the Inniscarra Dam, Cork City Council says there is no reason for alarm in the city centre.
A spokesman said while the Lee Road is likely to flood, the Carrigrohane Straight Road - which houses many businesses including the headquarters of Cork County Council, is likely to escape, as will the city centre.
However, another band of heavy rain is due on Wednesday evening and early Thursday which is giving rise to concern, but the situation is changeable and is being monitored closely by the Flood Assement Team.
The team is made up of officials from Met Éireann, the local county councils, and the emergency services.
Body found in UK river after man falls in during storm
Elsewhere, a body has been found by UK police searching for an elderly man believed to have fallen into the River Kent in flood-hit Cumbria.
An underwater search team is working to recover the body which was discovered in the Kendal area, Cumbria Police said.
Officers were called to reports that the man had fallen into the swollen river shortly after 10am on Sunday.
Prime minister David Cameron will visit areas hit by the devastating floods amid mounting criticism of multi-million-pound defences which failed to keep the deluge of water out of people's homes.
Mr Cameron said he would travel to "badly-hit" places after chairing a meeting of the government's Cobra emergency response committee, as northern England and Scotland brace themselves for more heavy rain.
After Cumbria, the county worst affected by Storm Desmond, declared a major incident over the weekend, the UK Met Office has issued a severe weather warning for rain across north west England and western Scotland this week.
More than 45 severe flood warnings are in place, meaning there is a danger to life, across the north west, along with dozens of less serious flood warnings and flood alerts over northern England and Wales.
In Carlisle, the army was sent to help support emergency services evacuating people from their homes in streets where cars were almost entirely submerged.
Cumbria County Council leader Stewart Young has called for an investigation into the county's flood defences after £45 million was invested since catastrophic floods in 2005.