Receding water levels have allowed a major clean up to begin following Storm Desmond which caused extensive flooding and damage across the country, with Cork, Kerry, Galway and Sligo among the counties worst affected.
The storm dumped more than 100mm of rain along the south, west and northwest of the country, over the past 24 hours, leaving roads blocked, and houses, businesses and farmland under water.
The highest recorded level of rainfall from Storm Desmond was 110mm in Claremorris, Co Mayo.
While weather warnings have been lifted, Met Éireann predicts more persistent rain and strong gusts are due.
It is estimated that the damage caused by flooding in towns such as Tralee, Kenmare, Skibbereen and Bandon will run to millions of euro.
The town centre of Bandon in west Cork was heavily hit by flooding with a water depth reading at Bandon Bridge of 2.87m at 10am, down from a peak of 3.4m at 2am.
#Floods #Rain #Kerry update (3/3) Emergency contact numbers for Council crews here... http://t.co/3lrbEarDgy pic.twitter.com/xacSNdwkMG

— Kerry County Council (@countykerry) September 11, 2015
Thanks to the Crews and fellow units helping deliver water in Bandon @irishredcross @corkredcross @PaschalSheehy pic.twitter.com/6OOOVPMm8K

— IRC Bandon (@IRCBandon) December 6, 2015
Statement from Chief Executive of Cork County Council and Mayor of the County of Cork - please visit https://t.co/1sa2Cq99Ma

— Cork County Council (@Corkcoco) December 6, 2015
Storm Desmond halted travel through the village of Craughwell, Co Galway after the Dunkellin River through the village burst its banks. Gardaí say people have been evacuated from their homes.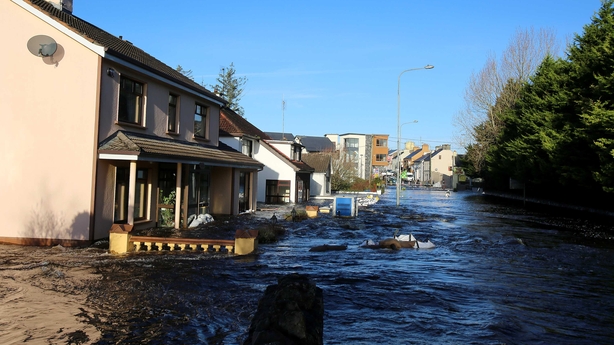 The water level was expected to rise further.
Floods in Craughwell, Co Galway https://t.co/30QxB88VD1 https://t.co/CLpX1BImxs

— RTÉ News (@rtenews) December 6, 2015
Craughwell village flooded pic.twitter.com/iS8N5sryv9

— Michael Curran (@craughwellhorse) December 6, 2015
The M4 motorway was also affected by flooding and was down to one lane in both directions on the Galway side of the Loughrea exit.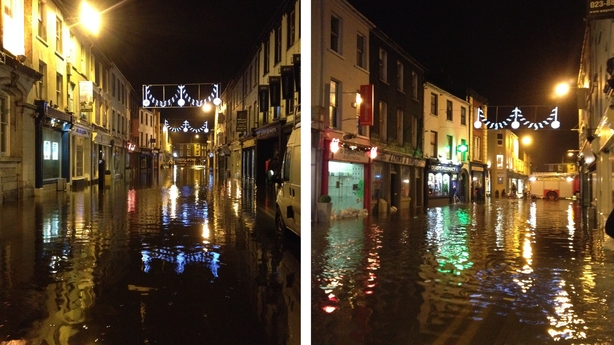 Many businesses in the centre of the town were flooded to a depth of half a metre last night.
CORK: A number of roads in Bandon closed this morning, including the N71, due to flooding. Diversions are in place. https://t.co/qvBPcgxUj8

— AA Roadwatch (@aaroadwatch) December 6, 2015
Sligo also experienced severe flooding with several major roads closed.
Gravogue river Sligo Town pic.twitter.com/KwxkMP9qmu

— Sligo County Council (@sligococo) December 6, 2015
13 nursing home residents in Ballytivnan were moved to a nearby HSE facility after flooding caused a partial evacuation of the building in the early hours of this morning.
Chairman of the Mowlam Healthcare group, Pat Shanahan, told RTÉ News it could take a number of weeks to replace damaged flooring.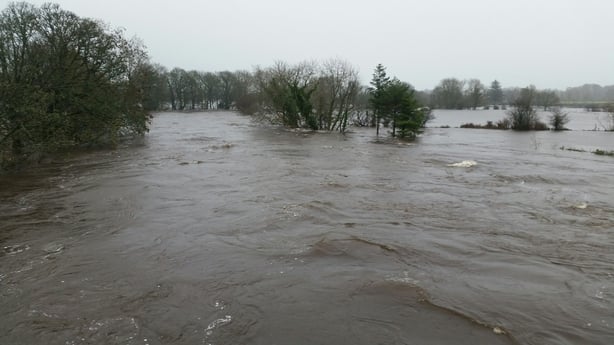 Share your weather pics and clips via yourphotos@rte.ie
SLIGO/ LEITRIM: The Carraroe/ Dromahair Rd (R287) is closed due to flooding. Use an alternative route. https://t.co/qvBPcgxUj8

— AA Roadwatch (@aaroadwatch) December 6, 2015
Sligo Town - Severe flooding in Balltivnan and Woodlands Estate. Mowlam Nursing Home being evacuated. Carraroe to Dromahair road closed

— Sligo County Council (@sligococo) December 6, 2015
Donegal has also been badly affected, with many road closures. Donegal County Council is providing updates on Twitter (@donegalcouncil) and Facebook.
Flooding is reported in Ballybofey and Castlefinn in Co Donegal please avoid both areas

— An Garda Síochána (@GardaTraffic) December 5, 2015
MONAGHAN: N2 closed at Moybridge outside Aughnacloy & in Monaghan Town at St Macartan's College following flooding. https://t.co/qvBPcgxUj8

— AA Roadwatch (@aaroadwatch) December 6, 2015
W'MEATH/ LONGFORD: Castlepolard/ Aughabrack Rd (R395) impassable between Coole & Lisryan - river burst its banks. https://t.co/qvBPcgxUj8

— AA Roadwatch (@aaroadwatch) December 6, 2015
Some rail services were also affected.
Storm watch: 16:00 Connolly Sligo cancelled due to high water levels at Sligo station. All other services operating #StormDesmond

— Iarnród Éireann (@IrishRail) December 6, 2015
Storm watch: Bus Transfers in operation between Dromod & Longford due to flooding #StormDesmond pic.twitter.com/ZVrWNmBDxh

— Iarnród Éireann (@IrishRail) December 6, 2015
A spokesperson for ESB Networks said there are about 1,000 customers without power this morning.
Around 600 of them are in Killarney, Co Kerry and Crossmolina Co Mayo, and they have had no electricity since yesterday.
ESB crews were out since first light working to restore service.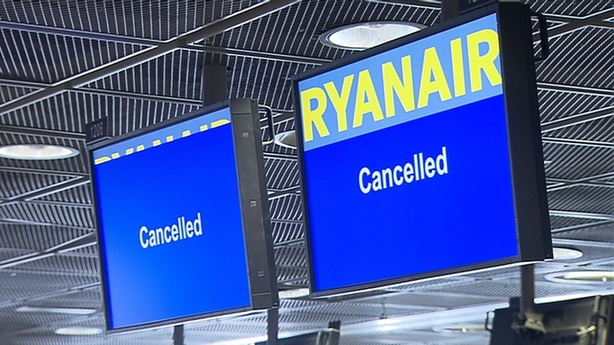 There were extensive delays, diversions and cancellations at Dublin airport last night with virtually all Ryanair flights cancelled.
Intending ferry passengers are advised to check with ferry companies and air passengers with their airlines.
Irish Ferries has cancelled two services this morning: the 8.45am Dublin to Holyhead Jonathan Swift service, and the 11.50 Holyhead to Dublin service.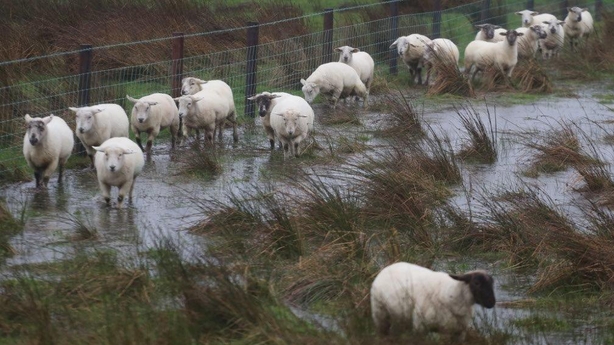 The flood project chairman at the Irish Farmers' Association has said farmers in the Shannon basin are very fearful about the impact of flooding on their livelihoods.
Tom Turley said flooding in the area straddling the River Shannon is worse now than it was in 2009, a period which saw the devastation of thousands of acres of farmland throughout the country.
A number of rural roads remain flooded throughout Co Clare.
Council engineers are assessing which areas are worst affected.
That assessment will continue over the coming days as waters recede and lands in the lower Shannon in east Clare around Clonlara become particularly vulnerable to flooding.
Racing at Punchestown to go ahead today following inspection. Read more: https://t.co/Oo0WFkG5q0 pic.twitter.com/1hCzCP1dDD

— RTÉ Racing (@RTEracing) December 6, 2015
Remnants of the flood waters surrounding #Cahir Castle @TipperaryTIO pic.twitter.com/DNBNNguANX

— Don O'Brien (@DonOBrien1) December 6, 2015