Northern Ireland's Attorney General John Larkin has indicated he is considering grounds for appealing today's decision by a High Court judge in Belfast in relation to the provision of abortion services.
Mr Justice Mark Horner today ruled that women who were the victims of sexual crime and cases of fatal foetal abnormality were entitled to exemptions in the law.
In a statement, A.G. John Larkin said that he was "profoundly disappointed" by the court's ruling.
The challenge was brought by the Northern Ireland Human Rights Commission, which wants access to legal terminations in cases of rape, incest or fatal foetal abnormality.
Mr Justice Horner told Belfast High Court: "In the circumstances, given this issue is unlikely to be grasped by the legislature in the foreseeable future, and the entitlement of citizens of Northern Ireland to have their Convention rights protected by the courts, I conclude that the Article Eight rights of women in Northern Ireland who are pregnant with fatal foetal abnormalities or who are pregnant as a result of sexual crime are breached by the impugned provisions."
Unlike other parts of the UK, the 1967 Abortion Act does not extend to Northern Ireland, where abortions are banned except where the life or mental health of the mother is in danger.
Anyone who performs an illegal termination could be jailed for life. The high-profile judicial review was heard over three days in July.
The case was taken against the North's Department of Justice which, following a public consultation, had recommended a law change in circumstances of fatal foetal abnormality.
---
Analysis: Northern Editor Tommie Gorman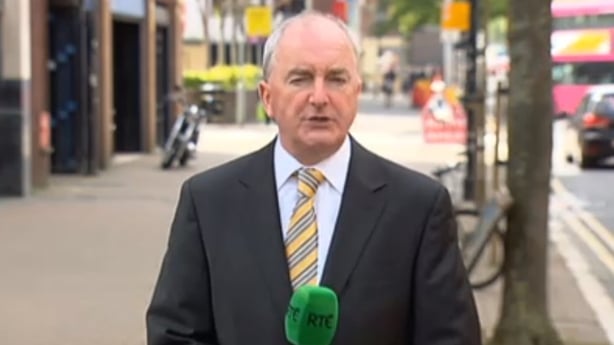 This matter is not over. There may be an appeal and the judge is awaiting legal submissions before deciding if he should formally declare Northern Ireland's legislation incompatible with the UK's obligations under the Human Rights Act. 
Justice Minister David Ford had suggested changing the law, to allow for abortion in the circumstances of fatal foetal abnormality. But this judgment goes further.  
Political reaction will be a significant part of the debate that follows today's developments.
---
However, the NIHRC said the DoJ had not gone far enough and argued the current law was incompatible with human rights legislation regarding inhuman and degrading treatment, privacy and discrimination.
Judge Horner said that without a referendum it was impossible to know how the majority of people viewed abortion and noted there was no political will to change the law.
In cases of fatal foetal abnormality, the judge concluded the mother's inability to access an abortion was a "gross interference with her personal autonomy".
He said: "In the case of an FFA there is no life to protect. When the foetus leaves the womb, it cannot survive independently. It is doomed. There is no life to protect.
"Therefore, even on a light touch review it can be said to a considerable degree of confidence that it is not proportionate to refuse to provide an exception to the criminal sanctions imposed on the impugned provisions."
The judge also said the current law placed a disproportionate burden on victims of sexual crime.
He said: "She has to face all the dangers and problems, emotional or otherwise, of carrying a foetus for which she bears no moral responsibility and is merely a receptacle to carry the child of a rapist and/or a person who has committed incest, or both.
"In doing so the law is enforcing prohibition of abortion against an innocent victim of a crime in a way which completely ignores the personal circumstances of the victim."
Mr Larkin, the chief legal adviser to the Stormont Assembly, was given special permission to address the court.
He said there was no public appetite for a law change and argued that it would take away the rights of disabled unborn children.
The court also took submissions from legal representatives for Sarah Ewart, a 24-year-old woman who went public about travelling to England for an abortion in 2013 after being told her first child had a severe brain malformation and no chance of survival outside the womb.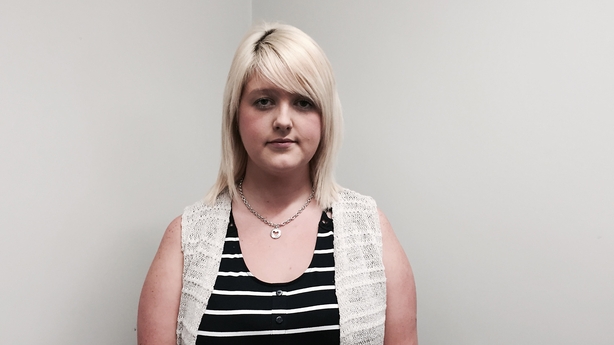 Ms Ewart was not present in court but mother Jane Christie sat in the public gallery alongside Grainne Teggart, from Amnesty International, which was also a third party intervener.
Further submissions were admitted from a number of other anti-abortion and pro-choice groups including Precious Life and the Catholic clergy.
The lengthy judgment was read out to a packed courtroom over more than two hours.
Judge Horner urged members of the public to read it in its entirety.
"The judgment is for everyone to read, not just those with legal training," he said. "Please read the judgment in full and give it careful consideration before reaching a conclusion."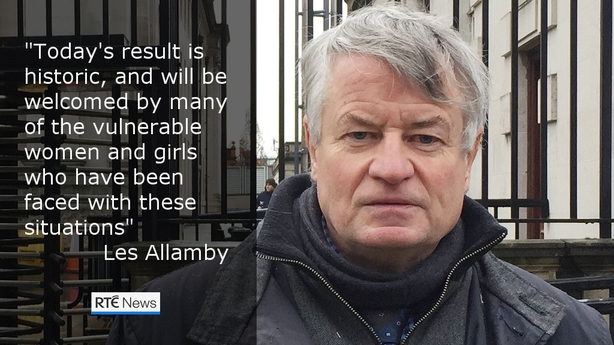 The NIHRC said legal proceedings had been launched as a last resort.
Speaking outside the court, Chief Commissioner Les Allamby described the judgment as "historic".
He said: "We welcome today's landmark ruling.
"In taking this case we sought to change the law so that women and girls in Northern Ireland have the choice of accessing a termination of pregnancy locally in circumstances of fatal foetal abnormalities, rape or incest, without being criminalised for doing so.
"Today's result is historic, and will be welcomed by many of the vulnerable women and girls who have been faced with these situations.
"We are delighted with the result."
Executive Director of Amnesty International Ireland, Colm O'Gorman, said: "Today's decision is not just something the Northern Ireland Assembly must act on. The Irish Government is now on notice that it too is violating the European Convention on Human Rights.
"It denies women and girls access to abortion in these cases. In fact, it doesn't even allow access to abortion on health grounds as required under international human rights law, so its abortion law is more restrictive and abusive.
"Ireland's 8th Amendment to the Constitutional is no excuse for human rights violations."