Pope Francis has arrived in the Kenyan capital, Nairobi, on his first papal visit to Africa.
He told journalists he will offer "spiritual and material" support to Kenya, Uganda and the war-torn Central African Republic.
Recent attacks in the region by Islamist extremists have killed hundreds, and French security officials have urged the cancellation of the Central African Republic visit.
However, when asked if he was nervous, Francis quipped that mosquitoes were the only thing causing him concern.
In his first speech in the Kenyan capital, he called for ethnic and religious reconciliation.
He also urged world leaders to pursue responsible economic development and to protect nature for future generations.
Speaking at the official residence of President Uhuru Kenyatta, he said that to the extent that societies experience divisions - whether ethnic, religious or economic - all men and women of goodwill are called to work for reconciliation and peace, forgiveness and healing.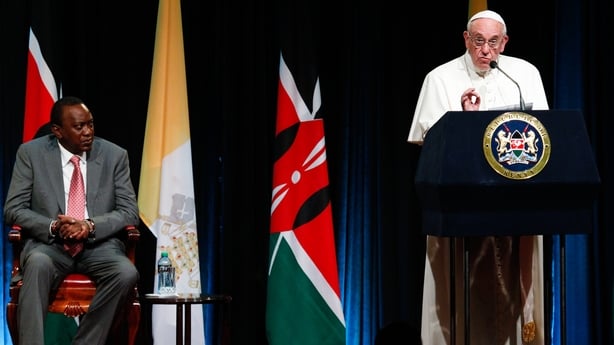 The President is a Catholic along with about 30% of Kenya's 45 million people. As the pope drove into Nairobi from the airport, thousands lined the roads to greet him.
Africa's Catholic Church is expanding quickly, with the number of faithful expected to more than double to half a billion in 2050.
The number of Muslims on the continent is forecast to experience a rise of about the same order to 670 million.
In each of the three host nations, Pope Francis will address many of the Catholic faithful directly and seek to heal Christian-Muslim divisions.
The trip will see him travel to Kenya and then Uganda, both victims of Islamist militant attacks, and finally to the Central African Republic, which is being torn apart by Muslim-Christian strife.
This evening, at Nairobi's State House, the pope called for responsible development in Africa and elsewhere.
One of his first actions in Kenya was to plant a tree in the grounds of the Presidential residence.
"The grave environmental crisis facing our world demands an ever greater sensitivity to the relationship between human beings and nature," he said.
"We have a responsibility to pass on the beauty of nature in its integrity to the future generations."
Pope Francis is expected to address climate issues when he visits the regional UN headquarters in Nairobi tomorrow.
Millions of Christians, Catholics and otherwise, are expected to turn out for public celebrations of Masses during the tour, presenting a challenge for national security forces to keep both the pontiff and the vast crowds safe.
Kenya has suffered a spate of attacks by Somalia's Islamist group al Shabaab in the past two years that have killed hundreds of people, including the 2013 raid on a Nairobi shopping mall that killed 67.
Kenya has also been plagued by ethnic tensions.