Advertisements for a new Amazon.com Inc series featuring Nazi-inspired imagery have been pulled from a New York City subway line after Governor Andrew Cuomo intervened.
The advertisements for 'The Man in the High Castle' had completely wrapped the seats, walls and ceilings of one train on the shuttle line that connects Times Square and Grand Central Terminal in midtown Manhattan.
Adam Lisberg, a spokesman for the Metropolitan Transportation Authority, said the train was taken out of service after the evening rush hour so the ads could be removed.
An Amazon representative said that the company had not requested the ads be pulled, contradicting a transit official who had said the company itself had asked for the removal.
Mr Lisberg would not comment on internal discussions between the MTA and its advertisers but said Mr Cuomo had called the head of the MTA yesterday and asked him to ensure the ads were taken down.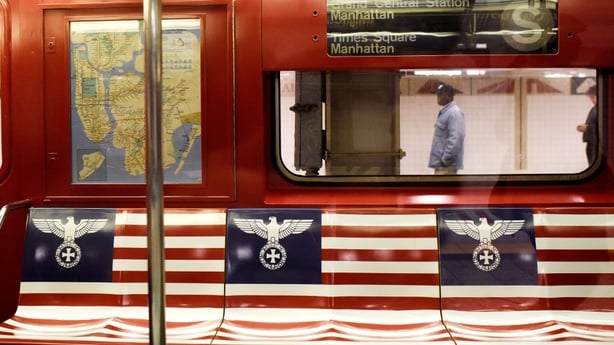 New York City Mayor Bill de Blasio had also called on Amazon to pull the ads, saying they were "irresponsible and offensive to World War II and Holocaust survivors, their families and countless other New Yorkers".
The show, based on a Philip K Dick novel, depicts an alternate reality in which Nazi Germany and Japan have divided control over the United States after winning World War II.
The advertisements include a version of the US flag with a German eagle and iron cross in place of the stars, as well as a stylised imperial Japanese flag.
In a statement, Amazon did not directly address the controversy, saying the show is part of its line-up of "high-quality, provocative programming that spurs conversation".
The shuttle train ads had been scheduled to run until 6 December.
Amazon's 260 subway station posters for the show have not been removed.
The MTA had said the advertisements did not violate the agency's content-neutral guidelines, which ban political ads.