Swedish police say they have identified the suspect in a manhunt launched after the country raised its terror threat assessment to the highest level ever.
Security has been stepped up around possible targets such as main railway stations and parliament.
Security services said yesterday they had concrete information about a possible attack on Sweden.
Pictures of the suspect, identified as Mutar Muthanna Majid,have been distributed to police around the country.
Media published a grainy picture of a smiling, bearded young man dressed in dark clothing.
Jagade mannen fångades av en övervakningskamera när han reste in i Sverige, uppger Expressen https://t.co/07Z63OqhWi pic.twitter.com/hgCIcqlDSW

— Aftonbladet (@Aftonbladet) November 19, 2015
"That is the picture we are working with," police spokeswoman Malin Nafver said, referring any further questions about the man to security services.
Citing unidentified police sources, public service television SVT reported the suspect was of Iraqi origin and about 25-years-old.
Tabloid Expressen reported Majid was a member of the so-called Islamic State group.
"Sweden has probably been naive in this regard. Perhaps it has been difficult for us to accept that there are, in our open society, people, Swedish nationals, who sympathise with the killers and with Islamic State," Prime Minister Stefan Lofven said.
Police raised their presence at public and strategic locations around the country as the alert went out, including sites such as government buildings, foreign embassies and some media outlets.               
The last militant attack in Sweden took place in 2010 when a suicide bomber died when his bomb belt went off prematurely in central Stockholm as he was getting ready to attack a train station or department store during the Christmas shopping rush.
Further attacks likely - Europol chief
Europe is likely to face new attacks from the so-called Islamic State in Paris, the head of Europol, the coordinating organisation of EU countries' police forces, said.             
"It is reasonable to assume ... that further attacks are likely," Europol director Rob Wainwright told MEPs in the European Parliament in Brussels.              
He compared Friday's events in Paris to those in Mumbai in 2008, when militants killed 166 people at different locations across the Indian city.              
"The reality of what happened in Mumbai then has now arrived in Europe," Mr Wainwright said.              
"This is clearly therefore a more significant and threatening form of terrorism than the phenomenon of the lone actor," he added, referring to attacks over recent years by individuals or small groups inspired by Islamic State.              
"It's also a clear statement of intent by ISIS [Islamic State] to export its brutal brand of terrorism to Europe to take it more onto the international stage."              
Noting other attacks including last month's downing of a Russian airliner in Egypt, he added: "We are dealing with a very serious, well resourced, determined international terrorist organisation that is now active on the streets of Europe. This represents the most serious terrorist threat faced in Europe for ten years."              
The hearing comes on the eve of an extraordinary meeting of EU interior and justice ministers to discuss measures after the attacks in Paris.
Italy seeks suspected militants 
US authorities have warned of potential militant attacks in Italy, whose security services are looking for five possible suspects, Italy's foreign minister said.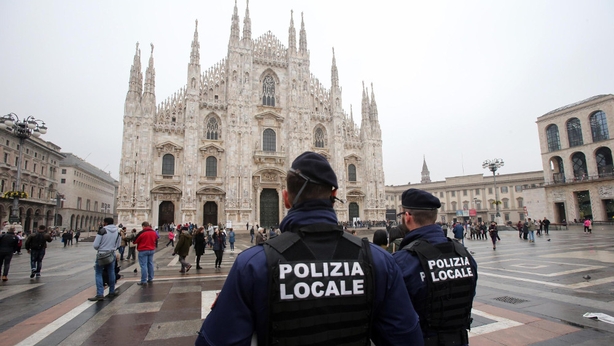 Paolo Gentiloni referred to "possible terrorist attacks" that could be aimed at St Peter's Basilica in Rome or the cathedral or La Scala theatre in Milan.              
The US embassy in Rome said in a message to its citizens that - alongside the big tourist destinations - churches, synagogues, restaurants, theatres and hotels in the country's two main cities could also be targets.              
There was no suggestion from authorities that the threat encompassed plans for a specific attack.              
Italy raised its security alert level to 2, the highest possible in the absence of a direct attack, following events in Paris. 
"As of yesterday our security forces are working to identify five people," Mr Gentiloni said, adding that the US embassy's warning did not constitute a recommendation that its citizens should avoid to Italy.              
The embassy urged Americans to be vigilant as militant groups "may possibly utilise similar methods used in the recent Paris attacks".              
Mr Gentiloni said Italy was ready to help its "French brothers" in the fight against Islamic State but rejected the possibility of the western coalition sending ground troops into Syria. 
"No one is going to put boots on the ground in Syria, not(French President Francois) Hollande, nor Obama, nor us,"Mr Gentiloni said.
NYC police stress no 'specific threat' to city
Police in New York City have said they are aware of a new IS video targeting the city, but have stressed there was "no current or specific threat" against the city.
With the video emerging just days after the deadly attacks in Paris, the Mayor of new York vowed the people of his city will not be scared into changing their daily lives.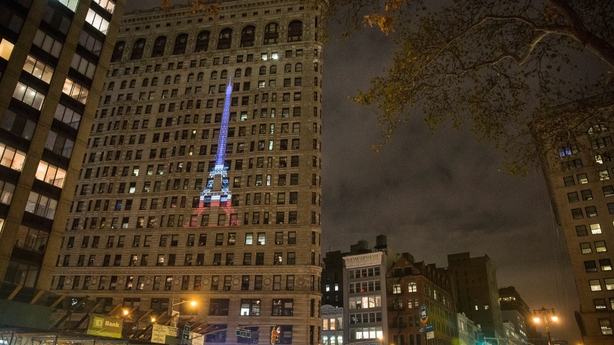 Bill de Blasio told reports that "the people of New York City will not be intimidated. We understand it is the goal of terrorists to intimidate and disrupt our democratic society. We will not submit to their wishes.
"There is no specific and credible threat against New York City. So it's crucial that people go about their normal business."
Bill Bratton, the Commissioner of the NYPD, said the video itself was "nothing new".
He explained it contains a mixture of previously released footage, with about 19 seconds of the five-and-a-half-minute video containing scenes from New York.
Commissioner Bratton told New Yorkers not to be afraid, saying "we will not be intimidated and we will not live in fear".