The fate of Abdelhamid Abaaoud, the suspected mastermind of the Paris attacks, remains unknown after a massive police assault on his alleged hideout, the city's prosecutor said.
He was not among eight people attested in a police raid in the suburb of Saint-Denis, but officials have not ruled out the possibility that he was killed in the raid itself.
Paris prosecutor Francois Molins outlined a seven-hour raid of an "extreme difficulty" which saw police fire nearly 5,000 rounds of ammunition in a battle with a group holed up in two apartments.
A gargantuan probe undertaken since the Friday attacks saw police pore over video footage, telephone surveillance and witness reports which led them to the apartment in the poor multi-ethnic suburb of Saint-Denis.
Mr Molins said a witness report received Monday led investigators to believe that Abaaoud, a known Belgian jihadist believed to be in Syria, was in fact on French territory.
"This is an individual suspected of being the instigator of a large number of attacks in Europe," said Mr Molins.
Paris prosecutor says there were "at least" two dead in the #SaintDenis raid

— Tony Connelly (@tconnellyRTE) November 18, 2015
Wary about the report, investigators ran "numerous telephonic and bank verifications," he added.
The police assault was launched at 4:20am (3.20am Irish time), putting Saint-Denis on lockdown as helicopters buzzed in the sky and snipers took up position on rooftops.
However police immediately ran into difficulty.
Prosecutor says a mobile phone found in a bin outside the Bataclan on Friday night. An SMS on it sent at 21:42 read: "We're ready, let's go"

— Tony Connelly (@tconnellyRTE) November 18, 2015
"The reinforced door of the apartment at first resisted explosives laid by RAID [anti-terror police] which allowed the terrorists to prepare their riposte," said Mr Molins.
"Very sustained gunfire continued for nearly an hour," he said, adding that "the complex nature of the operation required the use of assault rifles, snipers and explosives."
The operation was further complicated by an explosion - later determined to be a woman who "detonated an explosives vest" - and damage done to the building which led to the collapse of part of the floor.
Body found 'riddled with bullets'
Another body "riddled with bullets" was found in the debris, but the state of the corpse did not allow for it to be identified.
Therefore Mr Molins said: "I am not able to give you a precise number and identity of those killed. There are at least two dead and verifications will likely take longer than expected" due to the state of the apartment building.
"A new team of terrorists was neutralised and all indications are that given their arms, their organisational structure and their determination, the commando could have struck," he said.
Paris prosecutor based his conviction that a cell at #SaintDenis was about to carry out a fresh attack on the level of weaponary found there

— Tony Connelly (@tconnellyRTE) November 18, 2015
Three suspects were arrested inside the building, while outside police took into custody a man who lent the apartment to the jihadists and a woman accompanying him.
Two men were arrested after being found in the rubble.
An eighth man, who was injured and found outside, was also taken into custody believed to have been involved in providing the apartment.
The vast probe also led police to discover a cellphone belonging to one of the attackers in a dustbin outside the Bataclan music venue, scene of the worst violence, where 89 people were gunned down.
A total of 129 people were killed and 350 injured in the attacks.
The phone showed one of the gunmen had sent a message saying: "We're ready, let's go."
The message was sent at 9:42 pm, before the attack on the Bataclan, Mr Molins said, adding that police were investigating who the message was sent to.
"We can say that a massive logistical operation was meticulously put in place by these terrorists," said Mr Molins.
Local residents spoke of their fear and panic as the shooting started just before 4.30am (3.30am Irish time).
"We could see bullets flying and laser beams out of the window. There were explosions. You could feel the whole buildings shake," said a downstairs neighbour from the apartment where at least one gunman was still believed to be holed up.
She told Europe 1 radio that she heard the people in the flat above talking to each other, running around and reloading their guns.
"I tried to hide my son beneath me but each time there was shooting he was clawing at my skin," she said, adding that police eventually managed to get them to safety.
Three police officers and a passerby were injured in the assault. A police dog was also killed.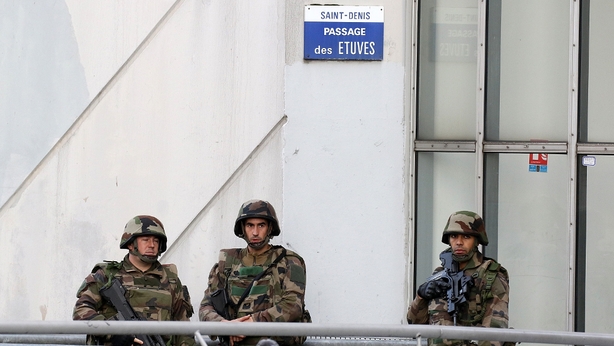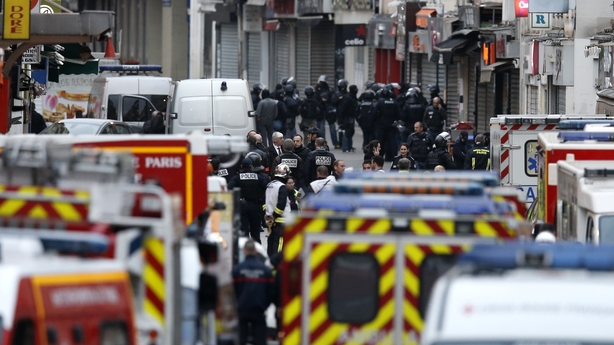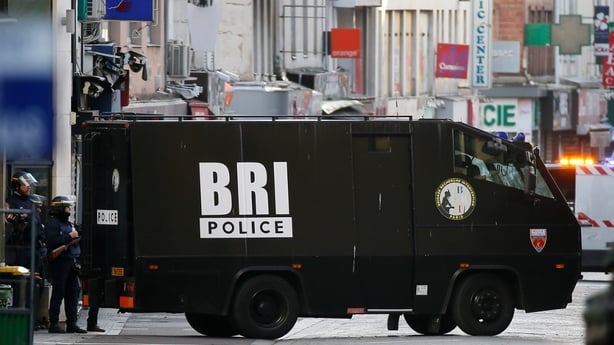 ---
Analysis: International security expert Olivier Guitta
Olivier Guitta, Managing Director at GlobalStrat, an International Security and Geopolitical Risk consultancy, has said that most of the attacks were planned, both in Belgium and Syria, with the intention to evade French security services.
He told RTÉ's News At One that just two weeks ago the so-called Islamic State group made an audio tape telling their followers in western Europe not to attack their homeland, but to attack in neighbouring countries.
He said it is alleged that the raid this morning was conducted on Moroccan information.
"Abdelhamid Abaaoud, the main ringleader - the Belgian is from Moroccan extract. Moroccan services have been very good at tracking down their own, all over the world, when they are linked to terrorism. There's cooperation going on between the different services."
"There's one major question that has not been addressed by the media - in its claim of responsibility, the IS mentioned an attack in the 18th district of Paris, which never happened, but a car with Belgian plates was found yesterday and I suspect that, possibly, the raid today was on a cell that was supposed to attack on Friday night the 18th district."
"The question is after they find this cell, what about support? If this cell was operational, then they must have a lot of support. French security services are going to look at whatever connections they can find."
---
Updates: Paris anti-terror police operation
Christiane Taubira, French justice minister says two suspected terrorists killed, one by police, one by a woman who detonated a suicide vest

— Tony Connelly (@tconnellyRTE) November 18, 2015
Islamic State claimed responsibility for the attacks in Paris, saying they were in retaliation for French air raids in Syria and Iraq over the past year.
France has called for a global coalition to defeat IS and has launched three large air strikes on Raqqa, the de-facto Islamic State capital in northern Syria.
French prosecutors have identified five of the seven dead assailants from Friday's attacks - four Frenchmen and a man who was fingerprinted in Greece among refugees last month.
But they now believe two men directly involved in the assault subsequently escaped.
Until this morning, officials had said Abaaoud was in Syria.
He grew up in Brussels, but media said he moved to Syria in 2014 to fight with Islamic State.
Since then he has travelled back to Europe at least once and was involved in a series of planned attacks in Belgium foiled by the police last January.
This morning's operation came after a source with knowledge of the investigation said a phone had been found with a map of the music venue targeted in one of the attacks and a text message saying "let's go".
The source said the phone was found in a bin near the Bataclan concert hall where 89 people died.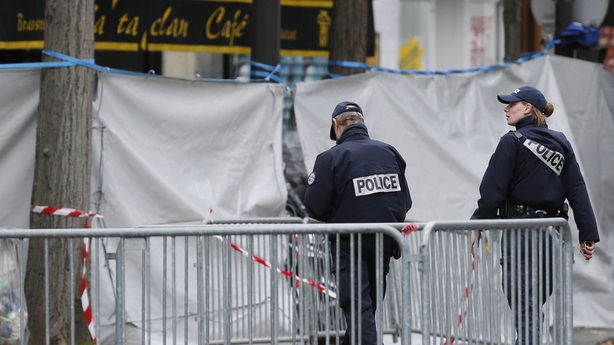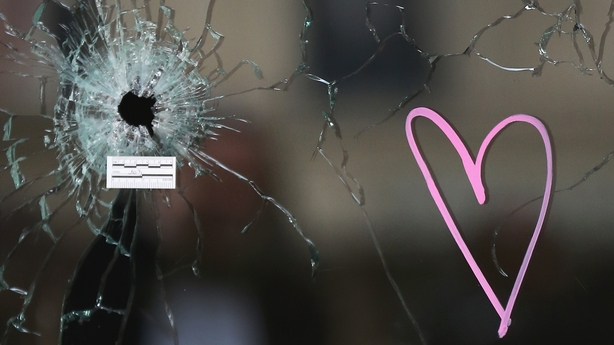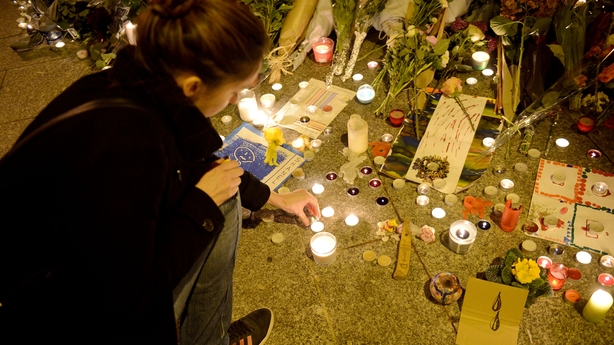 Meanwhile. the California-based rock band Eagles of Death Metal', who was playing at the Bataclan concert hall when the shootings took place, has returned to the United States and suspended all shows until further notice. 
In a statement released today, the band it was "horrified" and "still trying to come to terms with what happened."
Late last night, the US Federal Aviation Administration said two Paris-bound Air France flights were diverted following anonymous bomb threats, and hundreds of passengers and crew were safely removed.
Authorities in the United States and Canada, where the planes landed, later said both aircraft had been searched and were safe.
Last night, bomb fears had prompted German police to call off a soccer match between Germany and the Netherlands in Hanover two hours before kick-off. German Chancellor Angela Merkel had been due to attend.  
No arrests were made and no explosives were found.
French President Francois Hollande is due to meet US President Barack Obama in Washington on 24 November to push for a concerted drive against Islamic State, which controls large parts of Syria and Iraq.
Mr Obama said in Manila this morning that he wanted Moscow to shift its focus from propping up Syria's government to fighting Islamic State and would discuss that with Russian President Vladimir Putin.
Meanwhile, the prosecutor's office said that police had released family and friends of jihadists Ismael Mostefai and Samy Amimour who blew themselves up in the Bataclan.
Elsewhere, in a sign too that Islamic State supporters were still active, a Jewish teacher was stabbed in the southern French port of Marseilles by three people professing solidarity with the militant group, prosecutors said.
One of the three wore an Islamic State T-shirt while another attacker showed a picture on his mobile telephone of Mohamed Merah, a home-grown Islamist militant who killed seven people in attacks in southern France in 2012. The Marseilles teacher's life was not in danger.