- Two more dead attackers identified as French nationals
- Three brothers involved in attacks, sources say
- Francois Hollande wants state of emergency to last three months
- Number of AK47 rifles found in abandoned black Seat in Paris suburbs
- One of the attackers identified as 29-year-old Frenchman Ismael Mostefai
- Seven people arrested in Belgium and six in France, including Mostefai's father and brother
- One or more of the attackers passed through Greece as a refugee
A manhunt is continuing for one of the suspects in the Paris attacks after a suspected getaway car was found abandoned in the city.
French police issued a wanted notice and photo of Salah Abdeslam, who they believe was involved in Friday's killings along with his two brothers.
The French authorities missed an opportunity to detain Abdeslam just hours after the carnage in Paris when he was questioned and released after a car he was in was pulled over near the Belgian border.
Officers have warned the public not to approach the 26-year-old Frenchman, born in the Belgian capital Brussels, and described him as "dangerous".
Abdeslam rented a black Volkswagen Polo used by a group of hostage-takers who left at least 89 people dead inside the Bataclan concert hall, an official said.
Meanwhile, Paris Prosecutor Francois Molins has said two more dead attackers have been identified as French nationals.
Mr Molins said both of the newly identified attackers were of French nationality and resident in Belgium.
This brings to three the number of French suicide bombers involved in the attacks.
Three brothers were involved in the Paris attacks that claimed 129 lives.
One brother died in the attacks late Friday, the sources said. One is in custody in Belgium but it is unclear whether he took part in the rampage, while the third either took part and died during the attacks or is at large, they added.
Latest update on the Paris attacks. Graphics #AFP #ParisAttacks pic.twitter.com/RRvI4xq4jI

— AFPgraphics (@AFPgraphics) November 14, 2015
129 people were killed in Friday night's attacks. A further 352 were injured, with scores in a critical state yesterday.
French President Francois Hollande said he wants the state of emergency declared after the attacks to last three months, parliamentary sources said, a move that would cover the upcoming UN climate conference.
"He told us he wanted the state of emergency to last three months," one of the sources said. 
Any extension to a state of emergency beyond 12 days requires parliamentary approval. 
The 12-day UN conference, which will be attended by dozens of heads of state, begins on November 30.
Elsewhere, a number of AK47 rifles of the sort used during the attacks in Paris were found in a black Seat abandoned in an eastern suburb of the capital, a judicial source has said.
Witnesses have said the car, found in Montreuil, was used by attackers at multiple locations on Friday night.
A Frenchman who is thought to have hired another car used in the attacks was stopped at the Belgian border yesterday morning, along with two other people, Mr Molins said.
French police have identified one of the assailants in the coordinated attacks as Ismael Omar Mostefai, a 29-year-old French national.
Seven of his relatives are being questioned, sources and French media said.
Authorities had a dossier on Mostefai that marked him as a potential Islamist militant.
He also had previous arrest records and had been sentenced eight times for petty crimes, according to French newspaper Le Monde.
Mostefai was one of the gunmen who blew himself up in a Paris concert hall where most of the deaths from the attacks on Friday took place.
He is reported to have been identified by fingerprints on a severed finger found at the Bataclan.
His father, a brother and five other people are being held for questioning, several French media reported, as the hunt continued for others involved in the shootings.
The reports said searches were also being conducted in the relatives' homes in the northeastern Aube region and in Essonne, south of Paris.
Father-of-one Mostefai was born in Courcouronnes, a southern suburb of Paris and lived in Chartres, southwest of the capital.
He is suspected to have stayed in Syria between 2013 and 2014, Le Monde reported.
Mr Molins said investigators believed three coordinated teams had carried out the wave of attacks across Paris.
They were the worst in Europe since the Madrid train bombings of 2004, in which Islamists killed 191 people.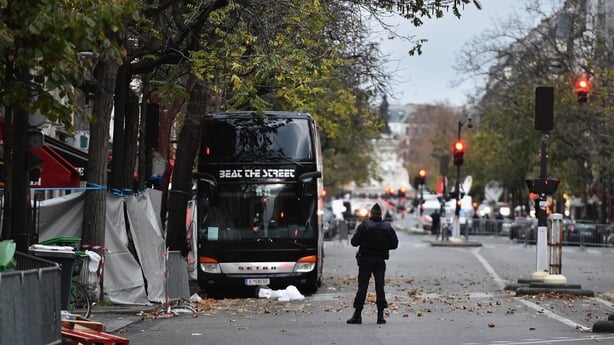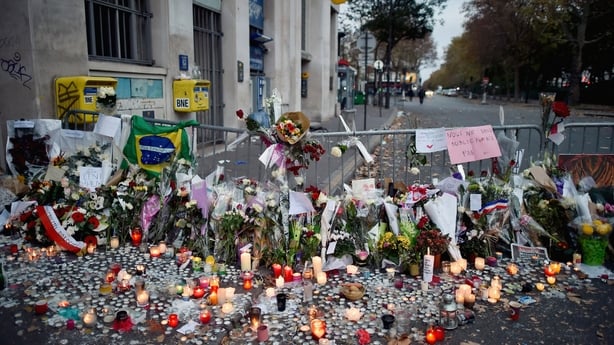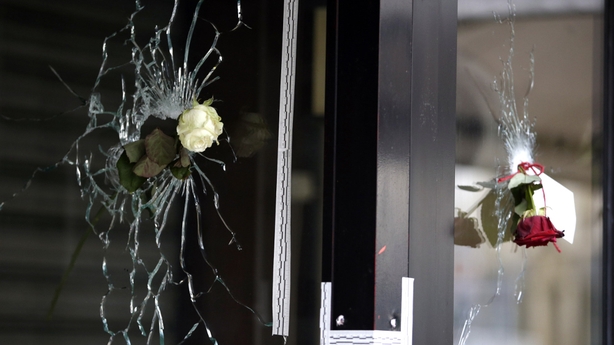 Friday's attacks were described as an "act of war" by President Francois Hollande.
French Prime Minister Manuel Valls said that 103 bodies had been identified with 20 to 30 more still awaiting identification.
"They will be [identified] in the coming hours," said Mr Valls outside the Ecole Militaire where a centre has been set up for the victims' families.
"These are not anonymous victims. They are lives, young people, who have been targeted while they spent a quiet evening in a cafe, or at a concert," Mr Valls told reporters.
"No psychologist, no volunteer, no doctor can console them," he said of the grieving families.
"But we must help them with the process, with identifications, to accompany them ... through all the administrative tasks."
In coordination with the Federal Bureau of Investigation and other agencies, US Justice Department attorneys are working with French authorities to obtain further information that maybe relevant to the Paris attacks, a Justice Department official said on Saturday.
The worst carnage occurred as three gunmen systematically killed at least 89 people at a rock concert by a US rock band at the Bataclan theatre before detonating explosive belts as anti-terrorist commandos launched an assault, officials said.
Some 40 more people were killed in five other attacks in the Paris region, including a double suicide bombing outside the Stade de France stadium, where Mr Hollande and the German foreign minister were watching a soccer international.
Scores of people were injured, including one Irish man who underwent surgery after he was shot during the attack at the Bataclan. He is said to be in serious but stable condition.
Mr Hollande said the attacks had been organised from abroad by Islamic State, with internal help.
Three people were arrested in Belgium as part of an anti-terrorism probe centred on a Belgian hired car found near the site of one of the Paris attacks, Belgian prosecutors said.
Meanwhile, France is observing three days of national mourning for the victims of Friday's attacks, which included explosions outside the Stade de France where an international soccer friendly between France and Germany was being held.
Hollande also pulled out of the G20 summit being held in Turkey after declaring the first nationwide state of emergency since 1961.
France will be represented by its foreign and finance ministers.
"Faced with war, the country must take appropriate action," the president said in a solemn address after meeting security chiefs.
"France will be merciless towards these barbarians from Daesh," Mr Hollande said, using an Arab acronym for Islamic State.
Flags flew at half-mast and cinemas, theatres and other places of entertainment were closed, although schools and universities will reopen as normal on Monday.
Paris killings an 'attack on the civilised world' - Obama
US President Barack Obama described the killings in Paris as an attack on the civilised world and said the United States would work with France to hunt down those responsible and bring them to justice.
"As we I'm sure each said to President Hollande and the French people, we stand in solidarity with them in hunting down the perpetrators of this crime and bringing them to justice," Mr Obama told a joint news conference with Turkish President Tayyip Erdogan ahead of a G20 leaders summit.
"As was true with the terrible attacks that took place in Ankara, the killing of innocent people based on a twisted ideology is an attack not just on France, not just on Turkey, but it's an attack on the civilised world," he said, referring also to twin suicide bombings in the Turkish capital last month.
EU to hold emergency security summit
Luxembourg, holder of the EU presidency, has called an emergency meeting of justice ministers on 20 November following France's request to discuss the European response to the attacks in Paris, it said in a statement.
              
"Confronted with barbarism and terrorism, Europe stands united with France," the statement said.
              
"Following the tragic events in Paris, this extraordinary Justice and Home Affairs Council will strengthen the European response while ensuring the follow-up of the measures taken."    
French Interior Minister Bernard Cazeneuve had asked for the meeting.
It is expected to take place in Brussels, although the timing and precise agenda have not yet been fixed, said an EU diplomat.