The Irish embassy in Paris has confirmed that an Irishman has undergone surgery after receiving gunshot wounds at the Bataclan concert venue during last night's terror attacks in Paris.
The man, who was visiting Paris for the weekend, is described as being in a serious but stable condition in hospital.
The embassy said that consular assistance was provided to the man and his family had been informed.
Thousands marched through Dublin today in solidarity with France after yesterday's gun and bomb attacks killed nearly 130 people.
Many of those marching were draped in the French tricolour flag, some carried placards reading "Pray for Paris" and "Je Suis Paris", and others sang "La Marseillaise".
The French embassy gave an estimate of around 6,000 attendees.
Several hundred people also attended a vigil in Galway.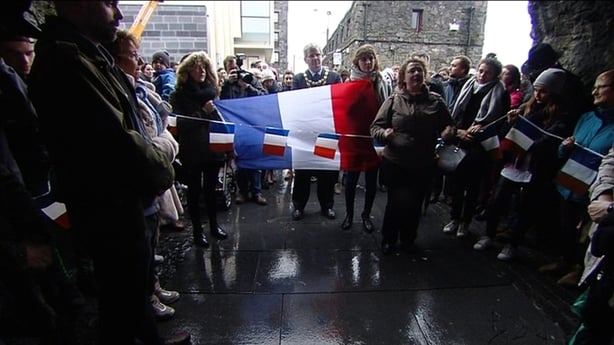 President Michael D Higgins and Taoiseach Enda Kenny expressed their shock at the attacks - and have extended their sympathies to the French people.
President Higgins contacted the French Ambassador in Dublin offering his sympathy and requesting that his message on behalf of the Irish people be passed on to French President Francois Hollande.
Mr Kenny said once again we were witnessing carnage on the streets of Paris.
He said the Irish people stand as one with the people of France.
Those who lost their lives were also remembered at religious services here throughout the day.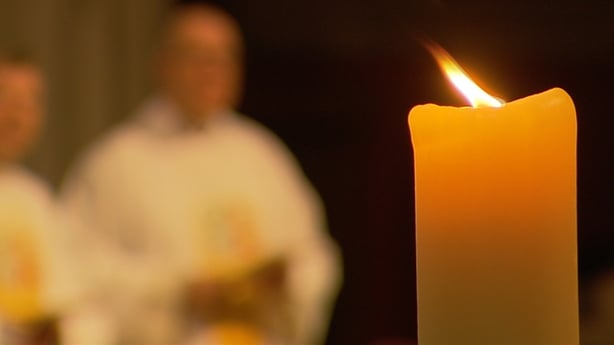 Paris like 'ghost town' after attacks
French Ambassador to Ireland Jean-Pierre Thébault said that the impressive expression of solidarity in Ireland was a very strong message - not only by those who had marched but in the thousands of messages they had received.
Speaking on RTÉ's Six One News, he said the people are showing that those values the terrorists tried to defeat would not be defeated.
Mr Thébault said that the French nation is in shock, but at the same time the French nation is proud of its citizens.
He said that by their reaction and by their unity, they were exemplifying why they think that terrorists will be defeated.
The Irish Ambassador to France said it would take a long time for Paris to recover from last night's attacks.
Speaking on the same programme, Geraldine Byrne-Nason said there is revulsion on the streets of the French capital, which she said was like a ghost town tonight.
It is not realistic to expect the city to return quickly to normality, she added.
Ms Byrne-Nason said the embassy has been working through the night to provide assistance to Irish people in France.
The embassy has received hundreds of calls, she said, and is trying to assist people who needed to travel around the country.
Irish people in Paris who need to contact the Embassy can do so at +33144176700.

— IrelandEmbassyParis (@IrlEmbParis) November 13, 2015
Books of condolence are set to open here following yesterday's attacks which left 129 people dead.
Clare County Council will open a book of condolence at 10am on Monday at Áras Contae an Chláir, New Road, Ennis.
Limerick City and County Council is also to open books of condolence next week.
They will open at the Council Headquarters in Merchants Quay, in the atrium of council buildings in Dooradoyle, or online on www.limerick.ie.
Meanwhile, the leader of the Shia Muslim community in Ireland has said its members are shocked, saddened and horrified by last night's terrorist attacks.
Dr Ali Al Saleh extended his sympathy to the people of France and blamed the government of Saudi Arabia for funding the so-called Islamic State (IS) organisation and spreading the ideology underpinning it.
Imam Al Saleh, who is the founder of the Hussaini Mosque at Milltown in Dublin, also extended condolences to the relatives of 43 people killed - and many others injured - by IS in a Shia area of Beirut on Thursday.