Minister of State Aodhán Ó Ríordáin has said Travellers are a distinct ethnic group and deserved recognition in that regard.
Speaking in the Dáil during Sinn Féin's Private Members' motion, he expressed his frustration over the public opinion of Travellers.
He commended Sinn Féin Deputy Pádraig Mac Lochlainn for introducing the motion and said there had been an "experiment of sameness since the foundation of the State". 

That sameness, he said, was a lie and diversity was the only truth.
He said public representatives should stand by truth, which he said was that the travelling community is a distinct ethnic group and deserved recognition in that regard.
He said such recognition did not require legislation or a constitutional amendment.
The Labour minister said it was just as well it did not as "could you imagine if we put that question to the people, because in this country you can pretty much say or write in a newspaper anything you want to say about the Traveller community and get away with it".
Mr Ó Ríordáin said there could not be a 1916 commemoration next year, unless there were equal rights and opportunities for all citizens.
He suggested that a polling company or a focus group might reject equality, however he called on the Government to "reject focus group equality".

"I'm working hard to realise the day where members of Government, with support from everyone, can recognise the truth of diversity and put to bed the lie of sameness and say to the travelling community that finally from the settled perspective that we - this State, the Republic, you as a people - together let's build a new relationship in this republic."
He said that would be proud day for the Republic and something that could be collectively celebrated. 

"A new road to travel together in what we should call a real Republic", he added.
Protest over lack of Traveller accommodation
Groups representing the travelling community staged a walk-out of a housing conference at Dublin Castle today in protest at the lack of Traveller accommodation.
They condemned what they said was "stonewalling by local representatives who represent a racist agenda".
Bridget Quilligan, of the Irish Traveller Movement, gave an impassioned speech at the conference of the Local Traveller Accommodation Consultative Committees (LTACC).
LTACCs were set up to advise the minister in relation to matters concerning accommodation for Travellers, under the Housing Act 1998.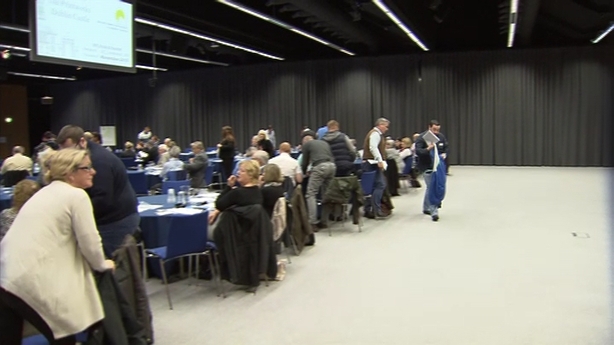 She said: "The accommodation situation has not improved at the rate we would have expected ... in truth the national accommodation strategy is not working.
"We are stonewalled by local representatives who represent a racist agenda."
"We want safe, adequate accommodation for Travellers.. and we will no longer collude with the system that's not working," Ms Quilligan said.
"We are doing this for our children and believe me there is no stronger motivation than that," she added.
In recent years funding for Traveller accommodation has dropped from €70 million to just over €4 million, and Travellers feel there is still a reluctance to supply the housing.
"We're hurt, we're angry ... we see [the Carrickmines halting site tragedy] as an avoidable incident." https://t.co/ISZe0tVt8X

— RTÉ News (@rtenews) November 3, 2015
A spokesman for the Department of Environment, Community and Local Government said it was "a missed opportunity" and "regrettable" that the Traveller representatives walked out of the conference.
The spokesman said the conference had been arranged for a number of months and a number of speakers from abroad were lined up to address the participants.
The spokesman added: "One of the purposes of the conference was to examine how the LTACCs might work more effectively.
"A number of afternoon workshops, which have now had to be cancelled, were due to examine how Traveller programmes might be better delivered. So it is somewhat of a missed opportunity."
Separately, Sinn Féin is putting forward a private members' motion tonight, calling for the Government to recognise Travellers as an ethnic group.