An Irish scientist has been jointly awarded the 2015 Nobel Prize for Medicine and Physiology.
William C Campbell, who was born in Ramelton, Co Donegal, and colleague Satoshi Ōmura were jointly awarded half the prize for their discoveries concerning a novel therapy against infections caused by roundworm parasites.
The other half of the prize went to Chinese scientist Youyou Tu for her discoveries concerning a new therapy against malaria called Artemisinin.
The announcement was made by the Nobel Assembly at the Karolinska Institutet this morning.
The 2015 #NobelPrize awarded achievements in Physiology or Medicine http://t.co/5O4d6gIGoS

— The Nobel Prize (@NobelPrize) October 5, 2015
Prof Campbell and Prof Ōmura discovered a new drug, Avermectin, the derivatives of which have radically lowered the incidence of river blindness and lymphatic filariasis.
The drug has also shown efficacy against a growing range of other parasitic diseases.
An expert in parasite biology, Prof Campbell, who was born in 1930, received a BA from Trinity College Dublin in 1952 and was awarded a PhD from the University of Wisconsin in 1957.
From 1957 to 1990 he was with the Merck Institute for Therapeutic Research and from 1984 to 1990 worked as Senior Scientist and Director for Assay Research and Development.
Prof Campbell is currently a Research Fellow Emeritus at Drew University, Madison, New Jersey.
In 2012, Prof Campbell was also conferred with an honorary doctorate at Trinity College.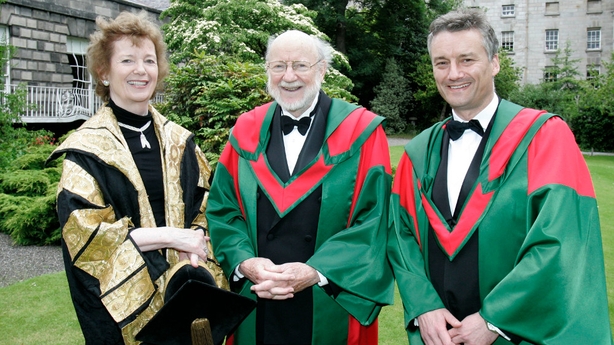 Prof Ōmura, a microbiologist, was born in Japan in 1935. Since 2007, he has been Professor Emeritus at Kitasato University.
Youyou Tu was born in 1930 in China and is Chief Professor at the China Academy of Traditional Chinese Medicine.
Prevalent in sub-Saharan Africa, South Asia and Central and South America, it is estimated that parasitic worms afflict a third of the world's population
River blindness causes inflammation in the cornea and leads to loss of vision.
Lymphatic filariasis causes chronic swelling and leads to life-long stigmatising and disabling clinical symptoms, including elephantiasis and scrotal hydrocele.
100 million people around the world suffer from it.
Prof Ōmura isolated new strains of a group of bacteria called streptomyces which live in the soil and were known to produce a plethora of agents with antibacterial activities.
He isolated the strains and developed them in the lab, before selecting 50 of the most promising.
Prof Campbell used Prof Ōmura's streptomyces cultures and showed that a component from one of the cultures was remarkably efficient against parasites in domestic and farm animals.
The bioactive agent was purified and named Avermectin, which was subsequently chemically modified to a more effective compound called Ivermectin.
Ivermectin was later tested in humans with parasitic infections and effectively killed parasite larvae.
Treatment is so successful that these diseases are on the verge of eradication.
Malaria, a mosquito-borne disease, is caused by single-cell parasites which attack red blood cells, causing fever, and in severe cases brain damage and death.
Malaria infects close to 200 million individuals yearly, killing more than 450,000 people annually, with more than 3.4 billion of the most vulnerable people at risk of contracting it.
Youyou Tu in China used concepts of traditional herbal medicine to tackle the challenge of developing novel Malaria therapies.
She discovered that an extract from the plant Artemisia annua had promising results during a large-scale screen of herbal remedies in Malaria-infected animals.
She later showed that the component, later called Artemisinin, was highly effective against the malaria parasite, both in infected animals and in humans.
When used with other therapies, it is estimated to reduce deaths by more than 20% overall and by more than 30% in children.