There is speculation that Pope Francis may visit Ireland in 2018 after he announced at a mass in Philadelphia that the Catholic World Meeting of Families will take place in Dublin.
The Catholic World Meeting of Families, which was set up in 1994 by John Paul II, is staged every three years in a different location around the world and is generally attended by the pope of the day.
The announcement that the meeting will take place in Ireland was made during the concluding mass of Pope Francis's ten day pastoral visit to Cuba and the United States.
If he does visit Ireland, it will be the first papal visit here since Saint Pope John Paul II's visit in 1979.
It will not be Francis's first visit however as he spent three months in Dublin in 1980 when, aged 43, he came to study and stay at the Jesuit-run Milltown Institute in Ranelagh.
Catholic Primate of All Ireland Archbishop Eamon Martin said he was delighted by the announcement and is confident the World Meeting of Families will be an "uplifting event for all of us".
The Pope held a open-air mass, the final religious service of his tour of the US, attended by an enormous crowd in downtown Philadelphia earlier today.
Philadelphia Archbishop Charles Chaput said the crowd numbered more than a million.
During the mass, Francis told the crowds along Philadelphia's Benjamin Franklin Parkway the world must be united in facing challenges including climate change and lifting people out of poverty.

"The urgent challenge of protecting our home includes the concern of bringing all of the human family together in the pursuit of sustainable and integral development," he said.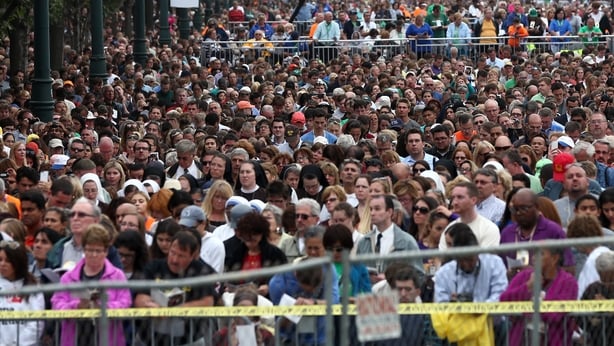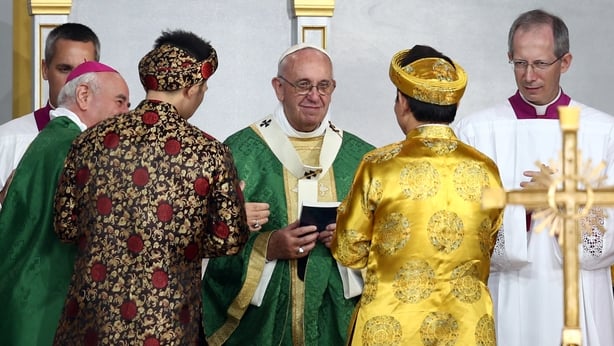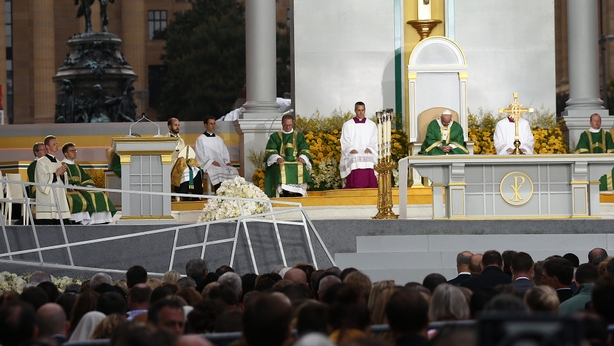 Pontiff meets victims of clerical sex abuse
The pontiff also met victims of church sex abuse, saying "God weeps" for their suffering and promised to hold all those responsible to account.
He met three women and two men along with their relatives for 30 minutes at the San Carlo Borromeo seminary.
"God weeps," the pope told a gathering of bishops afterwards. "The sexual abuse of children cannot be maintained secret.
"I commit to a careful oversight to insure that youth are protected and all responsible will be held accountable."
"Those who have survived the abuse have become true heralds of mercy, probably we owe each of them our gratitude for their great value as they have had to suffer terrible abuse," he added.
Philadelphia is one of the cities where the scandal was most serious in the 1980s.
His predecessor, Benedict XVI, met child sex abuse victims in Boston in 2008.
The pope also met with 71 prisoners, 60 men and 11 women, who were among the approximately 2,800 inmates at Curran Fromhold Correctional Facility, in Philadelphia's northeastern outskirts.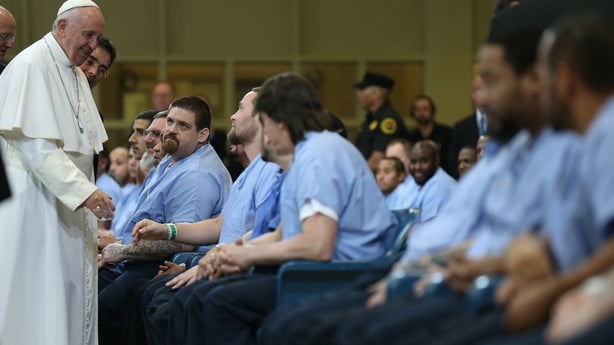 The pope, an outspoken opponent of the death penalty and lengthy prison terms, sat in a wooden chair fashioned by the inmates and told them that "confinement is not the same thing as exclusion" from society.
He then walked around to speak individually with inmates, placing his hand on their foreheads, shaking hands and hugging some who stood to greet him.