The scramble to be one of the first people to to own the new iPhone 6 and 6s plus saw one Australian woman come up with a creative way of being in two places at once.
Lucy Kelly, 22, dispatched a "robot" to do the queuing for the release today of Apple's new device in Sydney.
She sent an iPad attached to a remote-controlled Segway-style scooter, which she parked outside the shop 27 hours before the handsets went on sale.
"It's a clear demonstration of the future and what's coming," Ms Kelly said after becoming one of the first owners of one of each of the new phones.
The device waited with other Apple fans until doors opened at 8am local time and was one of the first inside before being taken upstairs - via a lift in its case - to make Ms Kelly's purchases.
Ms Kelly, whose face appeared on the iPad screen, was able to speak to Apple staff and give her permission to use the credit card she had stuck to her small scooter.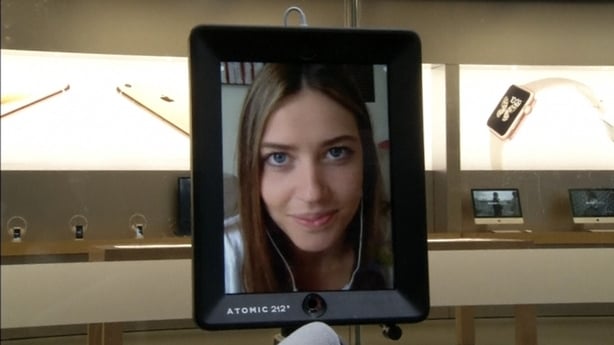 The marketing manager said the idea came about because she could not be in two places at once - spending two days in the queue as well as being at work.
Ms Kelly and her boss hatched a plan to use the "robot", which colleagues checked on from time to time.
Once payment was made, the Apple staff "just put my iPhones in a bag for me and hung it on my microphone", she added.
Ms Kelly then remotely wheeled her device out of the store and through Sydney's city centre where some of her colleagues were able to collect her phones for her.
"The people in line were so fabulous," said Ms Kelly who had been able to chat with them via the iPad.
Australia was one of the first markets in the global rollout of iPhones today, which also included Hong Kong, Japan, and China.
The official release date of the new iPhone in Ireland has yet to be announced.
A redesign last year included an enlarged screen and the addition of mobile payments.
The phones, which are the same size as last year's models, feature 3D touch, a display technology based on a "Taptic Engine" that responds according to how hard users press their screens.
However, several reviewers have said the new features might not be compelling enough to persuade iPhone 6 users to upgrade.
Analysts expect 12 to 13 million phones to be sold in the first weekend, up from more than 10 million last year when the launch of the l iPhone 6 was delayed in China, the world's biggest smartphone market.