Taoiseach Enda Kenny has said he is "very disappointed" to hear the international Web Summit is moving to Lisbon in Portugal from next year.
At a press conference in Lisbon this morning, along with Portugal's Deputy Prime Minister Paulo Portas, the Irish company behind the global technology conference said it would take place in Lisbon for at least the next three years.
Speaking at the National Ploughing Championships, Mr Kenny said he hopes the summit will come back to Ireland again in the future.
He also said authorities would have to look at the question of how they need to improve for future events.
Chief executive and co-founder Paddy Cosgrave said the summit had grown beyond what he and co-founders Daire Hickey and David Kelly thought possible five years ago when the first one took place in Dublin.
He said they want it to continue to grow and for attendees to get the best experience possible.
In a statement, he said: "After careful consideration we have decided to host Web Summit 2016 in Lisbon."
Speaking to RTÉ News this morning, Mr Cosgrave said they had chosen the Portuguese capital because it has strong infrastructure, a thriving start-up community and a world-class venue.
The company, which employs 130 people at its headquarters in Dublin, will continue to be based in Ireland.
Mr Cosgrave said it had not been an easy decision to move the Web Summit from its home, and that it is leaving with a touch of sadness.
He said the team will always be grateful for the support and encouragement received from Irish authorities and the start-up community in Ireland.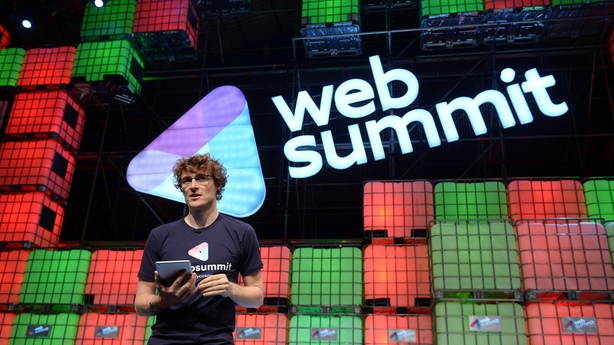 The decision will deal a significant blow to the Irish economy, as Fáilte Ireland estimates that last year it brought in €35m to the local economy.
Minister for Finance Michael Noonan said he was sorry to hear the Web Summit is going to Lisbon but expressed the view that it will be back again.
He added that although people will be disappointed, Dublin at the moment is "choc-a-bloc" with business.
Minister for Jobs Richard Bruton has wished Mr Cosgrave well and said the Web Summit move to Lisbon is "a natural progression".
He said: "This has been a very successful Irish company. It started from very small beginning five years and it has now become a truely international success. I think as its sponsor has said this is a natural step, the next chapter in its growth.
"It already has a significant conference in Hong Kong and in the US and it is moving into India and this is a new development.
"It is a great success but this does not in any way alter the strong start environment that we have here in Dublin. It is something that we have nurtured and it has grown from strength to strength."
Fianna Fáil leader Micheál Martin said "it is a hugely embarrassing development for this city and indeed for the country".
He said that the summit is worth millions to the economy and more in potential foreign direct investment and he asked if the Government could have done more to salvage the summit.
The event will take place in the MEO Arena and Feira Internacional de Lisboa (FIL) – a venue which can accommodate at least 50,000 people and which the Web Summit says has extensive transport links and capacity to enable it to grow substantially.
Lisbon is also attractive, the company says, because of a growing technology start-up scene, driven by low rents and affordable IT talent.
It also has larger hotel capacity than Dublin, which has proven a difficulty in the past.
The company is not disclosing what if any financial inducements it has been offered by the authorities in Lisbon.
Web Summit was founded in 2010 when it had just 400 attendees.
Over subsequent years the number of people attending rose rapidly each year, and last year 22,000 came to the event.
The event's bosses predict that this year's Web Summit at the RDS in November will have around 30,000 attendees, with 2,000 start-ups, 1,000 leading investors and 650 speakers due to take part.
Over the course of its history, the Web Summit has attracted a large number of big name speakers from the technology world, including Tesla's Elon Musk, Twitter founder Jack Dorsey, and serial tech investor Peter Thiel.
While the Web Summit has been approached in the past by other European cities keen to attract it, it is understood that the search for a new home only began in earnest at the start of this year.
Last month it emerged that Lisbon, London and Amsterdam were all in talks with the event's organisers, so today's announcement does not come as a complete surprise.
It is understood Web Summit management had been in ongoing contact with the Government, Dublin City Council, the IDA and Enterprise Ireland while it considered the bids from elsewhere.
The company behind Web Summit, Ci, has been expanding its events internationally in recent years, and now runs technology conferences in the US and Hong Kong.
Earlier this year it held two smaller events in Belfast, while next February it will hold "Surge" for the first time in India.