German Chancellor Angela Merkel has called for a special EU refugee summit, urging unity after an angry reaction to a suggestion by one of her ministers that states that did not take in their share of asylum seekers could face financial penalties.
The proposal by Interior Minister Thomas de Maiziere was forcefully rejected by the Czech Republic and Slovakia, which are among eastern European states that have resisted European Union plans to share out refugees.
Ms Merkel later took a more conciliatory tone, calling for Europe to come together on the refugee issue.
"I think we need to establish a European spirit again ... I don't think threats are the right way to achieve agreement," she told a news conference with Austrian Chancellor Werner Faymann.
Facing opposition from ex-Communist states, EU ministers failed yesterday to break a deadlock over sharing responsibility for accepting some of the hundreds of thousands who have sought asylum in Europe.
They have been summoned back to Brussels next Tuesday but diplomats said those calling for national refugee quotas were loath to simply outvote their eastern neighbours.
Mr De Maiziere said agreement was still some way off.
"So I think we must talk about ways of exerting pressure," he told ZDF television, adding that some countries that opposed quotas were beneficiaries of structural funds - EU money allocated to help poorer regions catch up with wealthier areas.
A senior Czech official said threats to cut such funding had no basis in law.
"German threats that central Europe will be punished by cutting cohesion funds are empty but very damaging to all," said Tomas Prouza, the Czech State Secretary for the EU.
Slovakia insisted it would never support mandatory refugee quotas.
In response to Germany's proposal, Prime Minister Robert Fico said that never before had a country been punished for having a different opinion. Taking such a step would mean "the end of the EU," he said.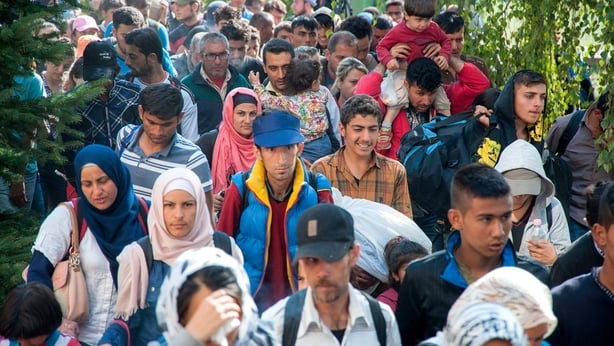 Ms Merkel said Europe faced one of its biggest challenges in decades and the problem could only be solved by the EU as a whole.
She and Mr Faymann called for a special summit next week.
It would not discuss sharing out refugees, which was being handled by interior ministers, Merkel said, but would deal with the question of supporting the countries the refugees are coming from, working with Turkey, and setting up "hotspots" for the registration of refugees in Greece and Italy.
European Council President Donald Tusk, who chairs EU summits, said he was considering the request and would decide on Thursday.
Diplomats said it was unclear whether leaders might meet before or after the interior ministers gather on Tuesday.
Mr De Maiziere stuck to his forecast that 800,000 refugees would arrive in Germany this year, despite some politicians saying there could be as many as one million.
After opening its doors to refugees from Syria's civil war, Germany temporarily reimposed border controls at the weekend, prompting other countries along the refugees' march northwards through Europe to do the same and casting doubt on the EU's Schengen system of passport-free travel within the bloc.
After later meeting German state leaders, Ms Merkel added: "There was great agreement that we want to give shelter to those people who need shelter, and will do everything humanly possible to do so.
"On the other hand, we were also clear that those who have no prospect of staying, cannot stay in our country."
Police said more than 3,800 asylum seekers had reached Germany yesterday despite new controls at the border with Austria.
They brought the number of asylum seekers who have entered Germany by train this month to nearly 92,000.
Arrivals in Germany seemed certain to rise after nearly 22,000 reached neighbouring Austria yesterday and today.
Officials there said 350 refugees had arrived in Salzburg within an hour and a train was due to take more across the German border to Munich.
Women and small children were being allowed to board the train. Some young men appeared angry at the decision.
"For now, the situation is under control, but that can change within minutes," said Johannes Greifeneder, spokesman for the city of Salzburg.
Government spokesmen have said that temporary border controls do not mean the frontiers are closed, but will allowr efugees to be processed in a more orderly fashion.
However, the border measures were greeted with concern by German industry.
The VDMA engineering federation feared there could be "negative effects on the EU internal market and the European Union overall".
The crisis has boosted support for the Alternative for Germany (AfD), a right-wing party that backs a tough line on immigration, to its highest in nearly four months, an opinion poll showed tonight.
The INSA poll for Bild newspaper showed support for the AfDat 5.5%, while support for Merkel's conservative bloc slipped 1.5 points to 40%, still the strongest party by far, but its lowest reading since late June.
Hungary closes EU door to refugees
Meanwhile, asylum seekers trying to enter the European Union have been turned back at a razor-wire fence on the Hungarian border, in a crackdown a UN official described as "really alarming" and rights groups said breached international law.
Hungarian authorities said 48 asylum claims had been submitted, of which 16 had been ruled upon and all rejected within a matter of hours, a pace critics said raised doubt over the fairness of the process.
An official said 174 people had been caught crossing the border illegally and would face criminal prosecution.
The Hungarian frontier with Serbia has been the main land route for migrants to reach the European Union's border-free Schengen zone.
Hungary says that by reinforcing the frontier it is simply enforcing EU rules, and that it is not required to accept refugees who have already reached Serbia, a country it has designated as safe.

The United Nations disputes that designation, saying Serbia does not have the capacity to house thousands of refugees turned back at the EU's gates.

Migrants queued in no-man's land at metal containers built into the fence, stranded in what the government has dubbed 'transit zones' and denied official entry into Hungary.
Amnesty International said Hungary was "showing the ugly face of Europe's shambolic response" to a migration crisis that has seen hundreds of thousands reach Europe's shores from the Middle East, Africa and Asia.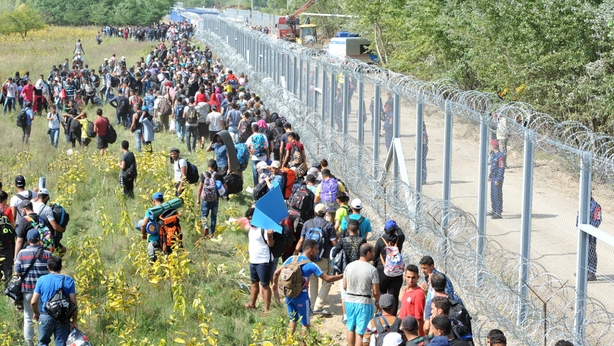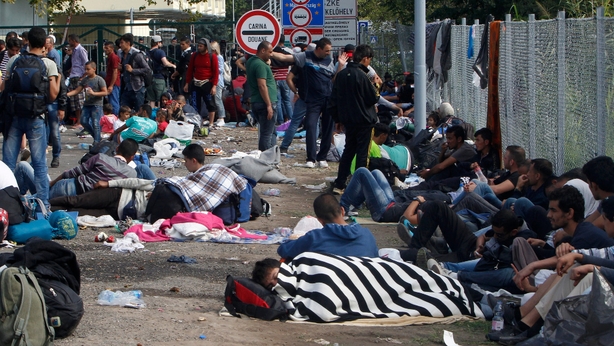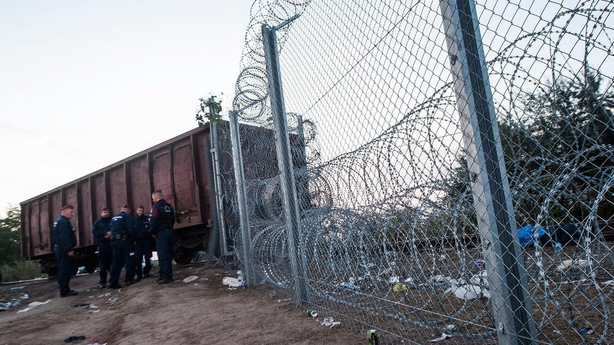 EU ministers failed to break a deadlock yesterday over sharing out responsibility for some of those seeking asylum.
Austria and Slovakia followed Germany in re-establishing border controls and Austria said it would dispatch armed forces to guard its eastern frontier with Hungary.
Austria will also introduce tougher controls at its border with Hungary at midnight (11pm Irish time), an Interior Ministry spokesman said.
Austria's Interior Minister has informed the European Commission of the move, the spokesman said, adding that the new measures might be extended to other Austrian border regions depending on the numbers of migrants trying to enter.
He declined to give details as to what the new controls would involve.
At least 200,000 migrants have crossed Hungary so far this year, streaming north through the Balkan peninsula having hit Greek shores by boat and dinghy from Turkey.
Turkish security forces have stopped hundreds of people, mainly Syrians, from travelling towards western Turkey's border with Greece in a bid to reach Europe.
Turkey's gendarmerie briefly threw up barricades near the border city of Edirne, around 17km by road from the Greek border.
Bus services from Istanbul to Edirne were suspended as authorities tried to stem the flow of people, and hundreds of would-be migrants gathered nearby demanding land access to the EU, as fears over deadly sea-routes mounted.
"Save us from drowning" placard-waving crowds chanted near the main bus station in Istanbul.
The migrants used social media to organise ahead of today's effort to reach Greece by land, hoping to draw attention to the dangers of crossing into Europe by sea.
Turkey is sheltering two million people - the largest refugee population in the world - but difficult conditions and a lack of work have seen a growing tide of migrants trying to smuggle themselves into EU-member Greece.
Many desperate people are continuing to attempt the crossing to Greek islands, some lying as little as 4km from the Turkish coast.
At least 22 people, including four children, drowned today when their boat capsized.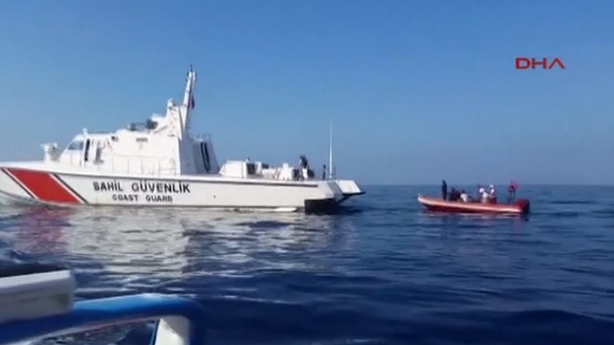 Hungarian Prime Minister Viktor Orban, one of Europe's most vocal opponents of immigration, has vowed to stop the flow of people.
Hungary declares 'state of crisis'
His government today declared a "state of crisis" in two southern border counties, making it easier to mobilise resources.
The prospect of a long wait at the Hungarian border, possible imprisonment or expulsion back to Serbia may force many to seek alternative routes.
They could go west into Serbia's fellow former Yugoslav republic Croatia, or east into Romania, both members of the EU like Hungary but not of Europe's Schengen zone of border-free travel.
Serbia says it is readying more temporary accommodation, but warned it would not accept anyone turned back from Hungarian territory.
"That's no longer our responsibility," Aleksandar Vulin, the minister in charge of policy on migrants, told the Tanjug state news agency.
"They are on Hungarian territory and I expect the Hungarian state to behave accordingly towards them."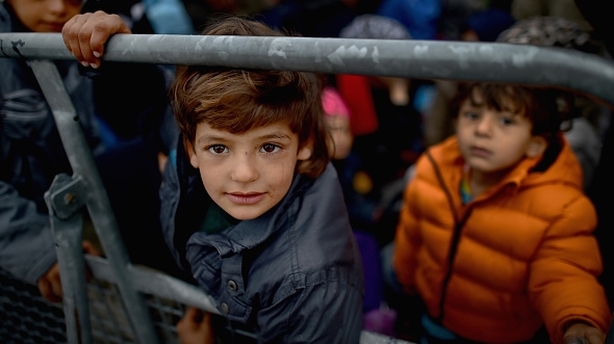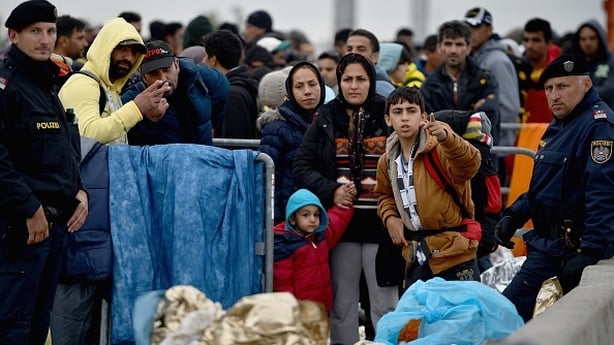 Meanwhile, Romania has criticised a plan by Hungary to extend its new border fence eastwards towards Romania, a move announced earlier today as a way of stopping migrants and refugees looking for alternative ways to enter its territory.
"The Foreign Ministry considers that erecting a fence between two European Union member states that are strategic partners to be not a correct gesture from a political point of view and not in line with the European spirit," the ministry said.
"The Hungarian side was notified about this stance."
Hungary has already been building a 175km razor wire fence on the Serbian boundary, across the main land route for migrants into the EU.
Mr Orban has said he is acting to save Europe's "Christian values" by blocking the main overland route used by mainly Muslim refugees, through the Balkans and across his country via its border with Serbia.
The International Organisation for Migration said Hungary's crackdown on refugees "looks like" a contravention of its obligations under United Nations and European Union rules on refugees and asylum.
Hungary "has obligations to follow which it looks like this new legislation would be a contravention of," Magdalena Majkowska-Tomkin, head of the Hungary office of the IOM, said.
She said the IOM saw scope for a legal challenge to the new rules.