German officers have carried out the first passport checks at the country's border with Austria, after Berlin's shock decision earlier to reintroduce such controls to halt a surge in refugee numbers.
Police stopped all cars and pedestrians at the Freilassing crossing, with three Syrian migrants who were on foot told to remain on the side of the road after officers looked at their documents.
"We want to go to Germany," one of the three told AFP news agency.
The border crossing at the Bavarian commune is a key road crossing for travellers between the Salzburg region and the southern German region of Bavaria.
Four officers wearing fluorescent yellow vests were seen on duty and checking drivers' identity cards.
German federal police had said hundreds of officers were being deployed to carry out the newly reintroduced border controls.
Earlier, Berlin announced that the temporary measure would be taken first on the southern frontier with Austria, where migrant arrivals have soared since Chancellor Angela Merkel effectively opened German borders to refugees a week ago.
"The aim of these measures is to limit the current inflows to Germany and to return to orderly procedures when people enter the country," said Interior Minister Thomas de Maiziére, adding this was also necessary for security reasons.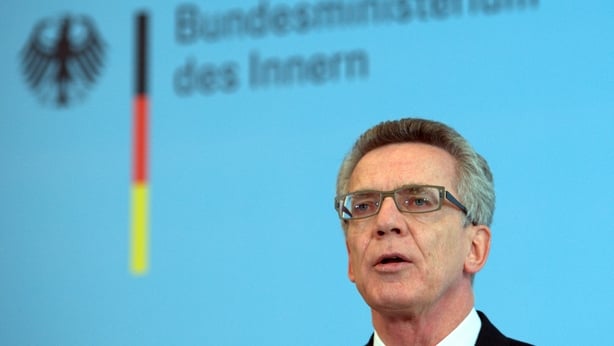 Berlin took the step - which is allowed under Europe's Schengen treaty as long as it remains temporary - a day before EU interior ministers hold an emergency meeting to discuss spreading asylum seekers around the 28-nation bloc.
A European Commission proposal that each country should accept refugees under a system of compulsory quotas is meeting strong resistance from some countries, especially in central Europe – with Slovakia saying it would try to block the plan.
Germany, Europe's largest and richest economy, has become a magnet for many people fleeing war and poverty in Syria and other parts of the Middle East, Asia and Africa.
Police said around 13,000 migrants arrived in the southern city of Munich alone on Saturday, and another 3,000 on Sunday morning.
Now Germany has joined the list of smaller and poorer countries such as Greece and Hungary that are struggling to manage the huge flow of desperate people.
"This step became necessary. The great willingness to help that Germany has shown in recent weeks - by full-time employees and especially by the many thousands of volunteers - must not be overstrained," Mr de Maiziére said.
Germany legally justified in reinstating controls
The European Commission said Germany appeared legally justified in reimposing border controls, which have been removed in recent decades across much of the continent, and urged action at Monday's meeting in Brussels.
"The German decision of today underlines the urgency to agree on the measures proposed by the European Commission in order to manage the refugee crisis," it said in a statement.
The Czech Republic has also said it will boost controls on the border with Austria over the refugee crisis.
In response, the United Nations refugee agency UNHCR warned the EU must avoid fragmenting into a patchwork of countries with different border rules, which would plunge thousands of refugees into "legal limbo".
Meanwhile, Germany has halted train traffic from Austria, a spokeswoman for Austrian rail company OeBB said. She said the head of the German rail company told his Austrian counterpart of the decision.
Amid political bickering among European governments, the crisis claimed yet more lives - 28 migrants drowned off a Greek island today when their boat sank, the coastguard said.
Earlier, Berlin made clear it needed help from EU partners. "It's true: The European lack of action in the refugee crisis is now pushing even Germany to the limit of its ability," Economy Minister Sigmar Gabriel, who is also vice-chancellor, told the website of Der Tagesspiegel newspaper.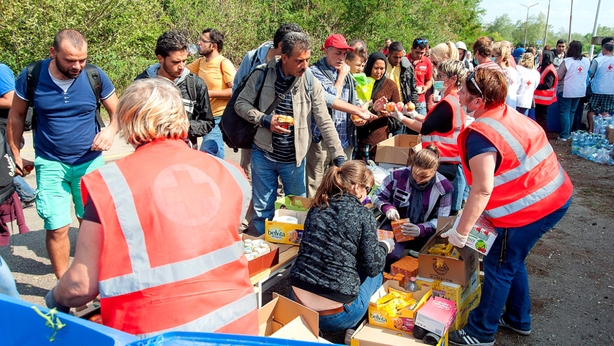 With large numbers of migrants stuck in squalid and chaotic conditions on European borders, or trudging along the side of motorways, Ms Merkel last weekend stopped enforcing the EU's 'Dublin' rules under which asylum seekers should register in the first member state they arrive in.
Mr De Maiziére defended her decision but insisted the Dublin rules were still valid. "We need to quickly return to orderly procedures now," he added. "We can't allow refugees to freely choose where they want to stay - that's not the case anywhere in the world."
Most asylum seekers are refusing to stay in the poorer southern European countries where they arrive, such as Greece, and are instead making their way to Germany or Sweden where they anticipate a warmer welcome.
Germans have greeted them with cheers and volunteers are flooding in to assist at the end of their arduous and dangerous journeys by sea and land, often via Turkey and the Greek islands, and then onwards through the Balkans, Hungary and Austria.
Despite Germany's decision, Austria would not introduce additional checks at its border with Hungary, Chancellor Werner Faymann said, according to the Austrian news agency APA.