Struggling to cope with record numbers of asylum seekers, Germany has told its European partners they too must take in more refugees, as police in Hungary used pepper spray on desperate migrants who broke out of a reception centre at the Serbian border.
Chancellor Angela Merkel, speaking after a weekend in which 20,000 migrants entered Germany from Hungary by train, bus and on foot, described the influx as "breathtaking" and tried to reassure German citizens that the crisis was manageable.
"I am happy that Germany has become a country that many people outside of Germany now associate with hope," she said at a news conference in Berlin.
But she and her vice chancellor, Sigmar Gabriel, coupled their message of optimism with a warning to European Union partners who have resisted a push from Berlin, Paris and Brussels to agree quotas for refugees flowing in mainly from Syria, Iraq and Afghanistan.
"What isn't acceptable in my view is that some people are saying this has nothing to do with them," Ms Merkel said. "This won't work in the long run. There will be consequences although we don't want that."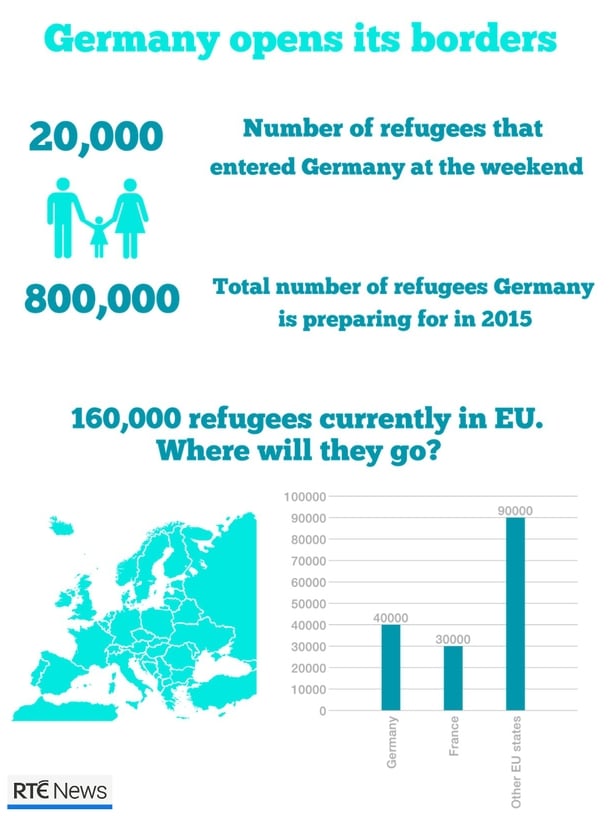 Mr Gabriel said that if countries in eastern Europe and elsewhere continued to resist accepting their fair share of refugees, the bloc's open border regime, known as Schengen, would be at risk.
"This would be a dramatic political blow for Europe, but also a heavy economic blow, also for those countries that are saying they don't want to help now," he said.
At Roszke, on Hungary's border with Serbia, around 300 migrants broke through a cordon around a reception camp and set off down the wrong side of the motorway towards the capital Budapest.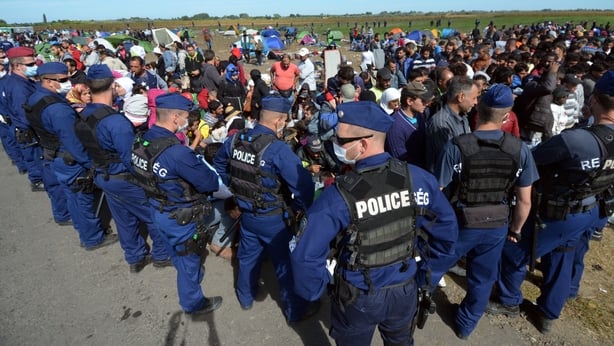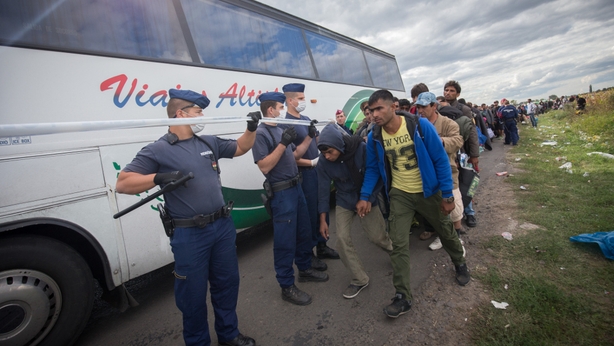 Police were unable to prevent their escape despite using pepper spray as migrants scuffled with officers.
Only months after Europe narrowly averted a Greek exit from the eurozone, the refugee crisis has emerged as the bloc's biggest challenge.
Refugees on the Greek island of Kos wait for the next leg of their journey to begin. pic.twitter.com/sFBiOA6grv

— Seán Mac an tSíthigh (@Buailtin) September 7, 2015
EU to unveil proposals on distribution of refugees among member states
European Commission President Jean-Claude Juncker is due to unveil new proposals on Wednesday on how to distribute refugees among member states.
An EU source told Reuters that under his plan, Germany would take on more than 40,000 and France 30,000 of the 160,000 asylum seekers the Commission says need to be relocated from Italy, Greece and Hungary, the main entry points to the EU for refugees arriving by sea and land.
The 160,000 people Mr Juncker wants to redistribute within the EU are just a fraction of the hundreds of thousands of refugees and economic migrants from Asia, Africa and the Middle East who have reached Europe this year on leaky boats across the Mediterranean or over land through the Balkan peninsula.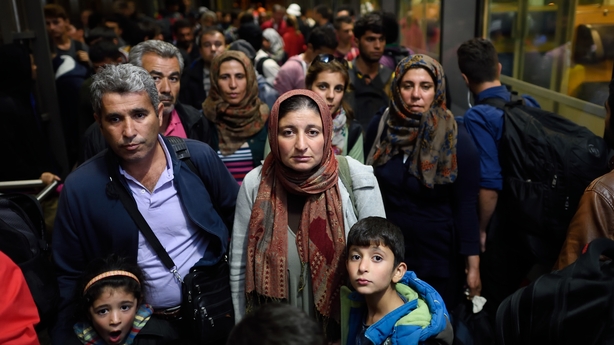 Germany has announced it is letting Syrians seek asylum regardless of where they enter the EU, suspending normal rules and accelerating a flow of migrants north and west from the edges of the bloc.
Just last month, more than 100,000 asylum seekers reached Germany, which is preparing for 800,000 this year, around 1% of its population, a move with little precedent for a large Western country.
France said it would take in up to 1,000 migrants currently in Germany as a matter of urgency, before the adoption of the European Commission plan.
Britain would resettle 20,000 refugees from Syria over the next five years, Prime Minister David Cameron announced, responding to a growing public clamour for his government to do more to help.
New political pressure to open doors to refugees
Dramatic images from last week, especially a photograph of a Syrian toddler drowned on a Turkish beach, have created new political pressure to open doors, even in countries that argued previously that taking in too many migrants could make the problem worse by encouraging others to make dangerous voyages.
Pope Francis called over the weekend for Christian communities across the continent to offer sanctuary.
Hungary's prime minister Viktor Orban, a right-wing populist whose hard line during the crisis has drawn both praise and criticism, reiterated his opposition to quotas, calling this debate premature.
Mr Juncker's proposal would exempt the main entry countries Hungary, Greece and Italy from taking relocated refugees.
"As long as Europe cannot protect its external borders it makes no sense to discuss the fate of those flowing in," Mr Orban said, defending a planned package of laws that would allow the army to be deployed to defend Hungary's southern border.
Hungary's defence minister, Hende Csaba, resigned because the armed forces were being too slow in building a border fence to keep out refugees and migrants.