The European Investment Bank has offered to make a range of financial supports available to countries, including Ireland, who resettle refugees.
Minister of State at the Department of Finance Simon Harris discussed the proposal with EIB representatives in Brussels.
The financial supports will be made available both to countries in Europe and to countries with large refugee camps.
The EIB proposes to draw no profit from loans offered to fund initiatives, including the building of infrastructure such as schools and housing.
The news comes as the International Organization for Migration reveals more than 430,000 refugees and migrants have crossed the Mediterranean to Europe so far in 2015, a record number that is more than double the total for the whole of last year.
The United Nations refugee agency called for decent mass reception centres to be set up immediately in Greece, Italy and Hungary, on the front lines of a huge influx of refugees being received in "appalling conditions".
The UN High Commissioner for Refugees has welcomed a European Union proposal to share out 160,000 refugees and an offer by the United States to take 10,000 Syrians over the next year, but said "the United States could and should do much more".
The Swiss-based International Organization for Migration said a record 432,761 refugees and migrants were now estimated to have made the perilous journey across the Mediterranean to Europe so far this year, while 2,748 have drowned.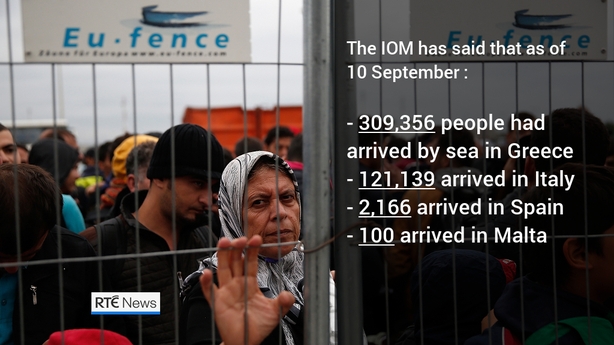 This was a record and compared with 197,940 people who arrived by sea in those four European countries in all of 2014, IOM spokesman Daniel Szabo told Reuters.
German foreign minister Frank-Walter Steinmeier said the unprecedented influx of refugees and migrants flooding into the European Union could be its greatest-ever challenge
Volunteer films food being tossed to people at refugee camp
Speaking during crisis talks in Prague with eastern EU members refusing migrant quotas, he said Germany "expects 40,000 new migrants from the south at the weekend."
He said a fair mechanism to redistribute migrants in Europe is needed.
Four eastern EU members - the so-called Visegrad countries - are sticking to their rejection of compulsory quotas for migrants proposed earlier this week by the European Commission.
"We're convinced that as countries we should keep control over the number of those we are able to accept and then offer them support," Czech Foreign Minister Lubomir Zaoralek said at a joint press conference with his Hungarian, Polish and Slovak counterparts.
The Hungarian Foreign Minister Peter Szijjarto said the number of refugees and migrants in Hungary could rise to 400,000-500,000 by the end of the year.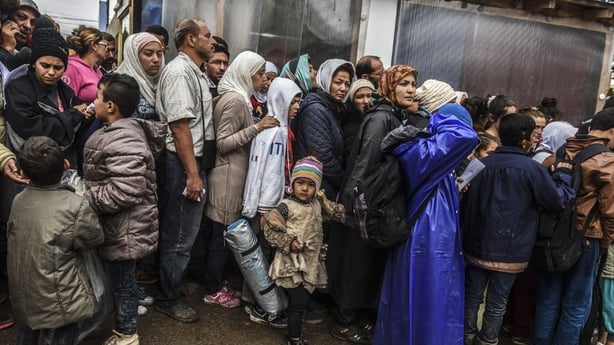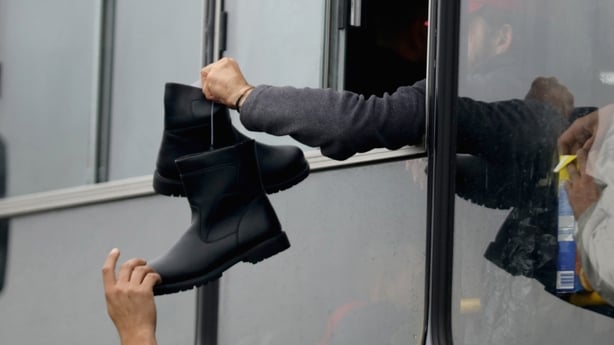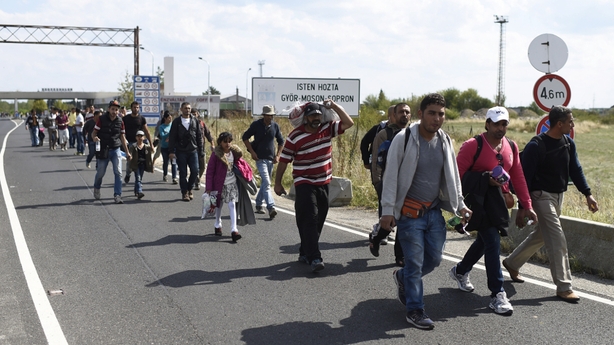 The UNHCR is sending prefabricated housing units to provide temporary overnight shelter for 300 families in Hungary, while the country is building a 175-km fence along its southern border with Serbia to stem the flow of people trekking north, many aiming for Germany.
"We are stepping up operations in Europe, including Hungary," UNHCR spokesman William Spindler told a news briefing.
50 pre-fab family homes have also arrived in the Greek island of Lesbos, and a further 300 are being sent to nearby Kos, while 50 have arrived in Macedonia, he said.
"We are very concerned, we were the first to call attention to the appalling conditions in many of these places. They are slowing getting better, they are still far from meeting international standards," Mr Spindler said.
The UNHCR was "closely following" Hungary's use of the army to control the situation.
"Obviously we expect authorities to respect rights of refugees whether they are the police or army or the civilian authorities," he said.
Hungarian Prime Minister Viktor Orban warned that his police would take tougher action from next week against migrants who he said had rebelled against authorities, seized railway stations and refused to be registered.
UNHCR urged the EU to uphold national and international law in managing its borders, including by ensuring people are able to seek asylum from war and persecution.
The UNHCR reiterated that the EU would need to relocate 200,000 people from the frontline European countries such as Greece and Italy by the end of 2016, more than the 160,000 mentioned in the EU plan.
European Commission President Jean-Claude Juncker said the EU would offer better protection for refugees but would also improve its frontier defences and deport more illegal migrants.
About half of those crossing the Mediterranean are Syrians fleeing civil war, a figure "expected to continue rising rapidly over the coming weeks and months", the UNHCR said.
Afghans, Eritreans, Nigerians and Somalis compose the other four largest groups of nationalities in the human tide seeking European shores, Mr Spindler said.
"They will not be deterred by barbed wire or even taking dangerous sea voyages. The answer is to provide adequate legalavenues for people to come to Europe in safety," Mr Spindler said.
Bottlenecks ease on Greek islands
A refugee bottleneck on Greece's easternmost islands has eased after recent dangerous overcrowding, rescue agencies said, as thousands of migrants per day continue to arrive on the mainland.
Greek authorities have begun fast-tracking refugees off its worst-hit island, Lesbos, laying on extra ferries after a sharp increase in arrivals and slow processing threatened to overwhelm the 80,000-strong local population.
"Overcrowding conditions have eased and people are being processed very quickly and put onto ships for Athens," an official at the Northern Aegean Prefecture said.
Scuffles broke out on Lesbos last week, prompting warnings from local officials they would boycott national elections on 20 September if the state did not address the problem.
Although congestion had eased, aid agencies said arrivals on the island had not.
"We think there are still 2,000 to 3,000 people arriving every day," Tyler Jump of the International Rescue Committee, which offers aid in Lesbos, said.
The prefecture covers a swathe of Greek islands facing Turkey, and has become the main EU gateway for tens of thousands of migrants making a short sea crossing in flimsy dinghies.
An estimated 15,000 people had been moved off Lesbos in the past four days after authorities introduced quicker processing, Mr Jump said.
Concern for refugees in Lebanon
Meanwhile, Director of International Operations with Irish aid agency Concern has said the situation for Syrian refugees in neighbouring Lebanon is getting worse on a daily basis.
Speaking on RTÉ's Six-One News Anne O'Mahony said the people they are dealing with are living in spare rooms, garages and outhouses that have been converted for their use and many are living in plastic shelters with concrete floors.
She said all of these people are paying substantial rent and do not have the money to move.
Ms O'Mahony said the refugees could afford to pay this when they arrived first but the longer they stay, any money they had put aside dwindles along with any capacity they have to earn money.
Many are feeling desperate with no hope or no end in sight, she said.
Ms O'Mahony said refugees tell her that they know someone who can put them in contact with people who can transport them across to Europe and how much money they need to put away for this.
She said they all say their dream is to go home and that they do not want to become refugees.
They say they want to return to Syria to rebuild the country but do not see any real hope that a political solution is going to be found and they can only sit and wait in Lebanon or make the journey to Europe.