UN Secretary General Ban Ki-moon has urged European leaders to act responsibly and humanely toward refugees arriving at their borders and invited leaders to a meeting on migration at the end of this month.
Mr Ban has called the leaders of seven European governments over the past several days as the rush of refugees from war-torn Syria, Iraq and elsewhere has reached a crisis level, his spokesman Stephane Dujarric said.
In those conversations, Mr Ban has emphasised "that the large majority of people arriving in Europe are refugees fleeing war and violence, who have a right to seek asylum without any form of discrimination," according to Mr Dujarric.
Mr Ban also "applauded the inspiring examples that have been displayed all over Europe by private citizens and civil society".
But he said those efforts need to continue: "The Secretary-General appealed to these leaders to be the voice of those in need of protection and to quickly find a joint approach to address their basic needs."
Mr Ban invited leaders to a high-level meeting on migration and refugees on 30 September in New York, on the sidelines of the annual UN General Assembly, which nearly 150 heads of state are expected to attend.
Mr Dujarric did not specify which leaders had been invited or other details about the meeting.
He said the countries Mr Ban had called recently were Austria, the Czech Republic, Germany, Greece, Hungary, Poland and Slovakia, but did not mention how the calls had been received.
Meanwhile, a spokesman has said the White House is reconsidering steps the United States can take to help Europe deal with the refugee crisis.             
The Obama administration has come under criticism from refugee and immigrant advocates for not doing enough to deal with the crisis caused by refugees fleeing violence in Syria and other countries.             
"The White House is going to continue to consider additional steps that we can take to help the countries that are bearing the brunt of this burden," Josh Earnest said.
The UN's special envoy on migration this evening said that there seems to be an implication that the countries closest to a disaster carry a greater responsibility, describing this as unfair and wrong.
Peter Sutherland told RTÉ's Six One News that the crisis is neither a European nor a Middle Eastern one, but a world crisis.
He said that all countries of the OECD should be taking refugees and playing a role in the distribution of refugees.
Mr Sutherland said he agrees with the German position that there should be a fair allocation of refugees across Europe.
He said countries that are building fences and not working on a European solution are living in a fool's paradise.
Chile's government said tonight that it will take in families seeking refuge from Syria's civil war, joining South American neighbours Brazil, Argentina, Uruguay and Colombia, which already host refugees from the war-torn nation.
              
"To address the grave humanitarian crisis affecting thousands of Syrian citizens, Chile's government ... has begun reviewing the necessary paperwork to take in as quickly as possible Syrian families that seek refuge," the Foreign Affairs Ministry said in a statement.
              
The ministry said it was speeding up the processing of visas for Syrians that have requested them.
Hundreds of migrants march on motorway in Hungary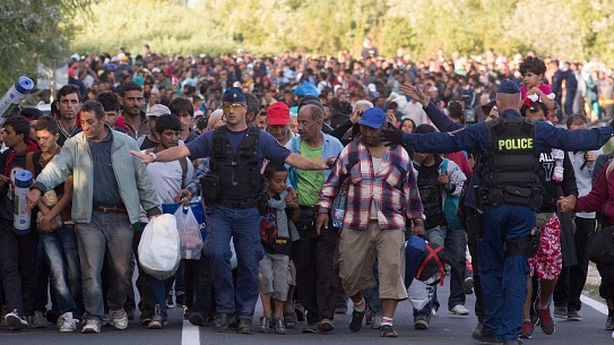 Scores of refugees broke through a police line near a refugee centre earlier today and marched against oncoming traffic on a motorway hard shoulder headed for Budapest.
The group of around 200 walked 15km along the M5 motorway before police negotiators persuaded them to board buses to take them back to a nearby registration camp for asylum seekers.
Police earlier closed a section of the motorway near Roszke in southeast Hungary close to the Serbian border after the group climbed over a barrier and onto the road, which leads to the capital.
The migrants were part of a 1,000-strong crowd who had earlier pushed past a police line at a refugee collection point in Roszke, the first stop before people are brought to the registration camp.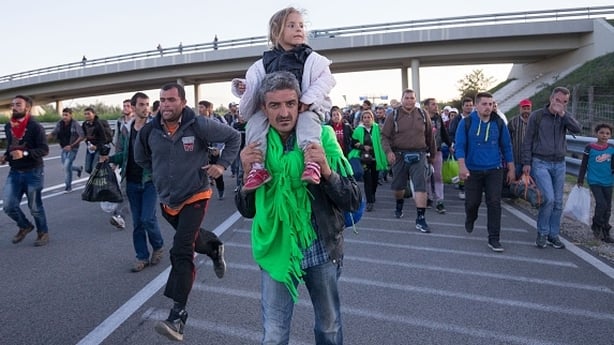 There were scuffles throughout yesterday as migrants chanting "Freedom" protested at having to wait for hours in the open for buses to take them for registration.
Clashes have broken out between police and migrants, sick of the long delays at the overcrowded refugee collection and registration camp at Roszke, the main crossing point for the thousands of people who have been coming into Hungary every day for the past month.
Police fired tear gas at migrants after some threw stones at officials at the registration camp on Friday.
300 people had escaped from the camp earlier, forcing the authorities to close the main border crossing with Serbia for around an hour, although they were later caught by police.
Around 167,000 migrants have entered Hungary illegally so far this year, with most crossing the border around the Roszke area.
Last Friday, among a raft of anti-migrant laws approved, Hungary's parliament voted to criminalise illegal border crossing, with the ruling expected to come into force on 15 September.
France says taking all refugees would be victory for IS
France has warned that it would be a mistake for Europe to take in all refugees persecuted by so-called Islamic State militants in Syria and Iraq, and called for a plan of action to ensure the Middle East's diversity remained despite the mounting crisis.
About 60 countries, including ministers from Iraq, Jordan, Turkey and Lebanon, met in Paris today to cement measures aimed at easing the return of refugees, encouraging regional governments to bring minorities into the political fold and ensure no impunity for crimes against humanity.
"It's very difficult, but if all these refugees come to Europe or elsewhere, then Daesh has won the game," French Foreign Minister Laurent Fabius told RTL radio, referring to the Arabic acronym for Islamic State.
"The objective [of this conference] is that the Middle East remains the Middle East, that means a region of diversity where there are Christians, Yazidis, etc," he said.
According to French diplomats, the conference should also see financial pledges that could be used to improve the situation of refugees in neighbouring states, ranging from reconstruction of infrastructure to restoring basic services or training local police.
---
Analysis: Tony Connelly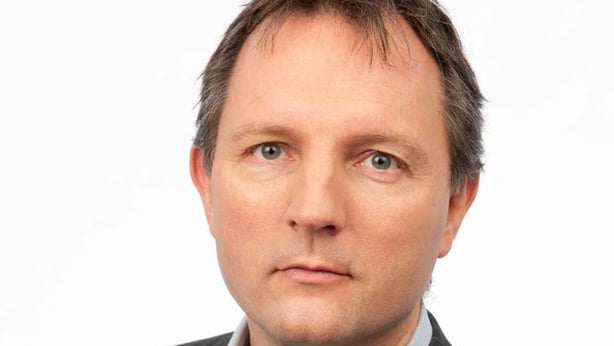 Tomorrow, the European Commission will unveil their new policy on migration. There will be a figure of 160,000 that they want to have redistributed around the European Union.
These are refugees who have already come in to Greece, Italy and Hungary. Some of these figures are already known: Germany will take 40,000, France will take 24,000 and we will get further detail tomorrow.
Certainly Angela Merkel, while she wants to be seen as being welcoming to refugees, is putting a lot of pressure on other countries to take their fair share of the burden.  
There is an explicit warning that if that burden sharing is not there it will threaten the Schengen agreement - the passport free travel system in the EU - which many central European countries value very highly.