Democratic Unionist ministers who quit Northern Ireland's powersharing government are set to be renominated next week only to resign again immediately in a move designed to keep the posts away from nationalists and republicans, party leader Peter Robinson has said.
Under the rules of Stormont's mandatory coalition Executive, if a minister is not renominated within seven days the position is reallocated to another party.
Mr Robinson said he aimed to ensure the administration was not able to function properly until a major crisis over a murder linked to the IRA is resolved.
The DUP leader, who himself stood aside as first minister yesterday, outlined the potential political choreography as the British Prime Minister urged Northern Ireland's politicians to "go the extra mile" to save the institutions.
David Cameron said his government stood ready to do what it could to resolve the meltdown sparked by last month's murder of Kevin McGuigan.
Intensive political talks involving the Northern Ireland parties and the British and Irish governments are due to start on Monday in a bid to rescue powersharing.
Mr Robinson and three of his four DUP ministerial colleagues walked out of the Executive in Belfast yesterday, leaving a husk of an administration limping on.
DUP Finance Minister Arlene Foster has been left in the Executive to act as what her party is describing as a "gatekeeper" to prevent controversial government decisions by the remaining nationalist and republican ministers. As well as her current portfolio, she has assumed the post of acting First Minister.
Asked if he would renominate ministers next week, Mr Robinson said: "And we'll do exactly the same thing again (after renomination), we'll resign until such times as the matters are resolved."
Mr Robinson told UTV: "What we have made clear is the objective - and let's not get tied up in processes - the objective in all of this was to ensure that we would not be doing business as usual, so we will not be doing business as usual.
"But, at the same time, we are not going to be handing seats over the Sinn Fein and the SDLP, why should the Sinn Fein organisation be rewarded for bad behaviour, they should be punished for bad behaviour, not given extra seats."
Mr Cameron described the crisis as an "extremely worrying situation".
Speaking in Leeds, he said: "We stand ready to help, including standing ready to help with getting rid of the paramilitary organisations and properly examining how they still exist, what they consist of and putting them out of commission in our country.
"I would appeal to the politicians to go the extra mile, the extra ten miles if they have to, to make these institutions work for people in Northern Ireland."
Sinn Féin Deputy First Minister Martin McGuinness today said politicians had "six weeks" to save the Executive.
Jim Allister, leader of the Traditional Unionist Voice party - which is not a member of the Executive, said the DUP plan plumbed "new lows of pantomime farce".
"All of the shenanigans in Stormont to date will pale into insignificance and it will be held in even greater contempt than it currently is - which is quite an achievement," he said.
McGuinness says he will not resign
Martin McGuinness has said he will not resign as Deputy First Minister, adding that there is a short window of opportunity to avoid the need for a new election in Northern Ireland.
He said there are four-six weeks to do so.
Mr McGuinness yesterday met Mr Robinson and Ms Foster.
He said he believes the last thing the DUP wants is an election and thinks the DUP is working on the basis that it is going to lose seats.
Mr McGuinness said he thinks Mr Robinson knows he has handed Sinn Féin a very strong card.
He said he could resign and he could cause an election where Sinn Féin would make gains and the DUP would make losses.
But he said he is not looking to gain political advantage at the price of the peace process.
Mr McGuinness said he had asked Mr Robinson and Ms Foster about their intentions and they had assured him that they were going to engage in serious negotiations in a few weeks.
Sinn Féin is seeking an urgent meeting with the Taoiseach and Mr Cameron. 
When asked about the possibility of a monitoring body being established in Northern Ireland, Sinn Féin president Gerry Adams said the party would look at any mechanism and was open to any ideas on a number of matters.
However, he also said Sinn Féin had its own ideas but would listen to others.
Mr Adams was also critical of the Taoiseach's intervention to support the adjournment of the Assembly.
He said Enda Kenny needs to rise above politics. He also criticised Fianna Fáil's call for the suspension of Stormont.
Collapse of powersharing can be avoiding - Kenny
This morning, the Taoiseach said he believes the collapse of powersharing institutions in Northern Ireland can be avoided.
Speaking on RTÉ's Morning Ireland at Fine Gael's pre-Dáil gathering, Mr Kenny said if they collapse it could be a very long time before a return to a situation where the institutions can run normally again.
"I think this can be avoided. But I think it needs a realistic appraisal by people who have had very harsh things to say about each other and where there are clear differences of opinion, strong differences of opinion.
"But you have to look at the bigger picture. The bigger picture are the people of Northern Ireland and their futures."
Mr Kenny said the approach and the environment are not good and that people need to sit down and work out their differences in a realistic fashion.
He said the Irish and British governments are committed to doing whatever they can to assist the process.
Also speaking on Morning Ireland, Mr Adams said a steady and calm approach is needed in the current political crisis gripping Stormont.
He again reiterated that the IRA had gone away, adding that even if he is wrong about its existence, such assertions do not serve the peace process.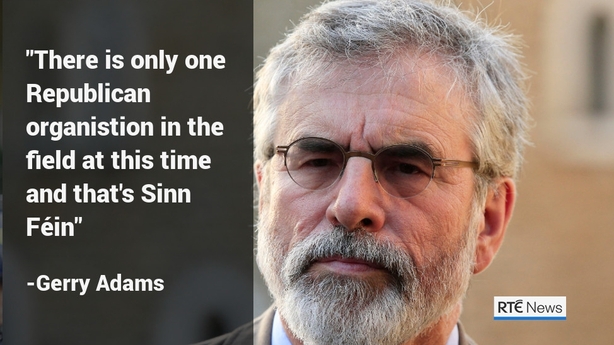 He questioned whether those who contrived the crisis were playing "into the hands of the individuals who killed Kevin McGuigan".
"Did they not play into the hands of those who do not want the peace process or the political process to succeed?"
He said people can take whatever position they want on this issue of the IRA. 
"Sinn Féin will not allow a precondition to be put upon any talks," Mr Adams added.
DUP MP Jeffrey Donaldson has said it is unclear how long the current situation at Stormont, with one DUP representative as acting First Minister, can be sustained.
Speaking on RTÉ's Today with Sean O'Rourke, Mr Donaldson said his party called for an adjournment of the assembly so the issues that caused the current political crisis could be dealt with.
He said it remains to be seen how power-sharing in its current position can hold and added that there had been a "breach of faith" which had to be dealt with.
Foster takes over as acting NI First Minister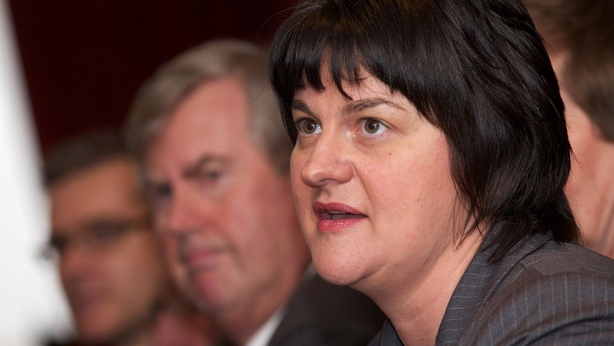 Ms Foster is taking the reins in her first day as acting First Minister following the mass resignation of her party colleagues amid a crisis sparked by a murder linked to members of the Provisional IRA.
Mr Robinson asked the DUP finance minister to remain in the executive to prevent Sinn Féin from taking over key ministerial posts.
The unionist walkout from the mandatory coalition came after the DUP failed to get the Assembly adjourned for a period to allow crisis talks to address the implications of the murder of Mr McGuigan to take place.
The political furore over the killing intensified on Wednesday when three senior republicans were arrested in connection with the murder.
As he announced the resignations, Mr Robinson repeated a demand for the British government to suspend the institutions outright to enable space for the talks to happen.
Northern Ireland Secretary Theresa Villiers last night rejected the call.
The fallout from the murder of Mr McGuigan has already seen the Ulster Unionists resign their one ministerial post.
The exit of Mr Robinson along with three of the DUP's four other ministers, and its one junior minister, has left the 13 minister administration in freefall.
The departments of health and social care; social development; enterprise trade and investment; and regional development are now effectively rudderless.
Collapse of powersharing is not inevitable but its demise appears to have been hastened by a day of dramatic developments at Stormont.
The DUP wanted all Assembly business suspended to allow crisis talks to take place about the political consequences of the murder of Mr McGuigan.
Mr Robinson's announcement came after Sinn Féin, the SDLP and the Ulster Unionists voted against a DUP proposal to adjourn the Assembly.
He issued a resignation ultimatum on Wednesday after the arrest of republicans Bobby Storey, Eddie Copeland and Brian Gillen over the fatal shooting of former IRA man Mr McGuigan. All three have been released.
Police believe current members of the IRA were involved in last month's shooting of Mr McGuigan in a suspected revenge attack for the murder of former IRA commander Gerard "Jock" Davison in Belfast three months earlier.
The disclosures about the IRA have heaped pressure on Sinn Féin to explain why the supposedly defunct paramilitary organisation is still in existence.