Northern Ireland's parties can resolve the crisis that has led to the resignation of First Minister Peter Robinson, according to Deputy First Minister Martin McGuinness.
Mr Robinson stepped aside earlier today and left Arlene Foster, who is now the only DUP member in government, to take over as temporary First Minister.
Speaking to RTÉ News, Mr McGuinness said "If this action by the DUP is intended by them to create space for talks to begin next Monday, we will certainly do everything in our power to make that work."
The Sinn Féin member said he thinks "if there's a will to resolve these difficult issues, it certainly can be done. Do I think it can be done? Yes I do."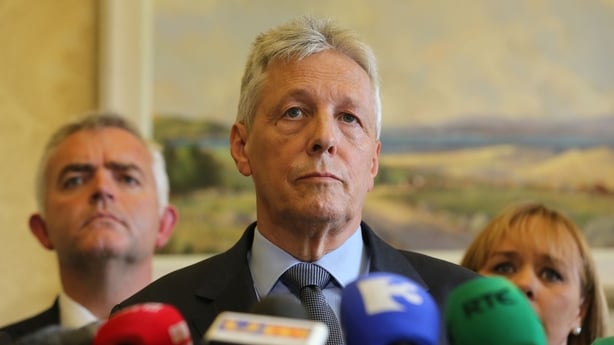 Earlier, Mr Robinson announced the majority of DUP ministers are to resign, but the move will not bring an immediate collapse of the Assembly institutions.
Executive departments will still function under the temporary arrangements but the Executive will not meet.
The DUP party will be given seven days to renominate ministers.
If no renominations materialise then the power-sharing executive will collapse, prompting the prospect of snap elections or a lengthy spell of direct rule.
Northern Ireland Secretary Theresa Villiers said she would not be suspending the devolved institutions and called on the parties to come together.
She said the DUP resignations would mean the functioning of the Executive became much more difficult.
Ms Villiers said: "It is a sign of a complete breakdown in working relationships within the Executive."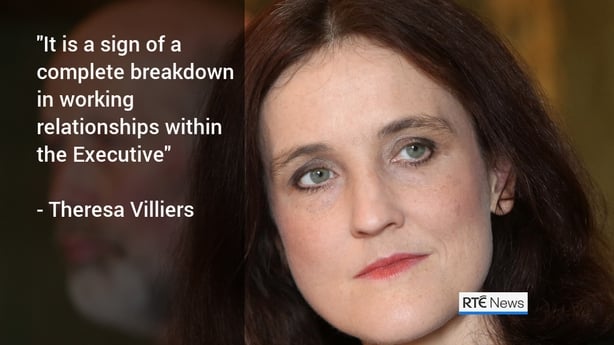 Minister for Foreign Affairs Charlie Flanagan described the situation as "a sad day for Northern Ireland and... a bad day for politics."
Speaking on RTÉ's Six One, Mr Flanagan said it is not over and that it is important that parties reflect over the weekend on the current situation.
He said time and options are running out and called on all parties to pull it together, saying there is only one and final chance.
At a press conference this afternoon, Mr Robinson said his party has been committed to bringing about devolution "but we sought to bring about devolution on the basis that everyone who was in government was committed to exclusively peaceful and democratic means.
He said: "The fact that a leading member, or leading members, of Sinn Féin have been associated with a murder indicates to us very clearly that those are unacceptable circumstances and we cannot do business as usual.
"We trust that talks will be able to take place and a suspension will occur to give us the space to do that and in those circumstances the Democratic Unionist Party will attempt to resolve the outstanding issues."
Mr Robinson said he indicated yesterday that the DUP would ask the business committee to adjourn assembly proceedings to allow negotiations to take place.
"That proposal did not find sufficient support. The government can still legislate to suspend the assembly and allow space for the parties to carry out those negotiations.
"In light of the decision by republicans and nationalists and the Ulster Unionist Party to continue with business as usual in the assembly, I am therefore standing aside as First Minister and other DUP ministers will resign with immediate effect, with the exception of my colleague Arlene Foster.
"I have asked Arlene to remain in post as finance minister and acting First Minister, to ensure that nationalists and republicans are not able to take financial and other decisions that may be detrimental to Northern Ireland."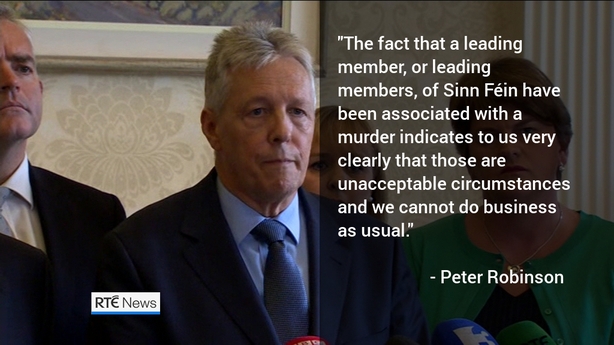 Sinn Féin, the SDLP and the Ulster Unionists voted against the DUP adjournment proposal, which was supported by the cross-community Alliance Party.
Sinn Féin President Gerry Adams said: "The decision of the (Assembly's) business committee is a very, very clear democratic reiteration of the integrity of these institutions and of the need and the wish for these institutions to continue the work which we were all elected to do on behalf of citizens in this state and across this island."
The crisis erupted after the PSNI said current members of the Provisional IRA were involved in last month's shooting of Kevin McGuigan in a suspected revenge attack for the murder of former IRA commander Gerard 'Jock' Davison in Belfast three months earlier.
The revelations about the IRA have heaped pressure on Sinn Féin to explain why the supposedly defunct paramilitary organisation is still in existence.
The Ulster Unionists have already resigned from the executive, claiming trust in Sinn Féin has been destroyed.
Sinn Féin's Northern Chairman Bobby Storey, who was arrested yesterday in connection with the murder of Mr McGuigan, and two other men were this evening released unconditionally.
The PSNI tweeted that one woman remains in custody.
The DUP had sought suspension or adjournment of the Assembly until intensive cross-party talks on the paramilitarism crisis are completed and have halted meetings of the ministerial executive.
Taoiseach Enda Kenny had urged the SDLP not to vote against adjournment in an eleventh hour meeting in Dublin this morning.
However, the party ultimately decided to oppose the move.
SDLP leader Dr Alasdair McDonnell said: "Adjournment would not have added anything, an adjournment would have been there and when the adjournment was over we would still have been drifting toward suspension.
"The adjournment was not the solution and we looked at this long and hard."
US urges leaders to resolve problems
The US administration urged Northern Ireland's leaders to resolve the outstanding problems.
Secretary of State John Kerry's envoy to Northern Ireland, former senator Gary Hart said: "The United States Government strongly supports the cross-party talks led by the UK and Irish governments.
"We again encourage all of Northern Ireland's political parties to engage constructively in these negotiations in order to strengthen the devolved institutions.
"Northern Ireland's achievements are the result of dialogue and responsible leadership; now is the time to re-energise the parties' commitment to implementing the Stormont House Agreement and addressing remnant paramilitary activity.
"The United States remains actively engaged and will continue to support political progress."
NI situation a 'deep crisis'
Mr Kenny described the situation in Northern Ireland as a deep crisis and voting against an adjournment was not the right thing to do.
Speaking in Adare in Co Limerick, he said a short adjournment would be his preference, and this would allow outstanding issues to be dealt with.
He said a collapse of the executive would most likely trigger elections.
British Prime Minister David Cameron is said to be "gravely concerned" about the political situation in Northern Ireland, according to his spokesperson.
He is said to be considering the next steps and speaking to both Mr Robinson and the Northern Ireland Secretary Theresa Villiers.
DUP MP Jeffrey Donaldson has said he believes the killing of Mr McGuigan was an act of terrorism and that the Northern Ireland Executive cannot continue with business as usual.
Speaking on RTÉ's Morning Ireland, Mr Donaldson said all of the parties in the executive are committed to exclusively political means, and that this issue cannot be ignored.
Gerry Adams earlier had said that the Assembly must not be adjourned, and he criticised the Taoiseach and Minister for Foreign Affairs who he said were supporting calls to adjourn sittings.
In a statement, Mr Adams said that an adjournment would be a mistake and he added that the Taoiseach had a responsibility to uphold the Good Friday Agreement and other agreements on Northern Ireland.
PIRA members involved in criminality - Garda Commissioner
The Garda Commissioner has said if gardaí had any evidence that the Provisional IRA as an organisation was involved in criminality they would take action.
Nóirín O'Sullivan said their assessment is that the PIRA has given up its terrorist capacity and its military structures have disbanded but some former members remain involved in criminal activity without sanction or support from the organisation.
She said this assessment is consistent with the Independent Monitoring Commission report of four years ago but that gardaí are keeping the matter under continuous assessment and will inform the Minister for Justice if the situation changes.
She also said the Provisional IRA remains a proscribed organisation and therefore membership is a criminal offence.
Assembly suspended four times since Good Friday Agreement
The Northern Ireland Assembly has had four suspensions since the Good Friday Agreement:
February 2000 - Secretary of State Peter Mandelson suspends the Assembly after the UUP/SDLP led Executive fails to strike a deal on IRA decommissioning.
The institutions are restored in May after the IRA pledges to "completely and verifiably" put its arsenal beyond use.
August 2001 - In the absence of progress on decommissioning, despite proposals from the British and Irish governments outlined at Weston Park, Northern Ireland Secretary John Reid suspends devolution for 24 hours.
The step was a political manoeuvre that effectively gave the parties a six week period to find a way forward on the thorny decommissioning problem.
September 2001 - With the IRA having pledged to intensify engagement with an international panel set up to monitor decommissioning, Mr Reid triggers another technical 24 hour suspension to give the parties further breathing room to get power-sharing back on track.
October 2002 - Sinn Fein's offices at Stormont are raided by the police as part of an investigation into an alleged IRA spy ring at the heart of government. A major political crisis erupts and ten days later Mr Reid suspends devolution and announces the return of direct rule by UK Government ministers.
London based ministers would retain control of running Executive departments until 2007 when the then DUP leader Dr Ian Paisley and Sinn Fein veteran Martin McGuinness entered power together.