Around 20,000 people have demonstrated in Vienna against ill-treatment of migrants after the bodies of 71 refugees were found in an abandoned truck last week.
Demonstrators rallied at the city's Westbahnhof train station before marching down a shopping thoroughfare.
The march took place as a service was held for the dead at St Stephen's Cathedral in the city.
The archbishop of Vienna, Cardinal Christoph Schoenborn, told the congregation: "We've had enough. Enough of the deaths, the suffering and the persecution."
The march and service took place shortly after trains carrying hundreds of migrants arrived from Budapest at Westbahnhof station after they had been stopped at the Austrian border with Hungary for several hours.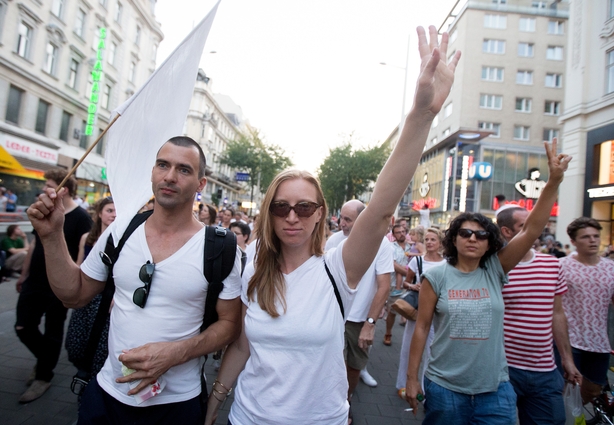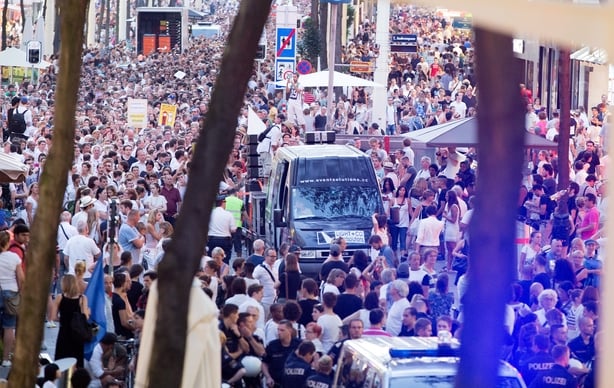 Earlier, the interior minister in Austria said that the country has toughened controls at its eastern borders.
Austrian authorities have uncovered around 200 asylum seekers and arrested five people traffickers as part of the new operation.
Interior Minister Johanna Mikl-Leitner said the checks were not classic border controls.
"We are not in violation of Schengen," she said.
"We will do controls for an undetermined length of time at all important border crossings in the eastern region, looking at all vehicles that have possible hiding places for trafficked people," she added.
As a result, a Hungarian motorway leading to Austria was jammed for 30km this morning as authorities tightened controls on vehicles that could be used for human trafficking.
Besides the M1 motorway, a secondary main road was also gridlocked, state road operator Magyar Kozut told national news agency MTI. Over the past three days, police have caught 8,792 migrants crossing into Hungary, most of them from Serbia.
Hungarian police said yesterday they had arrested a fifth suspect in connection with the deaths of the 71 people whose bodies were found in the abandoned refrigeration lorry on a highway in Austria.
Meanwhile, the European Union has called an emergency meeting of leaders to address the growing migration crisis.
EU home affairs ministers will hold emergency talks on 14 September in Brussels.
"The situation of migration phenomena outside and inside the European Union has recently taken unprecedented proportions," said the statement from Luxembourg, which holds the EU's six-month rotating presidency.
"In order to assess the situation on the ground, the political actions under way and to discuss the next steps in order to strengthen the European response, the Luxembourg Minister for Immigration and Asylum Jean Asselborn decided to convene an extraordinary JHA (justice and home affairs) Council," said the statement.
The call for a meeting of the EU's 28 member states follows a joint call for the talks by Germany, France and Britain.
Germany denies 'special trains' are carrying migrants from Hungary
Meanwhile, the German government has denied that there were "special trains" carrying migrants to Germany from Hungary and said that under European law asylum seekers arriving in Hungary must be registered there first.
"No, there are no special trains," Chancellor Angela Merkel's spokesman Steffen Seibert said in a post on Twitter.
"People who come to Hungary must register and seek asylum there."
Speaking to journalists in Berlin, German Chancellor Angela Merkel said the refugee crisis facing Europe is testing the core ideals of universal rights at the heart of the European Union.
"If Europe fails on the question of refugees, if this close link with universal civil rights is broken, then it won't be the Europe we wished for," she said, urging other EU members to accept their fair share of asylum seekers.
Ms Merkel added: "Europe as a whole needs to move. Member state must share responsibility for asylum-seeking refuges."
Earlier, a Reuters reporter in Budapest witnessed migrants who have gathered by the thousands in railway stations, being allowed onto trains bound for Austria and Germany.
Hungary is to ask Germany to clarify the legal situation with respect to travel by migrants within the European Union, a Hungarian government spokesman said.

Andras Giro-Szasz said under the EU's Schengen rules, migrants can only leave Hungary with valid travel documents and a visa from their destination country.
Mr Giro-Szasz said Germany has shown a more permissive stance towards migrants and refugees arriving from Syria and news of this has "boosted hopes" among migrants.

"In order to end the untransparent and adverse conditions we ask Germany to clarify the legal situation," he told MTI.
Some 10,000 people are estimated to have crossed over the Serbian border into Hungary in the last week alone, as growing numbers of migrants continue their journeys across Europe.
.@EU_Commission says there no legal consequences against Hungary for fence, "it is a national prerogative." But "doesn't support fences"

— Tony Connelly (@tconnellyRTE) August 31, 2015
Hungary has completed a 4m high fence along its border with Serbia and is working to build another one.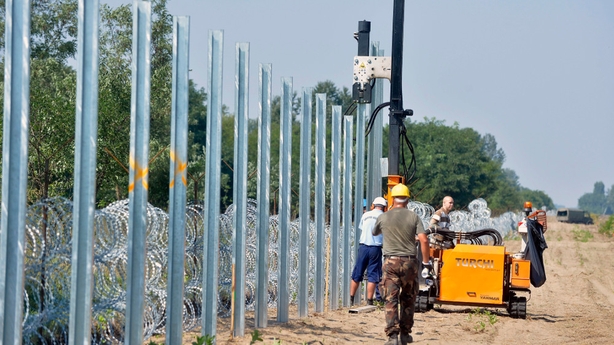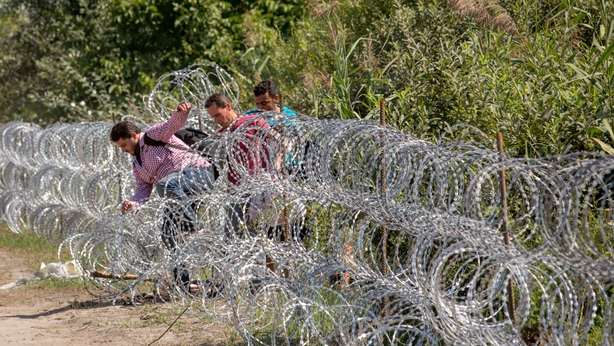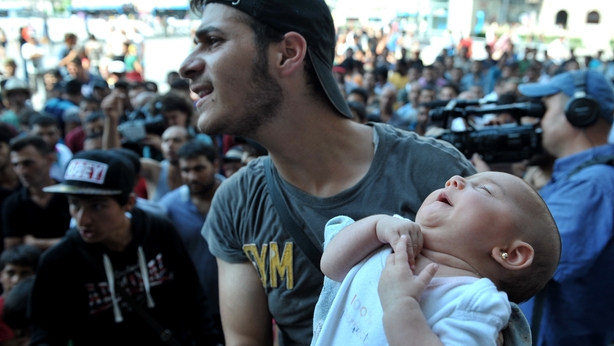 The European Union is discussing ways to streamline the process for migrants and come up with a more unified approach to this influx of people.
The UK, France and Germany have called for reception centres to register and fingerprint new arrivals at common arrival points in Italy and Greece and for an agreed list of "safe" countries in a bid to speed up asylum decisions.
Greece, Italy and other border countries are struggling to cope with record numbers of new arrivals with a surge over the summer taking the year's total to beyond 340,000.
Thousands of people from Syria, Iraq, Afghanistan and other nations, escaping poverty and war, continue to flood into Europe in what officials call the worst migrant crisis since World War II.