Four children, including a baby girl, were among 71 people found dead in a truck on an Austrian highway.
Austrian police said several people have been arrested in Hungary in connection with the tragedy.
An Austrian motorway patrol discovered the abandoned truck near the Hungarian border yesterday, probably at least 24 hours after it had been parked there.
The refugees appeared to have been dead for up to two days and fluids were seeping from its door.
A Syrian travel document was found among the victims, but more time is needed to determine whether people of other nationalities were on board, Hans Peter Doskozil, police chief for the province of Burgenland, told a news conference.
The back door of the truck was not locked but secured shut with wires.
Its refrigeration system showed no signs of having been switched on and there were no vents to allow fresh air inside, Mr Doskozil told Reuters.
The victims had been wearing light summer clothes.
Of the 71 dead, 59 were men, eight were women, and four were children, including a girl estimated at 1-2 years old and three boys aged roughly 8-10.
Austrian and Hungarian police differed over the number of arrests made in the case.
The truck, in which the bodies were found, belongs to a company called Master mobiliker Ltd, which has been under bankruptcy proceedings since July 2014, according to a Hungarian company register.
The truck bore the logo of what appeared to be a Slovak company, Hyza. Its parent group, Agrofert, told Reuters the vehicle was sold in January of this year.
About 100,000 migrants, many of them from Syria and other conflict zones in the Middle East, have taken the Balkan route into Europe this year, heading via Serbia for Hungary and Europe's Schengen zone of passport-free travel.
Most then move on to richer countries such as Austria and Germany. Austria saw asylum requests rise to more than 28,000 in the first six months of 2015 - more than the total for all of 2014.
Mr Doskozil said plans by Hungary to build a 175km fence to keep out refugees may be contributing to the problem.
"Many people are trying to get to Germany or Austria before it (the fence) is finished," Mr Doskozil said.
German Chancellor Angela Merkel, in Austria for a summit with Balkan leaders on Europe's migrant crisis, said she was "shaken" by the "horrible" news.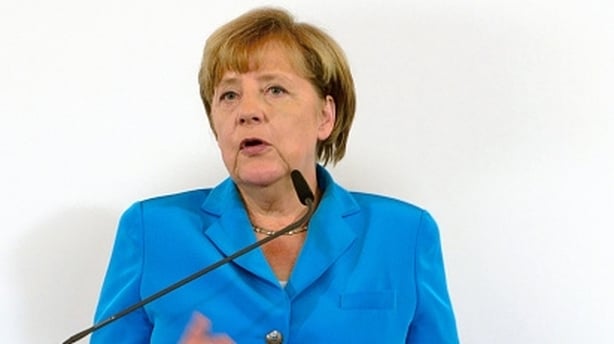 "This is a warning to us to tackle this migrants issue quickly and in a European spirit, which means in a spirit of solidarity, and to find solutions," Ms Merkel said.
An official from the International Organisation for Migration said the people in the truck had come via the Western Balkan route and had reached the supposed "safety" of the Schengen zone.
"They have resorted to smugglers as no other means of transport - such as train or bus - is available to them, as they routinely are taken off the trains and buses bound for Austria and Germany from Hungary," said Magdelena Majkowska-Tomkin of the IOM's Hungarian office.