Three young children were found in critical condition due to dehydration yesterday after police in Austria stopped a truck with 26 refugees, Austrian news agency APA has reported.
The lorry with refugees and migrants from Syria, Afghanistan and Bangladesh crammed in the back was stopped in the small town of St Peter am Hart, close to the German border, APA said, quoting local police.
"It was a very close call," David Furtner from the Austrian police was quoted as saying, adding the children had been dizzy due to dehydration in the hot and sticky lorry.
"Medical staff told us they would not have made it much longer."
The 29-year-old Romanian driver was arrested, while the children and their parents were taken to the hospital in the nearby town of Braunau.
The discovery comes after 71 refugees were found dead in an abandoned lorry on an Austrian highway on Thursday.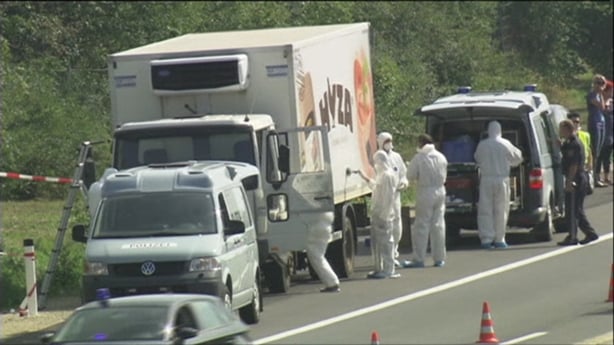 Austria borders Hungary, which has seen more than 140,000 migrants enter from Serbia this year, most of whom then seek to travel onwards to western European countries like Germany and Sweden, via Austria.
UN chief urges stronger response to migrant crisis
UN Secretary-General Ban Ki-moon has appealed to governments to step up their response to Europe's migrant crisis following more drownings at sea and the discovery of migrant bodies in an abandoned truck in Austria.
Mr Ban praised leaders and communities who were taking action to cope with the flow of migrants, but added "much more is required."
"I appeal to all governments involved to provide comprehensive responses, expand safe and legal channels of migration and act with humanity, compassion and in accordance with their international obligations," he said.
The UN chief said he was "horrified and heartbroken" by the loss of lives in the Mediterranean and the grim discovery of more than 70 bodies crammed inside a truck that was abandoned near the Austrian border with Hungary.
Indications are that many of the victims were Syrian refugees, including children.
Elsewhere, rescuers pulled 76 bodies from the Mediterranean after two boats carrying 500 migrants sank, the latest tragedy in a series at sea.
More than 300,000 people have crossed the Mediterranean so far this year, a large increase from last year, the UN refugee agency said.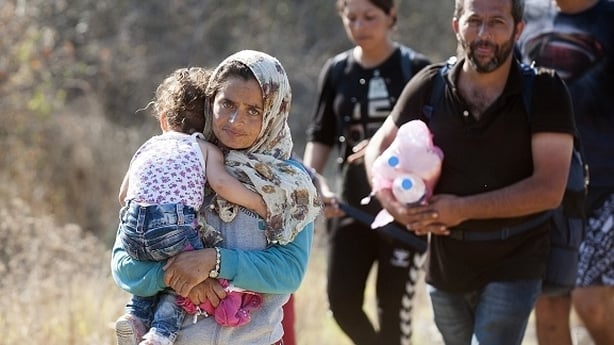 "The Mediterranean Sea continues to be a death trap for refugees and migrants," said Mr Ban in a statement.
The UN chief announced plans to convene a special meeting on 30 September, on the sidelines of the UN General Assembly, to discuss global concerns about migration.
"This is a human tragedy that requires a determined collective political response. It is a crisis of solidarity, not a crisis of numbers," he said.