Former Clerys workers staged a protest this afternoon outside the offices of the store's new owners on North Wall Quay in Dublin.
The workers, members of SIPTU, are demanding a meeting with the new owners, the Natrium Consortium.
The store closed down suddenly in the middle of June with the loss of 460 jobs.
Yesterday, it emerged that the liquidation will cost taxpayers €2.5m as the State will have to pay the workers' statutory redundancy entitlements.
Former Clerys worker and SIPTU Shop Steward, Alan O'Brien, said: "It has been 11 weeks since the store was closed without notice resulting in hundreds of job losses.
"Natrium has treated us appallingly while it has made millions out of this deal. The sudden closure of the store caused massive distress to the workers, many of whom gave decades of service to Clerys."
He added: "All we are asking for is to be treated with a degree of respect. We want Deirdre Foley and the other people involved in Natrium to meet us face-to-face and explain their actions."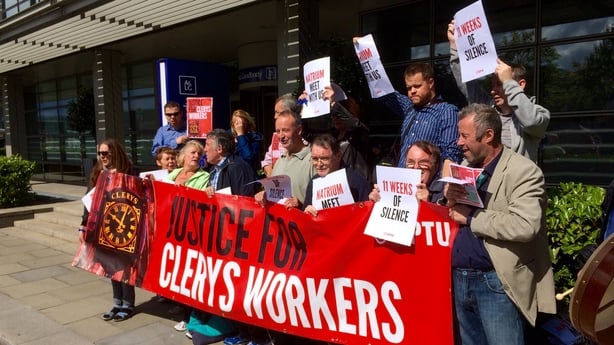 While Natrium retained the subsidiary, which held the valuable Clerys site on O'Connell Street, following a complex transaction the operating company was put into liquidation within hours of the sale.
The joint liquidators of Clerys - Kieran Wallace and Eamonn Richardson of KPMG - are to hold a meeting of creditors next Tuesday to set up a creditors' Committee of Inspection.
Under company law, a five-person Committee of Inspection represents the interests of all creditors of a company going into liquidation which cannot pay its debts.
The committee can hold the liquidator to account in relation to issues which could affect the funds which creditors will receive, including the level of fees the liquidator charges, and the sale of assets.
The Department of Social Protection confirmed to RTÉ News yesterday that it will attend Tuesday's creditors' meeting.
However, the department declined to comment on whether it would seek representation on the Committee of Inspection.