Eurozone finance ministers have approved a third debt bailout worth up to €86bn to keep Greece afloat and avoid its chaotic exit from the single currency, officials said.
"New loans of up to €86bn will be made available over the next three years to Greece," the European Commission said in a statement after six hours of talks to nail down the tough and far-reaching reforms Athens must implement in return.
A Greek official said the eurozone is ready to take action, including extending loan maturities, to ensure the sustainability of Greek debt and the involvement of the International Monetary Fund in a rescue programme for Greece.
The official said "the Eurogroup meeting reaffirmed... that the finance ministers are ready to take action such as longer repayment periods to ensure the viability of the Greek loan programme."
"That way, the IMF will participate in the programme,something the Eurogroup considers essential," the official said.
IMF chief Christine Lagarde has called on Europe to provide "significant" debt relief for Greece, saying the Greek government could not put its fiscal house in order on its own.
Earlier, a majority of Greek MPs approved the bailout after an all-night debate.
Prime Minister Alexis Tsipras had earlier urged the chamber to approve the deal "to assure the country's ability to survive and keep on fighting."
Thanks to opposition support, Mr Tsipras easily managed to cross the 151-vote threshold in the 300-seat chamber to pass the bill.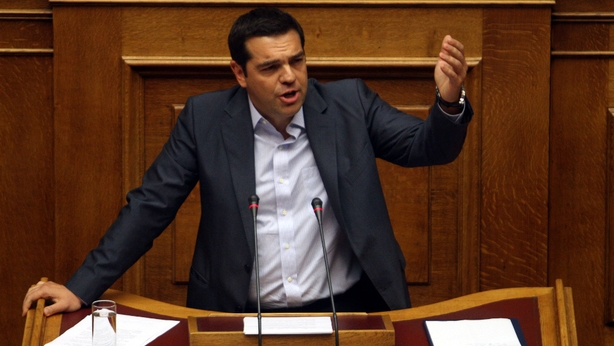 However, Mr Tsipras has been forced to announce a confidence vote after one third of his radical left Syriza members voted against the measures following a stormy all night debate.
It eventually passed with 222 votes, but 43 MPs - or nearly a third of deputies from Mr Tspiras' party - voted against or abstained.
A government official said Mr Tsipras is to seek a confidence vote after 20 August when a €3.2bn debt payment to the European Central Bank falls due.
Eurozone finance ministers are expected to approve the vital aid for Greece later today.
The European Commission responded very positively to the Greek vote, while Jeroen Dijsselbloem, the Chair of the Eurogroup of Finance Ministers, praised Greek negotiators for "being far more constructive than before".