A court in Cairo has postponed the mass trial of 434 defendants, including Irish citizen Ibrahim Halawa, until 4 October.
Officials from the Irish Embassy in Cairo were at the court hearing this morning.
Minister for Foreign Affairs Charlie Flanagan said he was disappointed that the 19-year-old's case has been further postponed because of the non-attendance of a number of witnesses.
He said he has regularly emphasised to his Egyptian counterpart Same Shoury the importance of due process in Ibrahim's case and has highlighted the Government's concern at the continued detention of a Irish citizen while awaiting trial.
Mr Flanagan said he had spoken to Mr Shoury last Wednesday during which he "strongly reaffirmed the Government's deep interest in Ibrahim's welfare".
He said embassy officials had visited Ibrahim last Sunday and the case is being followed "extremely closely" by his department and officials in Cairo.
Ibrahim's sister Khadija, solicitor Darragh Mackin and Sinn Féin MEP Lynn Boylan, who were in Cairo to attend the trial, were not allowed inside the courtroom.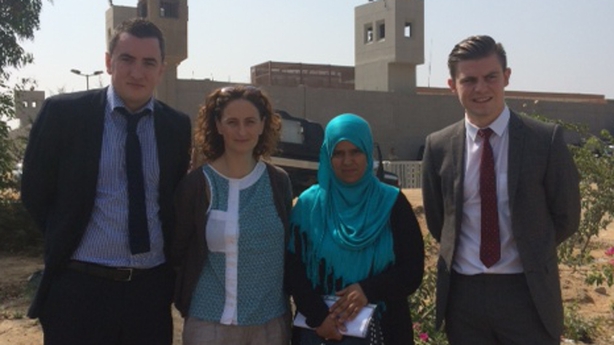 The Tallaght teenager was arrested at a mosque in Cairo by security forces after a demonstration in 2013.
Mr Mackin said he and Gavin Booth, both from the Human Rights firm KRW LAW LLP in Belfast had travelled to Cairo expressly for the trial, but were then told they were not permitted access to the court.
He said: "Not allowing a lawyer to access his client's hearing is gravely concerning and belies any suggestion that fair trial requirements are being met.
"Our client, Ibrahim Halawa, has now been held for almost two years without trial. We are concerned that there has been yet another delay, this time of a further tow months.
"Ibrahim was aged 17 when arrested - he is now 19. Time is of the essence. We call on the Irish Government to work with the family to secure his swift release and return to Ireland."
Ibrahim's sister Nosayba said the family was disappointed and angered by the decision to postpone his case for a tenth time called on the Government to intervene.
"They say they are waiting for my brother to finish his trial, I don't want them to wait to finish his trial, I want my brother out.
"I can't wait another two years or another year or another year and a half," Ms Halawa said.
She said she was concerned about her brother, who is currently on a partial hunger strike.
"If he is coping now, I don't want to get to the level that he can't cope anymore," Ms Halawa said, adding that his ongoing trial is putting a huge strain on the entire family.
"We can't handle it any more, all of us. We are outside and we are suffering. I can't imagine how bad the news [of the postponement] is for him," she said.
Ms Halawa said that the judge's decision not to allow Ibrahim's lawyer into court showed that "no real law" was being applied in this case.
In a statement Amnesty International said the further adjournment of Ibrahim and his co-defendants' trial is "an indictment of the Egyptian justice system. "
Colm O'Gorman Executive Director of Amnesty International Ireland said: "It is becoming increasingly clear that there is no due process in Egypt as it continues to flout international human rights law with mass life and death sentences..."
He said adjourning the trial while continuing to hold the defendants in pre-detention beyond two years "is a blow to the rule of law in the country and shows that Egypt's criminal justice system is spiralling out of control."