A new opinion poll suggests a significant drop in support for Fine Gael.
The poll conducted by Millward Brown for the Sunday Independent suggests support for the party has dropped 5% to 24%, once the Don't knows are excluded.
However, support for Labour has risen marginally, by 1% to 7%.
Support for both Fianna Fáil (23%) and Sinn Féin (21%) is unchanged, while Independents /others have risen 4% to stand at 24%. Green Party support is unchanged at 1%.
976 people were interviewed nationwide for the poll between 19 and 30 July. The data collected has been compared to the last Millward Brown survey for the paper that was taken towards the end of June.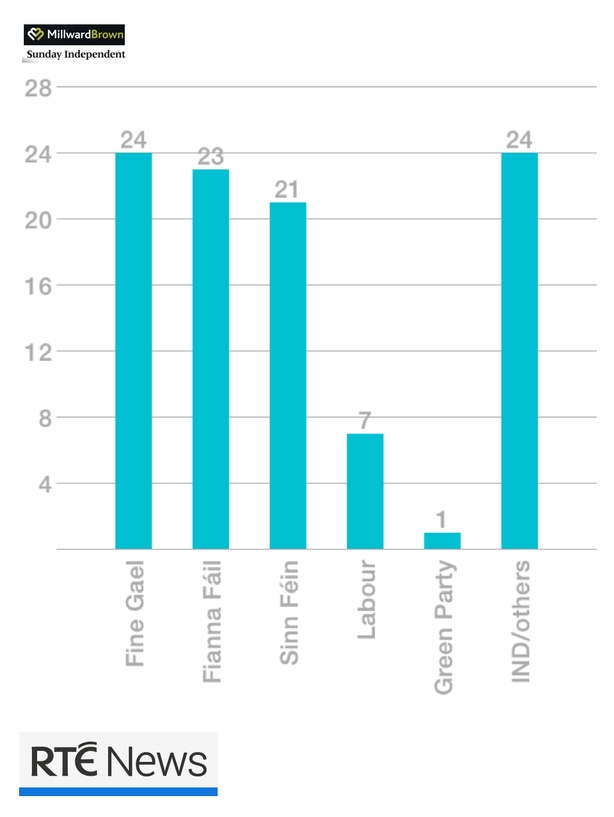 The poll also gauged support for party leaders, with satisfaction for Taoiseach Enda Kenny down 7% to 25%. Labour leader Joan Burton has also lost support, dropping 6% to 20%.
Fianna Fáil leader Micheál Martin has the most support at 32%, however this still represents a drop of 4%, while Gerry Adams' satisfaction rating remains unchanged at 30%.
According to the poll, dissatisfaction with the Government also increased by 4% and now stands at 67%.