Support for the Government parties has increased in the latest opinion poll.
There has been a fall in support for Sinn Féin and Independents, while almost three quarters of those surveyed said they would vote yes in the same-sex marriage referendum.
This is the first Sunday Times Behaviour and Attitudes Poll since the Coalition parties' recent conferences.
Fine Gael support is up three points to 27%, while Labour has risen four points to 9%.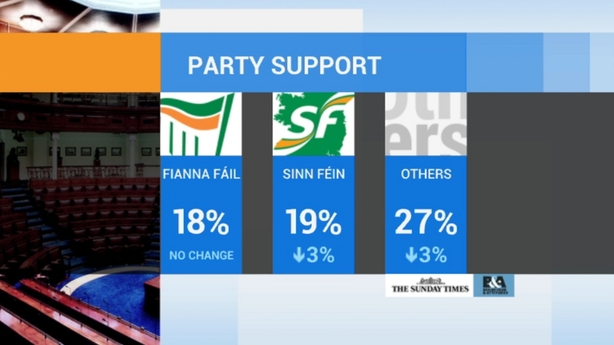 Sinn Féin on 19% is down three points in this poll that surveyed people for one day following the BBC Spotlight programme last Tuesday night.
Fianna Fáil remains unchanged on 18%, in a trend that has been consistent for some time.
Independents and smaller parties are down three points to 27%, since the last comparable poll in December.
Meanwhile, some 73% of voters surveyed said they would vote yes in the same-sex marriage referendum, 22% are against the proposal and 5% are classed as 'don't knows'.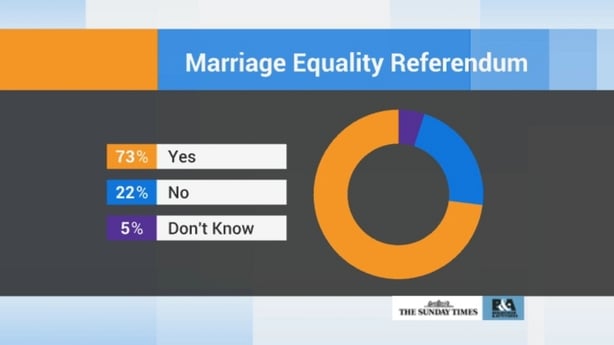 Tiernan Brady of 'Yes Equality', a group campaigning for a yes vote in the referendum said the poll shows a clear majority of Irish people believe all citizens should have the freedom to marry in Ireland regardless of sexual orientation.
He added: "It is clear from this poll and other recent polls that Irish people firmly accept that lesbian and gay couples should be afforded the same respect, legal status and protections in the Constitution that are available to the rest of society."
In the second referendum planned for 22 May - 55% of those surveyed were opposed to lowering the age of presidential candidates, 40% were in favour and 5% were in the 'don't know' category.
The poll surveyed 959 people over ten days up to last Wednesday night.