Eurotunnel, the operator of the Channel Tunnel, has said it is working to reduce delays for trains crossing the Channel Tunnel caused by migrants attempting to stow away on lorries entering Britain.
A Eurotunnel spokesman said migrants had breached fences at the terminal in Calais, France, on Friday night, causing the company to briefly suspend trains as the migrants approached the tracks.
Disruption on the crossing has become a regular occurrence as some 5,000 migrants, mostly from Africa and the Middle East and camped around the northern French port, attempt to board train and ferry services to Britain.
"We had massed attacks by migrants trying to get through the fence onto tracks and onto trains," the spokesman said.
"We had some significant delays early on, but we are now down to 30 minutes before check-in and a one hour wait on site."
Freight traffic from Britain to France was already facing long delays after a strike by French ferry workers earlier in the week.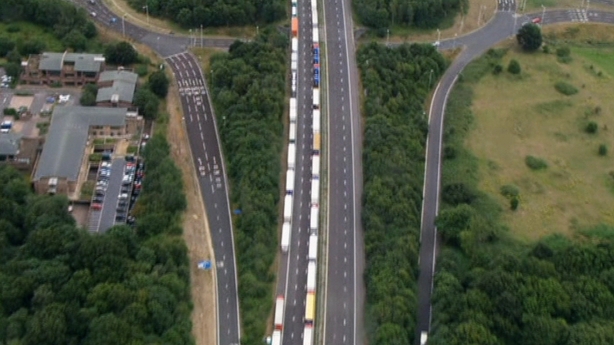 "Attacks on our site are nightly," the spokesman said. "They are simply overwhelming the police forces in Calais.
Industry body Freight Transport Association told the BBC it estimated the delays were costing the British freight industry over €1m a day in lost productivity.
Eurostar passenger rail services between London and continental Europe, which do not operate during the night, were running as normal today, according to its website.