Turkish Prime Minister Ahmet Davutoglu has said authorities have identified a suspect over the suicide bombing close to Turkey's border with Syria that left 32 activists dead.
"One suspect has been identified. All the (suspect's) links internationally and domestically are being investigated," he said in televised comments.
He added there was a high probability the attack was caused by a suicide bomber with connections to self-styled Islamic State jihadists.
Mr Davutoglu said that the death toll had risen to 32 from 31 and added that 29 victims were still hospitalised.
A suspected Islamic State suicide bomber reportedly carried out the attack on mostly young students.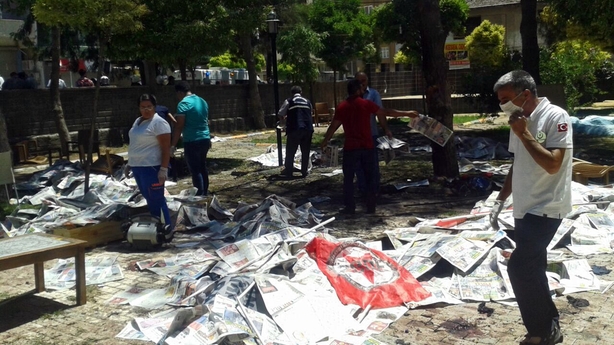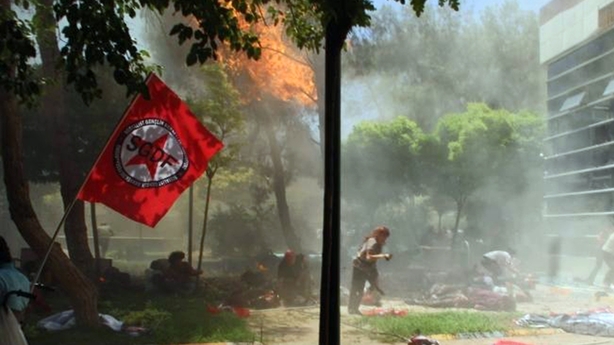 Bodies lay beneath trees after the blast outside a cultural centre in the mostly Kurdish town of Suruc in southeastern Turkey, some 10km from the Syrian town of Kobani, where Kurdish fighters have been battling Islamic State.
The explosion tore through a group of mostly university-aged students from an activist group as they gathered to make a statement to the local press about a trip they were planning to help rebuild Kobani.
Turkey's NATO allies have been seeking tighter controls on a border with Syria that runs alongside Islamic State-held territories.
But monitoring is difficult with 1.8 million Syrian refugees now on the Turkish side and smuggling rife.
The United States, which has an air base at Incirlik in southern Turkey, though it is not being used for its air attacks on IS forces, called the bombing a "heinous terror attack".
Turkish police use tear gas on protesters
Turkish police fired tear gas and water cannon against hundreds of protesters who took to the streets to condemn yesterday's deadly attack.
A crowd of 800 demonstrations gathered at Kadikoy on the Asian side of Istanbul to denounce the attack.
"Murderer state will be brought to account," the protesters shouted.
In an earlier demonstration in the district of Sisli on the European side of Istanbul, police detained dozens of protesters who chanted anti-government slogans.