At least 30 people, mostly young students, were killed in a Turkish town near the Syrian border today in what authorities said was a "terrorist" bomb attack.
Officials said it appeared to be a suicide bomb attack mounted by self-styled Islamic State militants.
Prime Minister Ahmet Davutoglu said Turkey will increase security measures along its border after the attack.
Television footage showed bodies lying beneath trees outside a cultural centre in the mostly Kurdish town of Suruc in southeastern Turkey, around 10km from the Syrian town of Kobani, where Kurdish fighters have been battling the IS.
The blast tore through a group of mostly university-aged students from an activist group as they gathered to make a statement to the local press about a trip they were planning to help rebuild Kobani.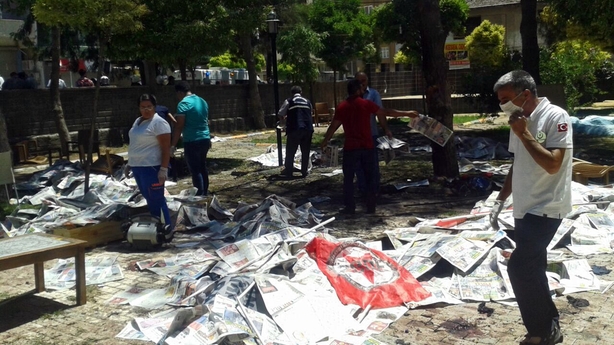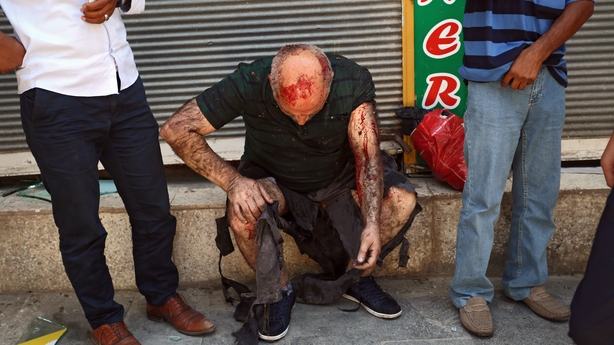 Pictures showed bodies covered with newspaper after the explosion. The Hurriyet daily said the attacker was an 18-year old woman, but there was no confirmation.
"Our initial evidence shows that this was a suicide attack by Islamic State," one senior official in Ankara told Reuters news agency.
A second official also said Islamic State appeared to have been responsible and that the attack was a "retaliation for the Turkish government's efforts to fight terrorism".
It was the bloodiest such attack in NATO member Turkey since at least 50 people were killed in the town of Reyhanli near the border in 2013.
"I saw more than 20 bodies. I think the number of wounded is more than 50. They are still being put into ambulances," one witness told Reuters by telephone. "It was a huge explosion, we all shook."
The explosion comes weeks after Turkey deployed additional troops and equipment along parts of its border with Syria.
Turkey is concerned about the risk of spill over as fighting between Kurdish forces, rebel groups, Syrian government troops and self-styled Islamic State militants intensifies.
The country's leaders have said they do not plan any unilateral military incursion into Syria but have also said they will do whatever is necessary to defend the country's borders.
"I condemn those who conducted this brutality," President Tayyip Erdogan said. "Terror has no religion, no country, no race."
The White House also condemned the attack. Spokesman Josh Earnest said the White House "strongly condemns the heinous terrorist attack that occurred in southern Turkey.
"We have started to see some extremist activity in other countries that does seem to be related to ISIL," Mr Earnest said, using an acronym for the so called Islamic State group.