New HIV infections have fallen by 35% since 2000, according to the United Nations, but the organisation has stressed that AIDS spending has to be dramatically increased to roll back the disease.
New HIV infections declined to two million in 2014, compared to 3.1 million 14 years ago.
The number of new infections has noticeably decreased or remained stagnant  in 83 countries.
However, in a report the UN warned that spending on AIDS has levelled out.
UN Secretary General Ban Ki-moon has said the world was headed for a "generation free of AIDS" after UNAIDS released the report.
Speaking at a global development summit in Ethiopia, Mr Ban said "The world has delivered. We have achieved and exceeded the... goals regarding AIDS. We have 15 million people on HIV treatment. We are on the way to a generation free of AIDS."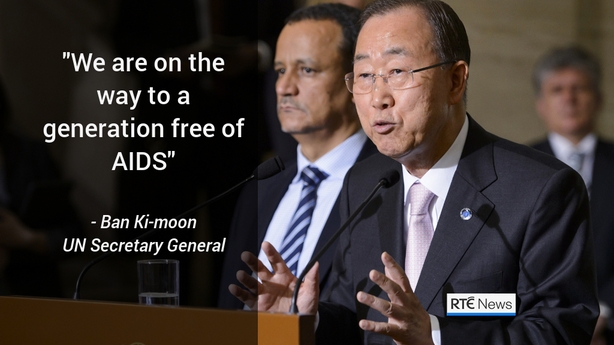 According to the UNAIDS report, there have been remarkable strides since the advent in 1996 of anti-retroviral drugs, which suppress the human immunodeficiency virus (HIV).
Though not a cure, the therapy creates a virtuous circle.
The less the virus is in circulation, the less likely it is that people become infected.