Tens of thousands have gathered at a cemetery near Srebrenica in Bosnia and Herzegovina to mark the 20th anniversary of Europe's worst atrocity since World War II.
Abandoned by their UN protectors towards the end of a 1992-95 war, 8,000 Muslim men and boys were killed by Bosnian Serb forces over five days in July.
Their bodies were dumped in pits then dug up months later and scattered in smaller graves in a systematic effort to conceal the crime.
More than 1,000 victims have yet to be found.
The bones of 136 newly identified victims will be interred beneath marble gravestones in the Potocari memorial cemetery in eastern Bosnia, in what has become an annual ritual as the graves are discovered.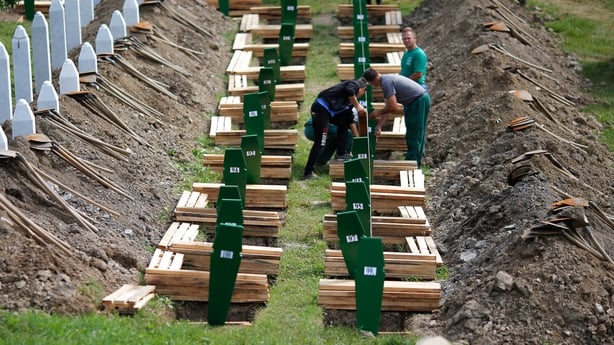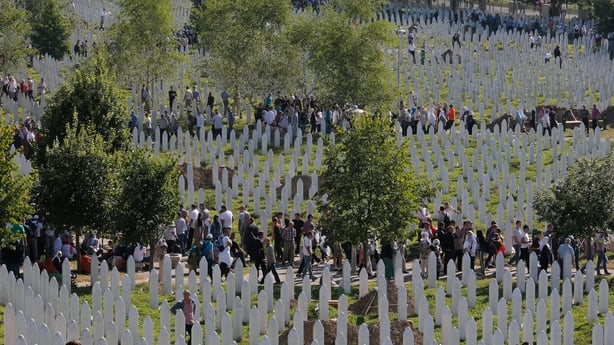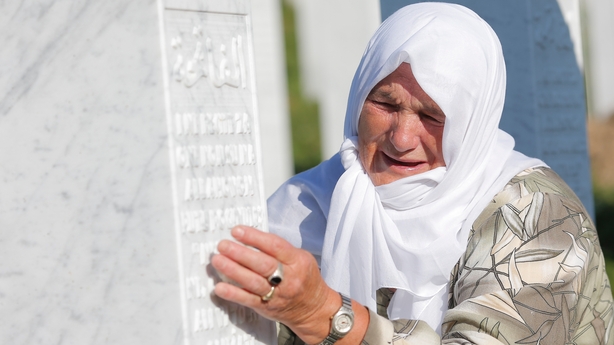 A UN court has ruled the massacre was genocide.
Many Serbs dispute the term, the death toll and the official account of what went on.
There are conflicting narratives of the Yugoslav wars that still feed political divisions and stifle progress towards integration with Western Europe.
Milorad Dodik, president of Bosnia's autonomous Serb Republic where Srebrenica is located, last month called the massacre "the greatest deception of the 20th century".
Number of arrests as some people threw stones and bottles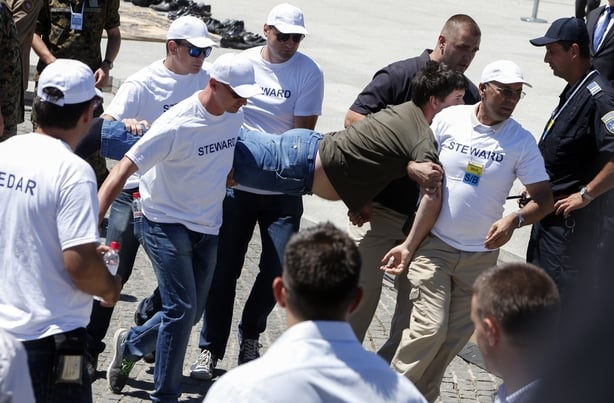 A crowd throwing bottles and stones chased Serbia's prime minister from a ceremony in Bosnia marking the 20th anniversary of the Srebrenica massacre.
A number of people were arrested in the incident.
The incident underscores the depth of anger over Belgrade's continued denial of the crime as genocide.
Bodyguards whisked Aleksandar Vucic through angry mourners shouting and booing while a crowd surged up the hill behind the delegation as they ran for their cars.
Attendance by Vucic was symbolic
Serbia, which backed Bosnian Serb forces with men and money during the war, last week enlisted ally Russia to veto a British-backed UN resolution that would have condemned the denial of Srebrenica as genocide, as a UN court has ruled it was.
During the 1990s, Mr Vucic was a disciple of the "Greater Serbia" ideology that fuelled much of the bloodshed that accompanied Yugoslavia's demise.
He has since rebranded himself as pro-Western and his attendance today was intended to be symbolic of how far the region has come since wars that left at least 135,000 people dead, 100,000 of them in Bosnia.

"Look at him (Vucic) and look at those thousands of tombstones," said Hamida Dzanovic, who had come to bury two bones identified by DNA as those of her missing husband.
"Is he not ashamed to say that this was not genocide? Is he not ashamed to come here?" she asked.
Mr Vucic was earlier welcomed by the head of the Association of Srebrenica Mothers, Munira Subasic - whose husband and son were among those killed.
She pinned a white and green crochet flower of remembrance on his lapel and he signed a book of condolences.
Ever since the massacre, the West has faced questions over how it allowed the fall of Srebrenica, a designated UN "safehaven" for Muslims Bosniaks displaced by the war.
Months later, NATO air strikes forced the Serbs to the negotiating table.
A US-brokered peace treaty ended the fighting and enshrined in Bosnia a complicated and unwieldy system of ethnic power-sharing that survives today.
Bill Clinton, who was US president at the time, told those gathered: "I grieve that it took us so long.
"I never want to see another killing field like this," he said.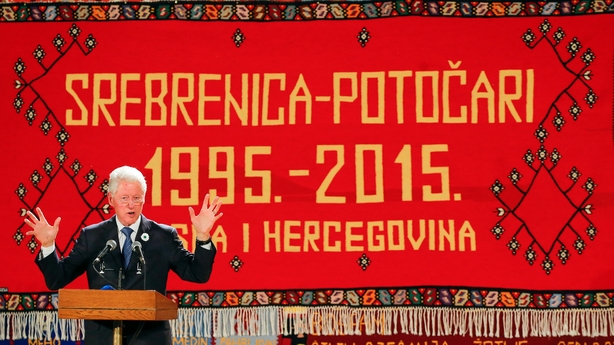 The accused chief architects of the massacre - Bosnian Serb wartime political leader Radovan Karadzic and military commander Ratko Mladic - remain on trial at a UN court in The Hague, protesting their innocence.
In the Serbian capital, Belgrade, police ringed the parliament after Mr Vucic's government banned a gathering of remembrance for Srebrenica's dead.
Instead, a few hundred Serbians lit candles in a nearby park last night.