Eurozone finance ministers have adjourned their crisis meeting on Greece until tomorrow morning.
Eurogroup chief Jeroen Dijsselbloem said: "We have had an in-depth discussion of the Greek proposals, the issue of credibility and trust was discussed and also of course financial issues involved, but we haven't concluded our discussions, saying It is still very difficult but work is still in progress,"

The emergency meeting of eurozone finance ministers in Brussels ran into significant difficulty, after one of the three parties in Finland's coalition government threatened to leave office over a third bailout for Greece.
The Finnish state broadcaster YLE reported that the Finns Party threatened to bring down the coalition government if any more money was to be given to Greece
The situation was complicated even further by a leaked German finance ministry paper which suggested one option for resolving the Greek debt crisis was for the country to leave the euro temporarily.
Eurozone finance ministers will resume their meeting to decide whether they will support the Greek government's package of economic reforms.
Sceptical eurozone finance ministers demanded that Greece go beyond painful austerity measures accepted by Prime Minister Alexis Tsipras if he wants them to open negotiations on a third bailout for his bankrupt country to keep it in the euro.

Ministers lined up to vent their anger at Mr Tsipras on arrival at their umpteenth emergency weekend meeting on Greece's acute debt crisis, with Athens staring into an economic abyss when financial markets reopen on Monday unless it wins fresh aid.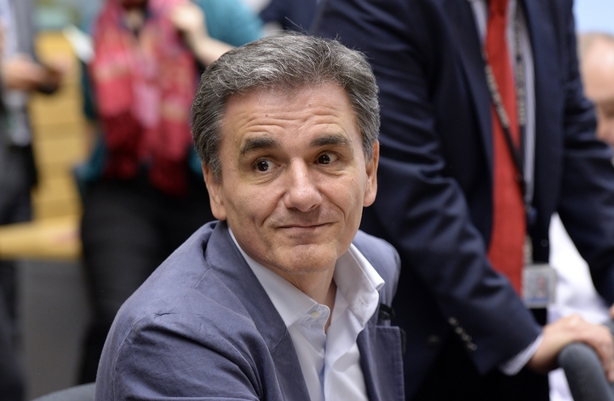 EU officials forecast a deal would be reached by the end of the weekend to keep Greece afloat, but two sources said there was consensus among the other 18 ministers that the leftist government in Athens must take further steps to convince them it would honour any new debts.

Mr Tsipras won parliamentary backing early this morning for a tough reform package that largely mirrored measures previously demanded by its international creditors but rejected by Greek voters at his behest in a referendum last Sunday.

Wolfgang Schaeuble, finance minister of its biggest creditor Germany and a stickler for the EU's fiscal rules, said negotiations would be "exceptionally difficult".

Emerging optimism about Greece had been "destroyed in an incredible way in the last few months" since Mr Tsipras won power, Mr Schaeuble said.

A German newspaper reported that his ministry was suggesting that Greece either improve its proposals quickly and transfer state assets worth €50 billion into a fund to pay down debt, or take a five-year "time-out" from the eurozone.

The German Finance Ministry declined to comment on the report in the Frankfurter Allgemeine Sonntagszeitung.
But several officials said no one raised the possibility of a Greek euro exit in the meeting, which took a pause after three hours.

Other ministers arriving for the Eurogroup session spoke of a fundamental lack of trust after years of broken Greek promises and six months of erratic and provocative behaviour by the radical leftist Tsipras government.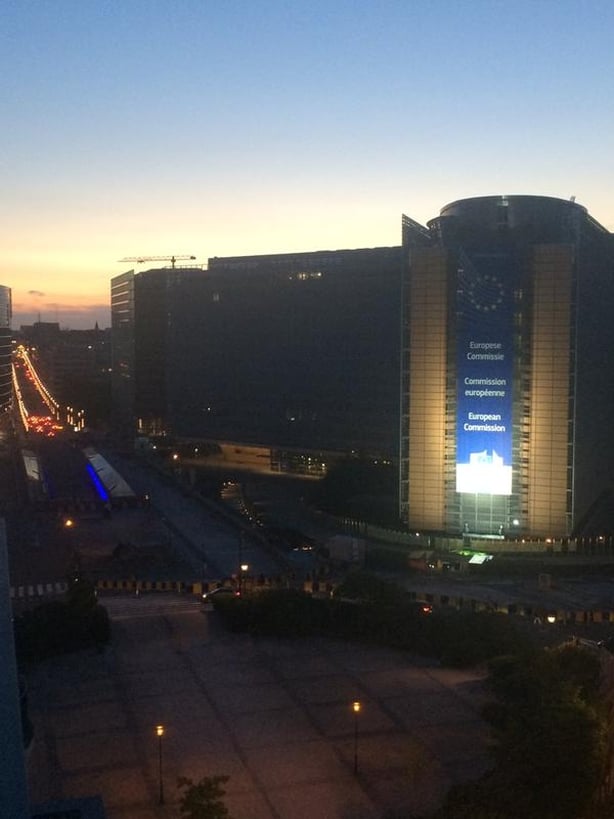 "We are still far away," said Jeroen Dijsselbloem, the Dutch finance minister who was chairing the meeting. "On both content and the more complicated question of trust, even if it's all good on paper the question is whether it will get off the ground and will it happen ... We are facing a difficult negotiation."

However a preparatory meeting earlier on Saturday endorsed with reservations a recommendation by EU institutions and the IMF that Tsipras's proposals did provide a basis to launch negotiations, sources familiar with the session said.
Earlier, Greek Economy Minister George Stathakis said the capital controls imposed on Greece's banks will remain in place for at least another two months.

Mr Stathakis told Greece's Mega TV that the banks could re-open as soon as next week, if an agreement with creditors is reached this weekend, but other restrictions on withdrawals and currency exports would remain in place for most.

"That will stay in play for two months or some months," he said.
The parliament in Athens overwhelmingly approved the measures in a late night sitting.
He also said that dissenting politicians from left-wing Syriza, including ministers, should step aside if they disagree with government policies over bailout reforms.

Ten Syriza politicians either abstained or rejected a road map of reforms the Greek government was negotiating with international creditors to stave off bankruptcy.
One of the politicians was the Energy minister Panagiotis Lafazanis.
End of #Eurogroup session. To be continued tomorrow.

— Alexander Stubb (@alexstubb) July 11, 2015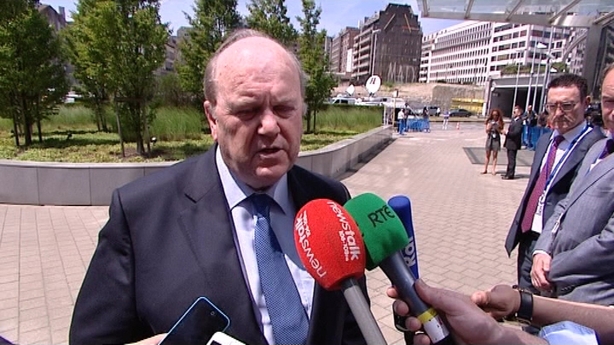 Meanwhile, Minister for Finance Michael Noonan has said he attended today's meeting "on the basis that it will be possible to put a sustainable medium termed programme in place".
Sounding upbeat, he said: "Significant progress was made last night in the Greek parliament and I think the negotiations today can build on that."
However, he identified a number of issues that needed to be clarified.
"The Greek paper was silent on banking. Obviously the Greek banks are in difficulty now and it's going to cost money to put them back on an even keel."
He also said that economic sustainability was an issue.
Eurozone leaders meeting
Leaders from the eurozone and the broader EU are due to meet in Brussels tomorrow.
If ministers have agreed to start loan talks, leaders will have no formal decisions to make, but may want to hear more from Mr Tsipras about his plans.
Without a deal, they would have to discuss how to contain the fallout a Greek bankruptcy would have on the wider European economy.
Taoiseach Enda Kenny has said he remains optimistic that a third bailout programme for Greece will be approved.
Speaking in Cork, he said eurozone leaders were waiting for the outcome of today's finance ministers' meeting to see if a leaders' summit would or would not be needed tomorrow.
After the jubilation in Athens last Sunday following the resounding rejection of further austerity in a referendum, there was bitterness that parliament was being asked to accept a strikingly similar package of measures.
Underlining the unhappiness of many on the left at the government's apparent embrace of austerity, a few thousand demonstrators gathered in front of parliament before the vote to protest against the measures.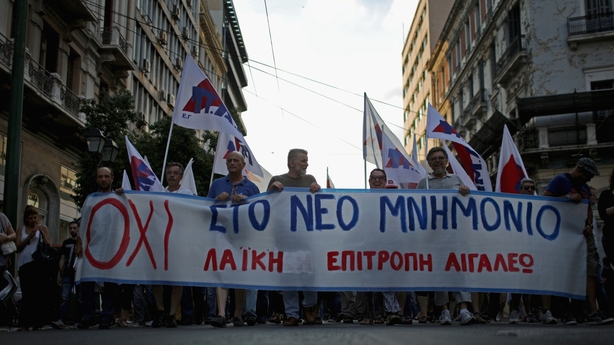 Germany, which has contributed more to bailouts than any other country, sounded wary.
A finance ministry spokesman ruled out any debt restructuring that would lower its real value.
France, Greece's most powerful supporter in the eurozone, rushed to offer praise.
French President Francois Hollande called the offer "serious and credible".
Eurogroup head Jeroen Dijsselbloem described it as a "thorough piece of text" but gave no detail.
Over €50bn sought by Greece
Greece asked for €53.5bn to help cover its debts until 2018, a review of primary surplus targets in the light of the sharp deterioration of its economy, and a "reprofiling" of the country's long-term debt.
In addition to cash from the eurozone, if it makes payments it missed last month to the IMF, the global lender still has a facility to lend Greece about €16bn.
Any deal would have to be endorsed by national parliaments including in Germany, which must also formally approve the loan negotiations being started.
Estonia's parliament was the first to give the government conditional authorisation to start talking with Greece.
The latest offer includes defence spending cuts, a timetable for privatising state assets such as Piraeus port and regional airports, hikes in value added tax for hotels and restaurants and slashing a top-up payment for poorer pensioners.
Greek banks have been closed since 29 June, when capital controls were imposed and cash withdrawals rationed after the collapse of previous bailout talks.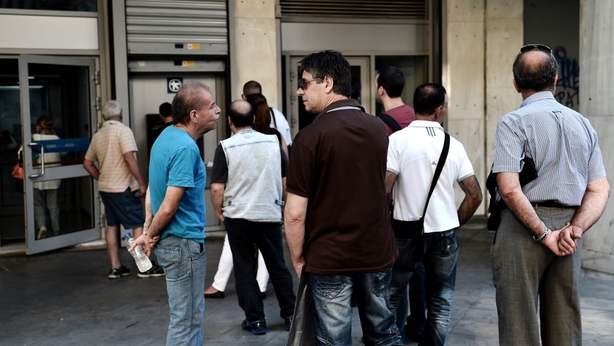 Greece defaulted on an IMF loan repayment and now faces a critical 20 July bond redemption to the ECB, which it cannot make without aid.
The country has had two bailouts worth €240bn from the eurozone and the IMF since 2010, but its economy has shrunk by a quarter, unemployment is at more than 25% and one in two young people is out of work.