Greek Prime Minister Alexis Tsipras has said that a detailed plan is being drawn up aimed at resolving the country's debt crisis. 
The plan contains indications Greece is prepared to reform its tax policy and amend pension provisions in order to secure a third bailout from the EU and IMF. 
Greece's formal application for financial assistance is expected to be submitted tomorrow and will be discussed over the next few days before a final decision on whether Greece stays in the Euro is decided by EU leaders on Sunday.  
Alexis Tsipras today addressed the European Parliament after EU leaders gave him five days to come up with convincing reforms.
With its banks closed, cash withdrawals rationed and the economy in freefall, Greece has never been closer to a state bankruptcy that would probably force it to print an alternative currency and leave the euro.
Mr Tsipras appeared before EU politicians in Strasbourg to cheers and scattered boos.
He was speaking hours after eurozone leaders, at another emergency summit in Brussels, set Greece a deadline of the end of the week to come up with far-reaching reform proposals.
Mr Tsipras said Greeks had no choice but to demand a way out of "this impasse".
"We are determined not to have a clash with Europe but to tackle head on the establishment in our own country and to change the mindset which will take us and the eurozone down," he said to applause from the left.
He promised to deliver detailed reform proposals tomorrow and mostly avoided the angry rhetoric that has alienated many European partners.
However, he criticised attempts to "terrorise" Greeks into voting for "never-ending austerity".
In its loan application letter, Athens promised to implement a set of tax and pension measures "as early as the beginning of next week", promising more details within 48 hours.
Tusk says this week is final deadline for Greece 
Speaking before Mr Tsipras, European Council President Donald Tusk repeated that the final deadline for Greece to submit convincing reform plans and start implementing them was this week.
"Our inability to find an agreement may lead to the bankruptcy of Greece and the insolvency of its banking system," Mr Tusk said.
"And for sure it will be most painful for the Greek people.
"I have no doubt that this will affect Europe, also in the geopolitical sense. If someone has any illusion that it will not, they are naive," he said.
In the turbulent chamber, some politicians held up "Oxi" (No) signs to back Greek voters' rejection of more austerity, while far-right speakers praised the radical leftist government for standing up to what several called the European "oligarchy".
If experts from the European Commission, European Central Bank and International Monetary Fund deem the Greek proposals viable, eurozone finance ministers would meet on Saturday to recommend opening negotiations with Athens.
A special summit of the 28-nation EU would then meet on Sunday to approve an aid plan.
Before then, Greece is supposed to rush a first wave of measures through parliament, eurozone sources said.
German Chancellor Angela Merkel has said she would ask parliament in Berlin to authorise the opening of loan negotiations provided the Greek measures are deemed satisfactory.
Eurozone sources said one key question is whether the Greek reform package will be more ambitious than the spending cuts, tax increases and modest reforms that Greek voters rejected on Sunday in a referendum on a previous bailout plan.
"The numbers have to add up, and the numbers have become vastly more unfavourable since the banks were shut and the economy seized up in the last ten days," one eurozone finance official said.
Meanwhile, Greece's finance ministry has dismissed a newspaper report that the country was preparing to issue a second currency to pay state pensions and wages at the end of July.
Citing unidentified sources, Kathimerini newspaper reported that Greece's General Accounting Office was preparing IOUs, known as warrants, to pay the wages and pensions of state workers at the end of the month if there was no deal between Greece and its lenders by then.
"The report is totally baseless. Such reports are directed against the country and considered dangerous at a time when negotiations with creditors partners are at a crucial point," the finance ministry said in a statement.
Meanwhile, Tánaiste Joan Burton has said she believes that a deal can be done to "reappraise or reschedule" the obligations that Greece has committed to.
She said she wanted to see everyone sitting round a table and negotiating a deal that would be good for the people in Greece and in the rest of Europe.
---
Analysis: Paul Cunningham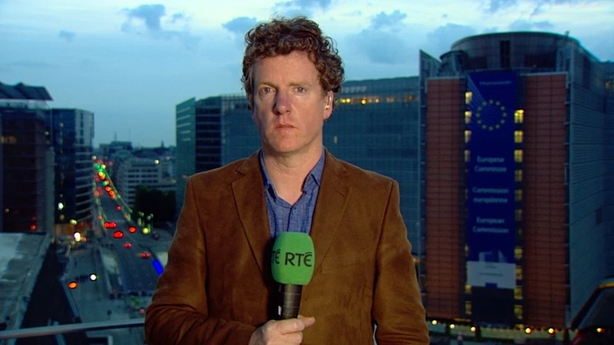 It appears that the defining moment of the Greek debt crisis beckons this Sunday - when all 28 EU leaders will consider proposals from the Syriza government in Athens for a third bailout.
Commission President Jean Claude Juncker said he wanted Greece to remain in the eurozone but his team was prepared for everything.
We have a Grexit scenario prepared, he said.
By tomorrow at the latest, the Greek government must publish its bailout plans; these will first be assessed by international creditors, then by eurozone finance ministers on Saturday before a full EU leaders' summit on Sunday.
Taoiseach Enda Kenny said: "Time is now of the essence". For his part, the Greek Prime Minister Alexis Tsipras said he wanted a "socially just and economically viable agreement".
In reality, the Greek government has been given a final ultimatum, after months of stormy negotiation. As one Greek newspaper put it this morning - it's the euro or drachma this Sunday.