Greece has until Thursday to submit a reform plan for a bailout package, EU President Donald Tusk has said after an emergency summit of eurozone leaders.
"The Greek government will on Thursday at the latest set out in detail its proposals for a comprehensive and specific agenda," Mr Tusk said, confirming that EU leaders will meet on Sunday.
"Inability to find an agreement may lead to bankruptcy of Greece and insolvency of its banking system," he added.
Taoiseach Enda Kenny welcomed the outcome - saying "there is now a clear strategy, and a process, that hopefully can bring this to a conclusion".
Mr Kenny said: "Everybody around the table wants this resolved quickly. Time is now of the essence. It is very necessary to deal with the consequences of instability, which is now affecting the ordinary people in Greece to an undue degree."
Earlier, Minister for Finance Michael Noonan said he expected Greece to make a formal application for a third bailout tomorrow through the European Stability Mechanism.
He was speaking after an emergency meeting of Eurozone finance ministers in Brussels today.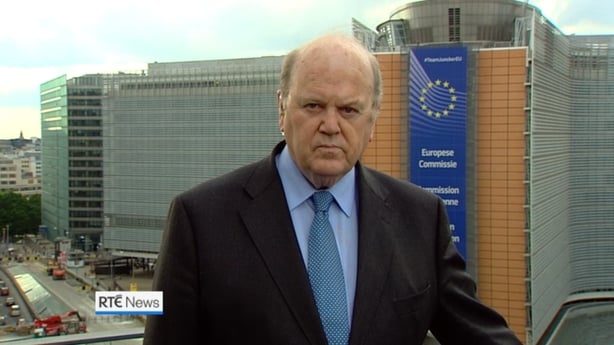 Minister Noonan said that it is likely Greece would need a medium-term, sustainable programme of reform and there's a general sense that a re-profiling of debt would be acceptable.
He said there was no mention of a Greek write-off of debt and said that the main elements of an agreement should be in place by next Monday.
He described Greece's new finance minister, Euclid Tsakalotos as "impressive and low-key", adding that what he had to say was "interesting".
Meanwhile, Mr Tsakalotos said Eurozone nations showed the political will to help Greece reach a bailout deal at today's talks.
Mr Tsakalotos, who replaced Yanis Varoufakis in the job yesterday, told reporters there had been "progress" in meetings with his 18 counterparts from the single currency.
He added that there was "political will to give Greece a new chance".
Greece has made improvements to proposals for a bailout deal made to its creditors last week, a Greek government source said earlier, adding that a new pitch would be made over the next 48 hours.
"The Greek side has submitted proposals from (30 June), and they are still on the table, with certain improvements," the official said.
"They will be discussed today and tomorrow," the source said, adding that the proposals "include reforms, funding, investment and debt adjustment".
Earlier, Eurogroup chief Jeroen Dijsselbloem said Greece was set to make a formal request for a new bailout programme tomorrow.
Greek Prime Minister Alexis Tsipras, who is mounting a last-ditch bid to salvage an aid deal with creditors, is due to address the European Parliament tomorrow, a Greek government official said.
EU Commissioner for the euro Valdis Dombrovskis said the EU wants Greece in the eurozone but it could be forced out if it does not produce a credible reform package to satisfy creditors.
"It is not our aim but if trust is not rebuilt; if (there is) no credible reform package (then) it cannot be excluded," Mr Dombrovskis said.
Mr Dijsselbloem said ministers would take things "step by step", but would begin by listening to Mr Tsakalotos.
"We are prepared to do whatever it takes to strengthen the eurozone to stay together," he said.
Slovak Finance Minister Peter Kazimir said he was "sceptical" that a deal would be found.
"Prolonging these discussions would be detrimental, we need to take courageous decisions one way or the other," he added.
On Sunday, Greeks rejected reform terms for a new EU-IMF bailout in a historic referendum that was a political victory for radical leftist Mr Tsipras but infuriated Europe.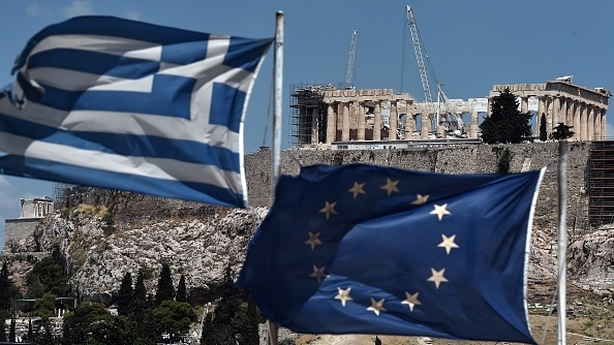 European Commission President Jean-Claude Juncker said he was against an exit by Greece from the euro.
"My wish is that a 'Grexit' should be avoided," Mr Juncker told the European Parliament in Strasbourg.
He said that the European Commission intends to do absolutely everything to help Greece.
However, he added that the eurozone is made up of 19 democracies so the choices made by the other 18 democracies must be respected.
The head of the European Parliament, Martin Schulz, said he was in favour of Greece remaining in the eurozone.
Speaking at a press conference in Strasbourg, Mr Schulz said: "Those people who want to split up the eurozone I think are wrong," he said.
"My personal opinion is that Grexit cannot be our aim."
The European Central Bank has increased pressure on the Greek financial system by refusing to increase the level of emergency lending to Greek banks.
The banks, which had been due to reopen today, will now not open until at least Thursday.
The Athens stock exchange will also remain closed until tomorrow, the Greek Capital Markets Commission said.
Syriza MEP Dimitris Papadimoulis said the government is submitting proposals that will lead to growth and address the problem of non-sustainable public debt.
He told reporters in Strasbourg that the "message of the Greek government and Syriza is not to have a conflict…We cannot pursue the punishment of the Greek people. We want realism to prevail."
"We are submitting a programme full of reforms in order to set an end to bureaucracy, corruption and nepotism."
Speaking through an interpreter, Mr Papadimoulis added "we are willing to discuss any idea that could help in order to achieve a mutually accepted agreement."
"We could examine the idea of a bridging loan that would allow all sides towards a solution. We are moving towards the edge of the cliff."
The leaders of France and Germany told Greece yesterday to come up with serious proposals in order to restart financial aid talks.
In a warning shot to the banks, the ECB raised the amount of collateral they must post for any loans.
The move does not affect the lenders right away, but served as a reminder that their fate lies in its hands.
Late last night, Mr Tspiras's office said he had spoken with Mr Juncker and French President Francois Hollande, but did not provide details about the conversations.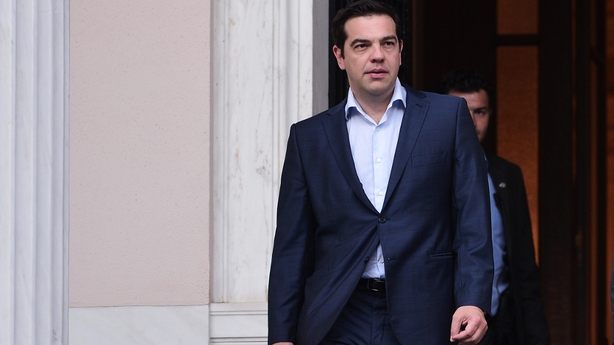 The Greek bank association chief said the bank closures that have crippled the economy would continue today and tomorrow and the daily cash machine withdrawal limit of €60 would be maintained.
There were long lines at ATMs, where €20 banknotes have largely run out.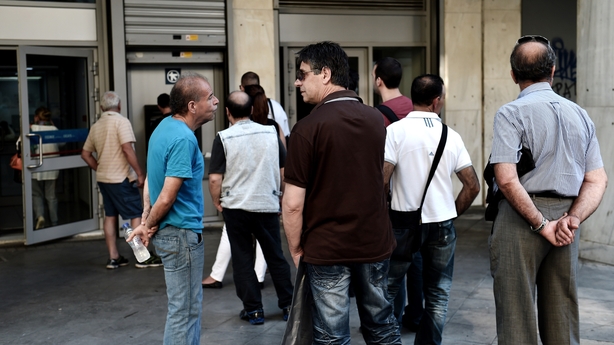 Western Union restarts money transfer service in Greece
Western Union said it restarted its money transfer service in Greece, allowing customers in the country to receive funds from overseas.
The company said although the full amount transferred would be credited to account holders, users would be able to withdraw only €60 a day as per the Greek government's recent capital control measures.
Western Union had said on June 29 that it would remain closed for business in Greece for the entire week.