A migrant has died on a freight shuttle trying to reach the UK, Channel Tunnel operator Eurotunnel has confirmed.
The incident on the French side of the Channel happened at around 5.30am Irish time.
Freight traffic is being disrupted and there are also delays to passenger services following the incident near Calais.
A Eurotunnel spokesman said: "At 5.30am the presence of migrants was reported on a freight shuttle just entering the tunnel.
"Safety procedures apply automatically if there is any human presence in the tunnel, therefore the train was brought to a controlled stop and the overhead power was cut.
"The French police conducted a search, in the process of which they found a migrant who they declared deceased a short while later.
"Eurotunnel once again calls on the governments to end the migrant crisis, and full services through the Channel Tunnel will resume as soon as possible."
Details about the age, sex and nationality of the migrant have not been revealed.
It is the second migrant fatality to take place in as many weeks following the reported death of an Eritrean while trying to get on a train at Coquelles last month.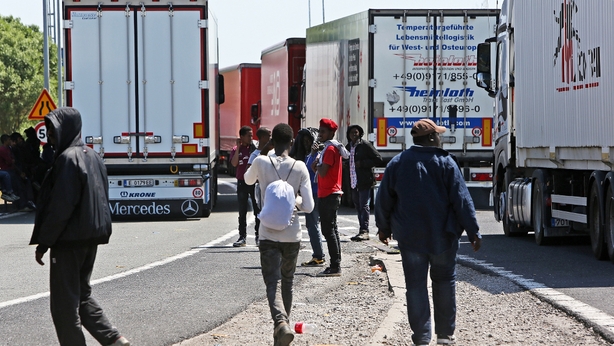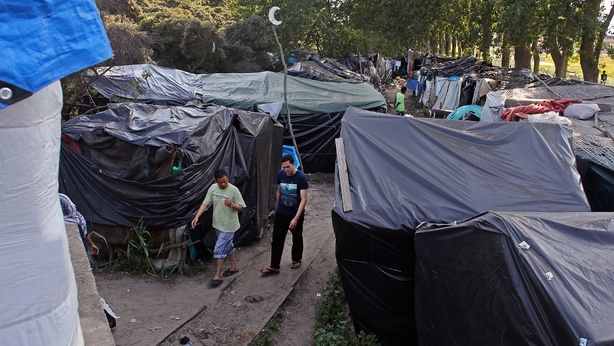 The migrant crisis in Calais has escalated in recent months, with around 3,000 people displaced from countries including Eritrea, Syria and Afghanistan setting up camp near the port.
Last week more than 3,000 truckers had to queue for several days in high temperatures on the M20 following a wildcat strike by ferry workers in France.
Industrial action by ferry workers this summer has come on top of the problems faced by hauliers with migrants desperately trying to clamber on board their HGVs to the UK.
French authorities have faced claims they are not doing enough to safeguard lorry drivers from intimidation, violence and attempts by migrants to climb on.
British Home Secretary Theresa May and her French counterpart Bernard Cazeneuve last week agreed to increase the joint intervention fund to improve security around the port and the Channel Tunnel.
French aid workers have reported a "catastrophic" situation, with predictions that 2,000 more migrants could arrive over the summer at the camp, dubbed Jungle II.
Volunteers from L'Auberge Des Migrants say up to 50 new migrants are arriving every day at the camp, and there are not enough tents, blankets or food