Dozens of migrants trying to stowaway on vehicles crossing the Channel by tunnel between France and England broke through perimeter fences at Calais overnight, temporarily halting traffic, a Eurotunnel spokesman has said.
The disruption was the latest in a series of incidents involving some 3,000 migrants, mostly from Africa and the Middle East, who are camped around the northern French port in the hope of reaching Britain.
Both freight and passenger services were temporarily halted during the night but are now running normally, although with some delays due to the backlog.
Eurostar, which also runs passenger trains through the tunnel, though not at night, said its services had not been affected.
Over the past month, the growing numbers of migrants at Calais have also been trying to take advantage of a series of strikes by port workers that have caused long lines of trucks to build up on the approach roads to the port.
Calais is one of the front lines in a wider immigration crisis in which European countries are struggling to agree among themselves how to deal with growing numbers of migrants fleeing conflict or poverty.
France and Britain agreed on Thursday to step up efforts tosecure the port and the Channel Tunnel.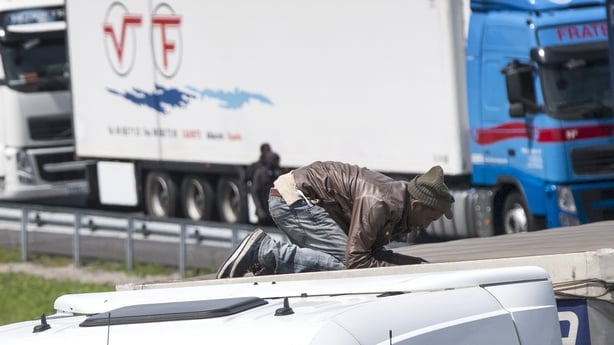 Migrants have been taking advantage of slow-moving and queuing traffic by trying to board UK-bound vehicles, forcing some drivers to take long detours to skip Calais altogether.
British Home Secretary Theresa May and her French counterpart Bernard Cazeneuve this week agreed to increase the joint intervention fund to improve security around the port and the Channel Tunnel.
French aid workers have reported a "catastrophic" situation, with predictions that 2,000 more migrants could arrive over the summer at the camp, dubbed Jungle II.
Volunteers from l'Auberge des Migrants say up to 50 new migrants were arriving every day at the camp, and there were not enough tents, blankets or food.
British travellers have been advised by the Foreign and Commonwealth Office to keep vehicle doors locked in traffic and when unattended in Calais.