At least 140 people have been arrested after violence broke out at an anti-immigration rally in Bratislava attended by thousands of people in protest at EU quotas on migrant numbers, local media said.
The rally, organised by an anti-Islam group called "Stop the Islamisation of Europe," drew up to 8,000 people, according to Slovakian media. Police declined to give an estimate.
Protesters included Marian Kotleba, the governor of a central Slovakian region and founder of the far-right People's Party Our Slovakia.
"I wish you a nice, white day... we are here to save Slovakia," Kotleba told the crowd.
Scuffles erupted between small groups of demonstrators and police at the end of the rally, leading to 140 arrests, the country's TASR news agency reported, citing local police sources.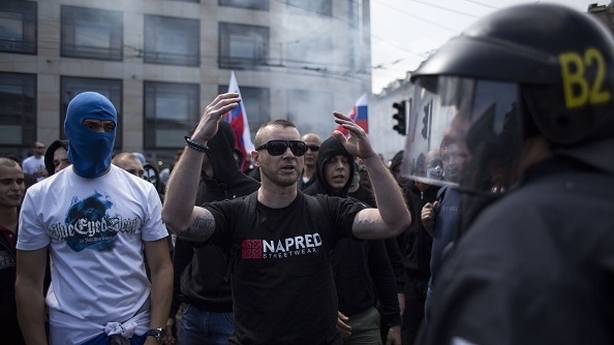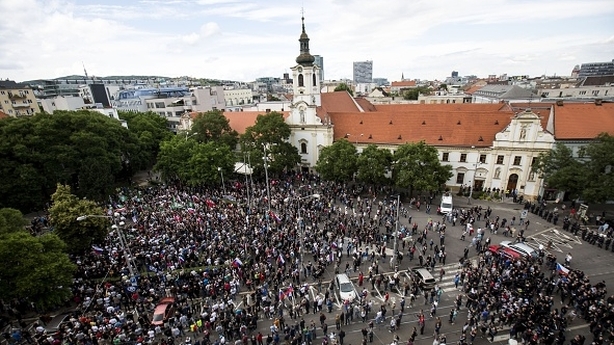 Earlier, at least one protester was taken into custody after using tear gas against the police, and some in the crowd were seen shredding a blue EU flag offered by one of the speakers.
After the rally, a group of protesters attacked spectators at a cycling show, local media said, adding that unidentified attackers also threw bottles and stones at an Arab family at the main train station.
The protest was called after the European Commission said in May that Slovakia, an EU and NATO member of 5.4 million people, should accept 471 migrants from Italy and 314 from Greece, as the bloc scrambles to deal with a surge in people illegally crossing the Mediterranean Sea in search of a better life.
On Friday, Prime Minister Robert Fico and his counterparts from neighbouring Czech Republic, Hungary and Poland affirmed that their countries were against quotas on refugee numbers imposed by the EU.
A June poll by the Focus opinion research agency, published showed Slovaks perceived the current wave of migrants heading to Europe as the hottest international topic, being mentioned by almost 22% of 1,018 respondents.
"The vast majority of the Slovak public... perceives migrants as a security risk for the country, or as an economic or social burden," said Focus head Martin Slosiarik.