The liquidators of Clerys are to meet union representatives tomorrow in a bid to clarify the position of around 400 workers who lost their jobs when the company was put into liquidation on Friday.
The Department of Social Protection has confirmed that it is to hold briefing sessions for those who have been made redundant to explain their entitlements.
The firm which bought the department store, Natrium, has said it will not be commenting on the situation.
Minister for Jobs and Enterprise Richard Bruton has described the manner in which Clerys workers were told their jobs were gone as "particularly appalling".
KPMG, which was appointed by the High Court on Friday, informed workers they were out of a job that day at 5.30pm.
Minister Burton said it was very poor communication.
130 staff and 330 people working for the concession holders at the O'Connell Street shop have expressed fears about getting redundancy and holiday pay.
SIPTU will meet the liquidators to clarify the situation for workers.
It has already been intimated that former staff will only get the statutory two weeks' pay per year of service capped at €600 per week - with little hope of any gratuity on top of that.
Workers will hold a protest outside the O'Connell Street shop between 12pm and 2pm tomorrow afternoon.
SIPTU is also expected to meet Minister of State Ged Nash tomorrow evening.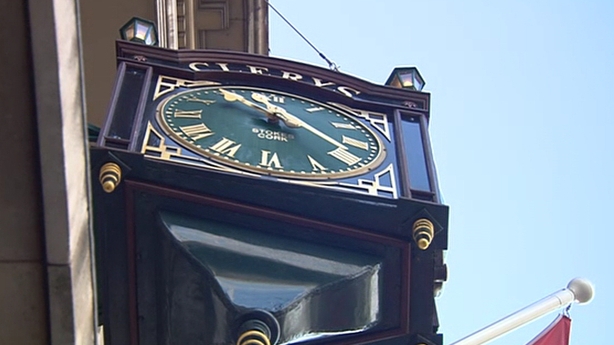 On Saturday, members of SIPTU and other workers marched to the store demanding fair treatment and justice for those who lost their jobs.
Union spokesperson Teresa Hannick said the union has also sought a meeting with the new owners of the store, but said the company has so far failed to acknowledge the workers' existence.
She said: "Natrium were in the High Court on Friday evening and they got an insolvency order and KPMG are acting on a court order.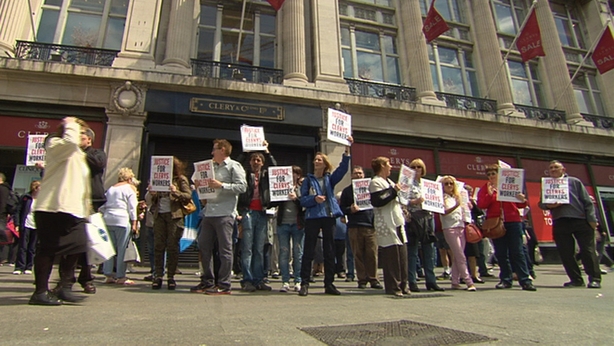 "Our members are now preferential creditors and that's where our members are looking to get redundancy or any money owed to them.
"For many of our members most of them expected to go into work this morning, but they will all have to go to their local social welfare office to sign on.
"So we will have to give them a bit of time to do that kind of necessary function."
Ms Hannick also appealed for the public to support its members.
Minister for Transport, Tourism and Sport Paschal Donohoe said he would like to see the O'Connell Street site continue as a retail outlet.
He said he believed it was incumbent on the new owners to meet the unions and the representatives of the workers to bring clarity to where they now stood at a very difficult time.
The Chief Executive of the Consumers Association of Ireland has said that customers who may have paid deposits on furniture or who bought voucher, are in a very difficult position as they are at the bottom of a long list of people owed money by the retailer.
Dermott Jewell asked the liquidator, KPMG, to consider treating these consumers as priority creditors.
However, he accepted this may not happen, and in that event he called on retailers to respond to this unique situation by putting in place a fund to reimburse those left out of pocket by the closure.
Mr Jewell was critical of the fact that credit notes and vouchers amount to little more than "worthless pieces of paper" following the sale of a retailer by a liquidator and called for a statutory fund to be put in place.
"I don't know how it would be funded, perhaps by a levy through the sector or some other means, but we need to sit down and discuss it and put one in place so that there's no loss to customers who unwittingly, and in support of Irish business, put down large sums of money that they can ill afford to lose," Mr Jewell said.
The store's website, Clerys.ie, is no longer accessible, although it had been online for a period since the sudden closure on Friday.