Former Clerys workers staged a picket on the department store this afternoon following its sudden closure yesterday evening.
Trade union SIPTU has called on the incoming owner, Natrium Ltd, to urgently meet with the unions to discuss the loss of 130 jobs.
A further 330 people were employed in 50 concessions in the store and their future is unclear.
Donnchadh O'Neill  of Gibney Communications, which represents Natrium Ltd, has said the company has no plans to speak about its intentions for the store.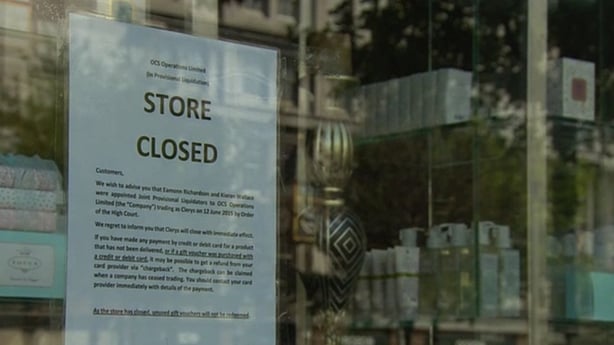 SIPTU's John King told a meeting of about 50 former workers at Liberty Hall this morning that the way they had been treated was appalling and described it as the worst form of vulture capitalism he had ever seen.
Organiser Robert Parfield said it was an utter disgrace that people with 30-40 years service had been put out on the streets without recourse.
Gerry Marker, who worked in Clerys for 34 years, said he was concerned that customers who had paid large cash deposits would now be left with nothing.
He said earlier this week he had taken €5,000 in cash from a woman who had ordered bedroom furniture.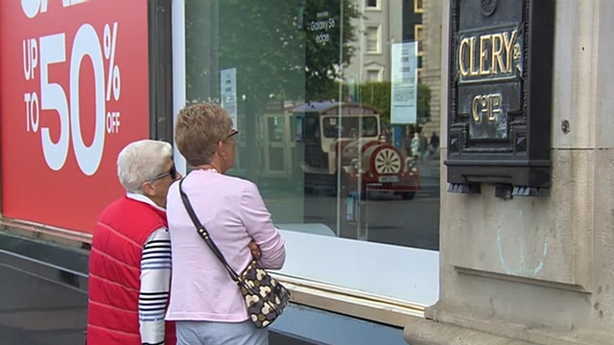 As the shutters remain closed on the busiest retailing day of the week, dozens of customers were stopping to read the notices about the closure.
Many said they would miss the store and hoped that it could be reopened.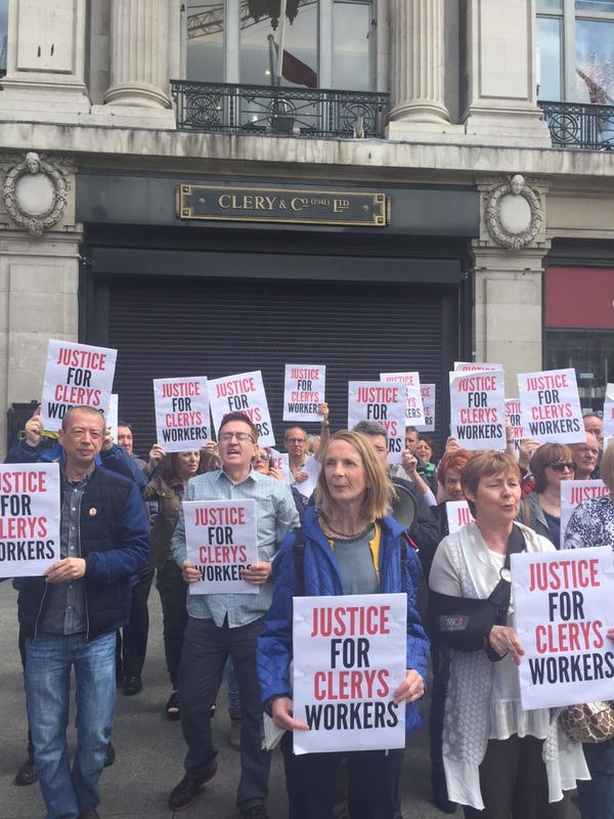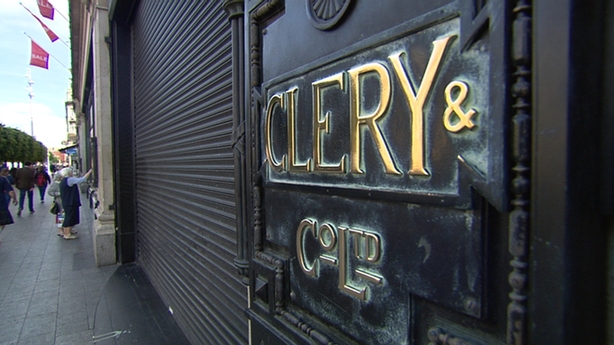 As former staff posed for photographs outside the shutters customers reminisced with them about visiting the store as children to see Santa and meeting their friends and loved ones under the Clerys clock.
A spokesperson for the Minister for Jobs, Richard Bruton offered condolences to the workers as "they face this extremely difficult situation."
The spokesperson said all State supports will be made available for workers and that the closure serves as a reminder of the major difficulties businesses face despite the improving economy. 
Liquidators informed staff the store had ceased trading at 5.30pm yesterday.
SIPTU Organiser, Teresa Hannick said: "All right-thinking people will unreservedly condemn the treatment of these workers.
"Only a few hours after staff had learned that Clerys had been sold by Gordon Brothers Ireland to the real estate company, Natrium Ltd, they were then told the company was being liquidated."
"This treatment of honest hard working people marks a despicable new low in the annals of Irish business practice" she said.
Earlier in the day it was revealed that Clerys had been sold to real estate company Natrium Ltd for an undisclosed sum.
Ireland most iconic retailer closed on the busiest shopping day of the week. More on @rtenews throughout the day pic.twitter.com/SBCZl8dclE

— Samantha Libreri (@SamanthaLibreri) June 13, 2015