Over 5,500 people crowded onto Roosevelt Island in New York today for the first official rally of Hillary Clinton's Presidential campaign as she promised to "make the economy work for everyone".
Although the former Secretary of State, Senator and First Lady had previously announced her intentions in April, this was billed as her "official launch".
She is hoping to secure the Democratic nomination, as are Irish-American former Maryland Governor Martin O'Malley, Senator Bernie Sanders and former Rhode Island Governor Lincoln Chafee.
For the first time, Secretary Clinton outlined the platform she intends to campaign on, delivering a speech that lasted about 45 minutes and was titled "I will be a fighter for all Americans".
She said she has four "fights" - "Building an economy for tomorrow", "strengthening American families", "Defending America and its core values" and "Revitalizing the economy.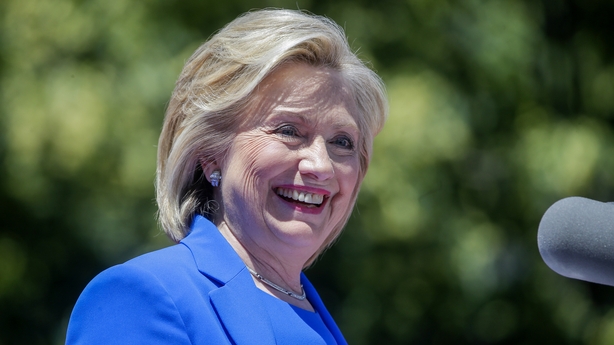 On the controversial issue of American multi-nationals relocating outside of the US, and often to Ireland, to take advantage of more favourable tax regimes she said that she would "rewrite the tax code", rewarding companies who kept their focus on the US, and not those who were "stashing their profits overseas".
On immigration reform, she said that she would offer immigrant families "a path to citizenship" and not just "second-class citizen status".
It's selfies,smiles & handshakes galore at the @HillaryClinton rally.And the #pantsuit is back @rtenews #Hillary2016 pic.twitter.com/HERHqgMURn

— Caitriona Perry (@CaitrionaPerry) June 13, 2015
Adopting a tone that was light and jovial at times, she praised the work of current President Barack Obama and her husband President Bill Clinton.
When the crowd started chanting "Bill, Bill, Bill" upon hearing his name, she laughed and said "oh that'll make him so happy".
After her speech, Bill Clinton and her daughter Chelsea Clinton joined her on stage before Secretary Clinton spent over 30 minutes shaking hands and posing for photographs with supporters.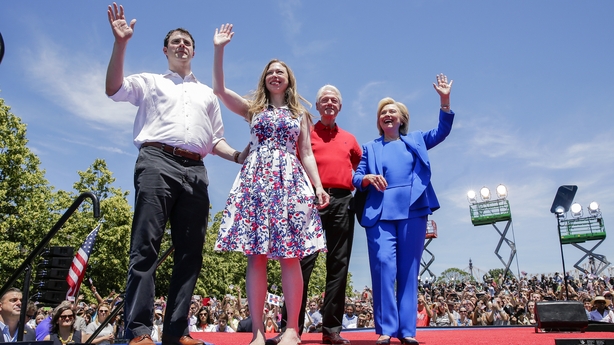 Wearing her trademark trouser suit, in a bright blue, Hillary Clinton joked - to one of the loudest cheers of the day - that she may not be the youngest president in the White House, but she would be the youngest female president and the first grandmother.
She also emphasised the experience she brings to the roll, speaking of how she had "stood up to Putin" and "was in the Situation Room on the day we got Bin Laden".