The United Nations has said around 40,000 migrants attempted to cross the Mediterranean during the first four months of 2015.
This week, in some of the most intense Mediterranean migrant traffic of the year, a total of 4,243 people were saved from fishing boats and rubber dinghies in 22 operations over a 24 hour period, from Friday to Saturday.
Most of those rescued on Friday or today are expected to reach ports around southern Italy over the next 24 hours.
The British naval vessel HMS Bulwark offloaded more than 740 early today at the southeastern Italian port of Taranto.
This afternoon LÉ Eithne, arrived at the Sicilian port of Palermo where more than 400 migrants, picked up by its crew yesterday, were handed over to the Italian authorities.
PICTURES: Irish navy @defenceforces completes 3 rescues of #refugees and #migrants in 24 hrs http://t.co/Pu8zFRgWEq pic.twitter.com/sxDlcbPFjK

— UNHCR Ireland (@UNHCRIreland) May 29, 2015
The Irish naval vessel carried out several rescue operations yesterday, including several hundred migrants off the coast of Libya.
Alongside Ireland, nations such as Italy, Germany, Belgium and Britain have sent ships to help ease the migrant crisis.
Yesterday the Italian navy said 17 dead bodies had been found on one of the boats off Libya.
Details of the nationalities of the victims and how they died have not yet been released.
Migrants escaping war and poverty in Africa and the Middle East this year have been pouring into Italy, which has been bearing the brunt of Mediterranean rescue operations.
Most depart from the coast of Libya, which has descended into anarchy since Western powers backed a 2011 revolt that ousted Muammar Gaddafi.
Calm seas are increasingly favouring departures as warm spring weather sets in.
Last month around 800 migrants drowned off Libya in the Mediterranean's most deadly shipwreck in living memory when their 20-metre long fishing boat capsized and sank.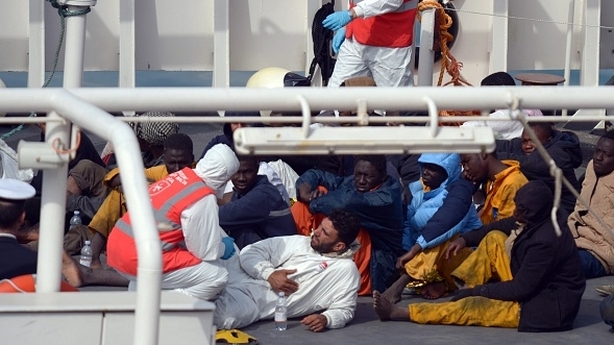 That spurred the European Union to agree on a naval mission to target gangs smuggling migrants from Libya, but a broader plan to deal with the influx is in doubt due to a dispute over national quotas for housing asylum seekers.
European Union authorities have pressed member states to share the burden of housing refugees more fairly through are settlement quota system.
However, an EU plan to disperse 40,000 migrants from Italy and Greece to other countries met with resistance this week.
Britain said it would not participate and some eastern states called for a voluntary scheme.