UN Secretary General Ban Ki-moon has urged European leaders to address the migrant crisis in a "more comprehensive and collective way".
He said search and rescue operations should be further strengthened, with efforts not borne by just one or two countries.
Mr Ban said he would be engaging with the EU leadership for more in-depth discussions on the issue in Brussels later.
The Secretary General also commended Ireland for its efforts in resettling migrants, but said every country needed to do more.
He also highlighted problems with migration in southeast Asia.
Mr Ban was speaking following a meeting with Taoiseach Enda Kenny at Government Buildings on the third and final day of his visit to Ireland.
Yesterday, Mr Ban urged Ireland to "to align its climate efforts with its admirable engagement on hunger".
He was speaking at Dublin Castle last night at an event marking the 70th anniversary of the United Nations as well as Ireland's 60th year as a UN member.
He praised Ireland for its overseas aid saying that while Irish unemployment rose, Ireland worked hard to provide aid to other countries and "in going through your own period of austerity you refused to inflict it on others".
Earlier in the day, the UN chief told refugees who have resettled in Ireland that he has "some measure of understanding" of what they have been through.
Mr Ban told them about the village he grew up in being destroyed when South Korea was attacked, how he had to flee his home town and about the deaths of three million people.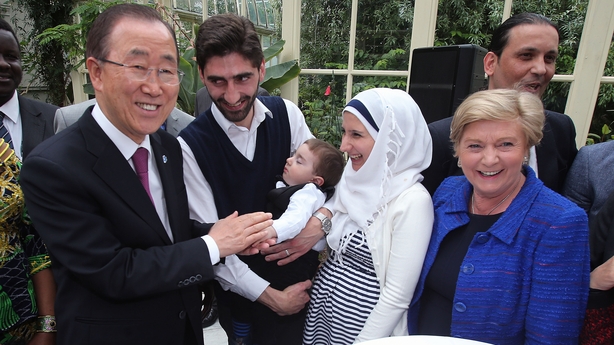 He was at Farmleigh House meeting refugees who have resettled in Ireland.
He earlier visited the UN Training School at the Curragh Camp, Co Kildare.