State funding was stopped last month for all pre-marriage courses, including those run by Protestant and secular organisations, the statutory Child and Family Agency, Tusla, has said.
Eleven organisations along with Accord, the Catholic marriage care service, are affected by the move.
In a statement, TUSLA said the measure is being applied retrospectively with effect from 1 January.
It says the decision was taken after Minister for Children James Reilly and the Board of Tusla signed off on its budget on 17 April and on 24 April respectively.
Decisions were then conveyed to organisations funded by the agency in letters dated 7 May. 
The statement reiterates that the basis on which decisions were made was a set of criteria which measured impact on the protection and welfare of children.
It says that while Tusla values the work of marriage preparation courses and recognises their value for the long term benefit of children it was necessary at time of limited resources to prioritise those services operating more directly at the front line.
"A number of services offered by Accord match this criteria and will be funded by Tusla in 2015.  Last year Accord received €1.992 million in funding from Tusla and this year will receive €1.6 million," the statement continues.
Tusla emphasises that it does not favour any religion or culture and prioritises the well-being and protection of children in all budgetary decisions.
And it concludes that it is important to note that no influence was exerted on Tusla by Minister Reilly or the Department of Children and Youth Affairs in relation to Accord's funding for this year.  
The Catholic Church in Ireland has protested against the decision to withdraw €360,000 in public funding from its marriage preparation courses.
The organisations whose pre-marriage courses are no longer being funded by Tusla are:
Accord General Office
Accord centres nationwide
Cork Marriage Counselling Centre
Accord Dublin
Relationships Ireland
Naomi-Billings Ireland
Esker Retreat House
Church of Ireland Marriage Council
Family Life Centre, Boyle
Teach Bhride
Dundalk Christian Counselling Centre
Sophia Counselling Centre
Open Arms Counselling Centre
An Cuan Family Centre
Accord fears funding cut could be linked to referendum
Earlier, Accord president Bishop Denis Nulty said he feared the funding cut could be linked to the Church's opposition to the Government's campaign for a Yes vote in the same-sex marriage referendum, but said he does not know.
Speaking on RTÉ's News At One, he said he was baffled by the decision by Tusla and said it will have a huge impact on Accord's services.
Bishop Nulty has asked for a meeting with Minister Reilly, whose responsibilities include Tusla, and will request that the cut is reversed.
A spokesman for Minister Reilly said the funding decision concerning Accord had absolutely nothing to do with the marriage referendum and that future funding for Accord was not contingent on the outcome of the vote.
Minister for Agriculture Simon Coveney was asked about claims from the No side that the cut was linked to the Church's position on the referendum.
He said it was more misleading information from the No side.
Speaking on RTÉ's Morning Ireland, Tusla Chief Executive Gordon Jeyes said the agency had to live within its means when cuts were being made.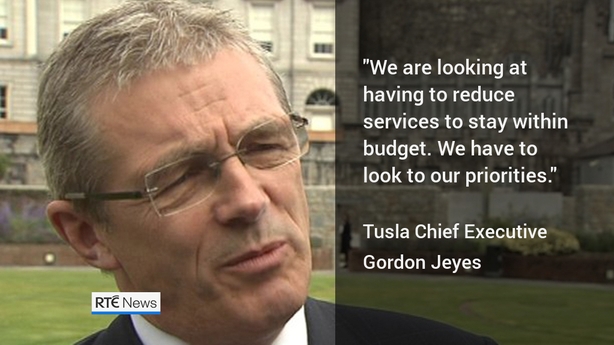 He said money was being taken from every organisation, irrespective of where it sits, in accordance with Tusla's priorities and what it stands for.
The cuts were first reported in the Irish Catholic newspaper, which expressed concern that it will give weight to fears that those who do not support the Government's agenda on the redefinition of marriage will be starved of funding.
Asked when the decision was taken, Mr Jeyes said: "The decision has been discussed within the executive and put to the board on a number of occasions and been part of, I have to say, a slightly protracted discussion and I note the bit about timing but there's absolutely no connection whatsoever to other events.
"This was a Tusla executive recommendation accepted by the board. There was no Government discussion in this at all," he said.